AISEO gives you the superpower of writing with artificial intelligence. It helps to convert your thoughts into blogs with a click of a button. With the superpower of Al you have the power to grow even faster than you imagined. With Al you can do your work in a very short period just in a fraction of time while doing it alone would have taken longer, so it not only saves your time but also energy.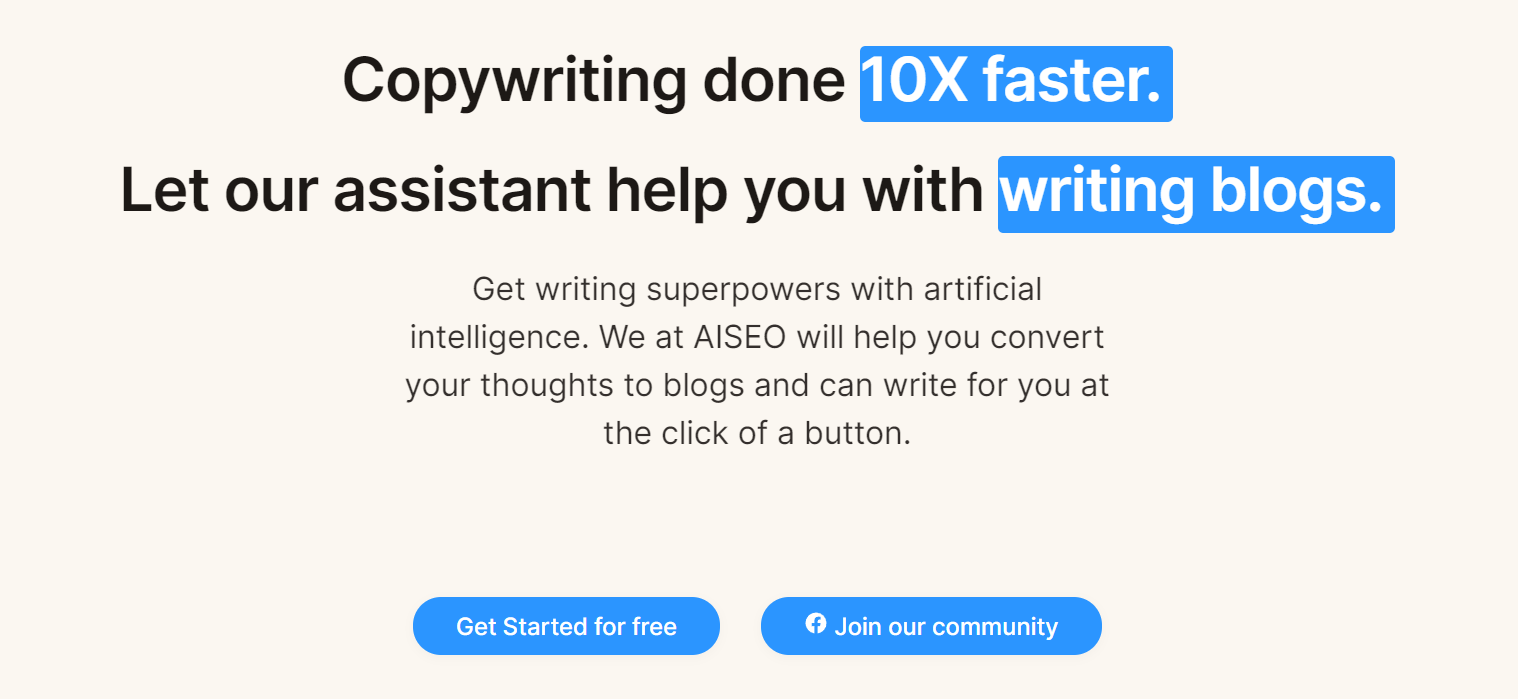 AISEO is software that helped hundreds of companies achieve success by ranking on the first page of Google. It helps creators to find more opportunities and push their limits. Ai helps you to understand the needs of those who are trying to reach you. Ai has the capability of collecting data according to which it can predict what people want. Thus helping companies to understand the requirements and demands of their customers and make recommendations accordingly. AISEO can be scaled to cover almost any niche market which makes it an ideal marketing technique, especially for small businesses. It also allows for more comprehensive keyword research and a reduction in costs.
AISEO Overview
AISEO.ai is a writing assistant that lets you generate an SEO-optimized blog post with just a few clicks. The long-form assistant can generate a paragraph for you with just a single click, which makes the workflow amazingly fast. It also increases the readability of your blog with just a click. AISEO.ai's writing assistant allows you to rewrite content and blog posts with 10x more efficiency.
AISEO.ai lets you do all the work in one place like optimizing, rewriting, summarizing, and improving blog posts. In all, AISEO is an Al-enabled tool that is a great help to marketing professionals for creating blogs, essays, posts, and product descriptions for marketing.
Features of AISEO
Copywriting templates
All copywriting templates are there including (Ads, Custom templates, Brainstorming, Blog post, Branding, etc) .
Readability improver
Readability improver is a tool that enhances the readability of the text content up to 2000 characters according to the Hemmingway style in just a single click.
Blog Post
Whole SEO optimized blog Posts can be generated in one go by using AISEO. It is not hard to create posts that can rank by using this AI writing tool.
Long form assistant
A long-form assistant helps you in writing blog posts with 10x faster speed and provides quality content. Only a few AI writing software allows long-form assistants. Its workflow is pretty simple and easy to work with.
Alternatives to AISEO
Jarvis.ai
Jarvis.ai is a leading AI content writing tool that is used by millions of professionals worldwide for social media copies, copywriting, long-form writing, re-writing, google ads copies, and much more. This tool has grabbed the larger market share of AI Content writing tools. Jarvis boss mode is very popular as allows you to write better content by the use of various commands.
WriteSonic
Writesonic is a popular AI writing tool that helps you to curate content faster for landing pages, product descriptions, digital ads, blogs, press releases, startup ideas, and much more.
Grammarly Business
Grammarly Business offers real-time detailed suggestions which help to improve refine tone, word choice, fix grammatical errors and make sentences clearer. It helps around 30,000 teams to improve their communication at work. Whether your team is writing articles, emails, or something else entirely Grammarly Business helps them produce work that reflects business with professionalism.
Semrush
Semrush is a critical solution for companies that are very serious about their online presence. It is a leading online visibility management software-as-a-service platform. Over 7 million users have tried Semrush till now. It has over 50 products, including tools for search, social media, content and market research, etc.
Datapeople
Datapeople( formally TapRecruit) is a great user-friendly tool. It organizes and augments your recruiting data in order to help you in improving the key parts of your hiring process, from job description candidates first see to reports you shared with your company.
AISEO.ai FAQs
What is AISEO used for?
AISEO is Al writing assistant software that offers functionalities as sentence formatting and sentence rephrasing.
What are the best alternatives for AISEO?
The best alternatives for AISEO are Jarvis, Surfer SEO, Writersonic, Longshot.ai, Frase.io, Grammarly Business, ProWritingAid, Linguix, LanguageTool, and Zoho Writer.
What is the pricing of AISEO?
AISEO comes with three pricing models. Free Trial, Freemium, and Subscription.
What is artificial intelligence software?
Artificial Intelligence is software that mimics human behavior and patterns of learning. It is used in a wide variety of business areas, from customer services and sales to tasks automation and data analysis.
Pricing of AISEO
AISEO comes with three plans-
1- Starter- It is a free plan.
2- Grow- This plan comes at $15 per month if billed yearly and at $19 per month if billed monthly.
3- Scale- This plan is at $44 per month (billed monthly) and $34 per month (billed yearly).
What makes AISEO stand out?
We all know that generating and optimizing blog posts is a time taking process and it requires a lot of effort to make it SEO friendly. AISEO.ai is a long-form Al writing assistant which comes with a variety of features making it a top-notch product. One of the most important features of it is that it can generate SEO-optimized content using Google SERP data.
AISEO is currently capturing the intent to purchase directly from Google searching showing Ai SEO a better and more precise targeting mechanism. Ai marketing using a customized Ai SEO strategy can generate more qualified leads and drive conversions on Google.
It can be the best option for small businesses that are looking to increase their sales with AI SEO while reducing the expense. If you want to generate more sales and leads then Al SEO is the perfect opportunity to take your business to page one on Google.
Pros and Cons of AISEO
Pros-
⦁ AISEO.ai let's long-form assistant helps you to write SEO-optimized content.
⦁ The quality of paraphrasing is very nice.
⦁ It saves time and is easy to use.
⦁ You can paraphrase content up to 20000 characters which is 5000 words with just a click.
Cons-
⦁ The Dutch language is not supported.
⦁ No human replication is there.
The Review
AISEO
AISEO.ai is a content marketing software that helps you with faster content curation. It helps you with writing blog posts & improving blog posts. With this software, one can write marketing copies, product descriptions, and much more. This is definitely a better AI writing tool as of today.
PROS
AISEO.ai let's long-form assistant helps you to write SEO-optimized content
The quality of paraphrasing is very nice
It saves time and is easy to use
You can paraphrase content up to 20000 characters which is 5000 words with just a click
CONS
The Dutch language is not supported
No human replication is there
Review Breakdown
Features

0%

Ease of Use

0%

Application UI

0%

Brand Trust

0%

Value for Money

0%