Trackabi is an amazing web-based time-tracking and employee leave management platform. This software offers employee leave management integrated with timesheets and gamification of time tracking for higher engagement and motivation, invoice generation, overdue invoice alerts, screenshot capturing, time worked reports, payment management, sharing timesheets, data insights, project plans and estimates, dashboards, Git commit import, customizable timesheets, and more.
Trackabi makes the work easier. You can save your time using Trackabi by avoiding the tedious time tracking process and adopting the time tracking game. Using trackabi plan employee leaves, prepare project estimates & reports, track payments easily. I have been using this web platform, this is extremely user-friendly and intuitive. It greatly helps in managing company resources, time planning, and workflow organization. The most amazing feature of this software is a desktop app that tracks all the running browser tabs and apps. And it is paused when there is no activity taking place on the screen or when the screen is locked.
Trackabi Overview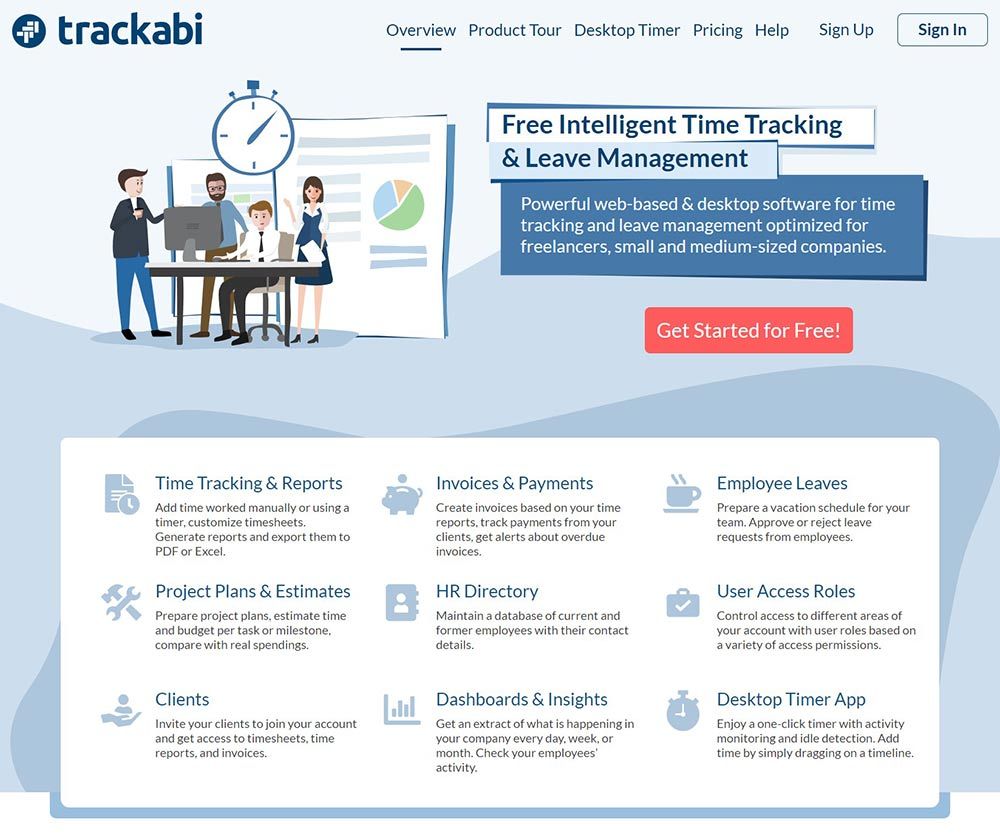 Trackabi is a web-based time tracking and leave scheduling software specially designed for freelancers and small to mid-sized companies. It is a customizable and flexible application that allows for manual or automated time tracking, leave planning, reporting, approval, and some basic team task and project management features. Software development teams can simply directly get Git commits and convert them into time entries. The web-based time tracking tool also has some leave planning features, such as a personal leave schedule page where the user can create a new leave request. And a company leave schedule view is available, where the leave approvals can be viewed and then processed. Managers can manage and create custom leave types available for the employees. Users can also create teams and assign the teams with projects. Also, a directory to manage current and former employees is available.
Features of Trackabi
Gamification of time tracking
It includes karma points and achievements for higher and increased engagement.
Highly Customizable Timesheets
The timesheets can be edited like the spreadsheets in Excel and offer various types of options (mandatory fields, data to display, additional custom fields, etc.).
Screenshots Capturing
Trackabi allows you to take screenshots at some time interval so that the management can verify the tasks assigned. When coupled with the right project management tool, trackabi can give the best solution. The screenshot is however not available in all the plans, so choose carefully if you need this feature.
Desktop Timer Application
It has a desktop timer application for macOS, Linus, and Windows. Trackabi can track time based on user activity. It can also launch and stop timer automatically, differentiate work, leisure activities, and provide great daily reports.
Customizable Time Reports
Trackabi generates time reports from a timesheet based on shared through external links or exported to PDF or Excel and user settings.
Invoicing and Payments
Invoices can be created independently or from reports and then sent to the clients by email. Thus, allowing entering payments of the client and tracking totals and overdue invoices.
Git Commits Import
Import of Commits from Git and its conversion into time entries is a great feature for software developers. The Git commits with comments can also be converted into timesheet entries.
Informative Dashboards
Dashboard with a bird-eye view shows employee absence days, time worked summaries, and alerts about missing time reports.
Client Access
Clients are invited to see and access the saved invoices, time reports, and timesheets related to their projects. This helps the clients to keep a watch on the time spent by his control expenses and contractor.
How to use Trackabi?
Step 1- Visit Trackabi.com.
Step2- Sing up and click on "Get Started".
After Signing up the dashboard will appear.
Step3- Invite your colleagues.
At the last step of the registration process when asked to invite your colleagues to join your account or simply add colleges by adding their email addresses in the invitation form. To invite a member from the staff section, go to the Staff section and press the "Invite" button.
Step4- Check the default setting and set it as it suits you.
Step5- Add your clients to the project that you are working on.
Trackabi Alternatives
Keka
Keka is widely used in many organizations to manage employees detail management, tax computation, and finances. It is used most specifically by the employees to manage their finance, information, and leave management.
Webwork Tracker
Webwork tracker is a very popular time tracking software. It is a useful software coming with apps for iOS, Windows, macOS, Linux & Android. There is also a Chrome Extension available for the Webwork tracker. It is a strong competitor to Trackabi as it also gives you a screenshots feature where you can track time with screenshots.
Monitask
Monitask is another web tracking software that allows employers to track employees and monitor tasks. This software is best for working with freelancers, employees, and even large teams. Monitask is also pretty much affordable and comes with a screenshot feature in all of its plans.
Zoho Expense
Zoho Expense is an amazing platform that helps in reducing the paperwork for expense management. It includes approval process control, claiming of expenses, and workflow management. It is mostly used by SMEs and Startups.
Xtimesheet
Xtimesheet is a powerful time management software specially made for your business. It provides features like invoice processing, hours tracking, etc. It is compatible with Android and Windows, with a Web App support. Xtimesheet is a versatile and robust timekeeping software.
Qandle
Qandle is an outstanding platform that has received tremendous support and love from all the stakeholders (leaders, employees, and HR). It is an end-to-end HR solution that is beautiful, smart, and completely configurable, with a fully functional mobile application.
Workspoke
Workspoke is a cloud-based user-friendly time management software. It is feature-rich and includes features like multiple billing rates, invoice processing, time tracking by project, etc. It is available as Web-app and provides mobile support. It is most commonly used by SMEs, Startups, Enterprises, and Agencies.
Trackabi FAQs
Trackabi is best for what type of users?
Trackabi is a perfect choice for agencies, small to medium-sized enterprises, and freelancers.
What type of pricing plan does Trackabi offer?
Trackabi offers plans starting from $16.00 per month.
Does Trackabi offer a free trial?
Yes. The free trial is available for Trackabi to test the software and then make a decision on whether to continue with the software.
What languages does Trackabi support?
Trackabi supports English.
Does Trackabi have an API?
No. Trackabi does not offer an API.
What are the applications with which Trackabi integrates?
Trackabi integrates with the following apps: TOGGLE, Bitbucket, GitLab, GitHub, and Harvest.
What is the level of support offered by Trackabi?
Trackabi offers the following options of support: Email/Help Desk, Chat, Forum/FAQs, Knowledge Base.
Pricing of Trackabi
Trackabi offers many plans. All features, such as leave planning, time tracking personal and time reports, company dashboards, configurable user roles, and team management, and a few others are included in every plan.
Trackabi offers the following plans-
Starter plan- At $0
For 5 users
Time tracking app with idle detection and activity monitoring
Personal and company dashboards
HR directory
Employee leave management with approval/request process
Invoices, payment tracking
Configurable user roles to manage access levels of employees
Time reports with export to Excel & PDF, sharing reports via links.
Client directory, client access to invoices and reports
One company per account
Timesheet import
Up to 30 active clients
Up to 3 teams
Up to 2 achievements
Up to 3 user roles
Business Plan- At $16 per month
Everything in the starter included
Unlimited number of companies
Up to 50 active clients
Up to 10 teams
Up to 10 achievements
Up to 5 user roles
Screenshots capturing
User activity log
Incomplete timesheet reminders sent by email
Business Plus Plan- At $20 per month
Includes everything in business and-
Up to 100 active clients
Up to 300 active projects
Up to 20 teams
Up to 20 achievements
Up to 100 user roles
Up to 100 users (employees)
Enterprise Plan-
Includes everything in Business Plus and-
Unlimited employees/users
Unlimited user roles
Unlimited teams
Unlimited active clients
Unlimited active projects
Priority Support
Custom domain name
Dedicated server in Europe or North America
What makes Trackabi stand out?
Trackabi is easily affordable leave management and time tracking software with its free plans and paid plans. It has client access and visual dashboards, and management features as well and these features can be very valuable to the software and IT teams as well as the professional services providers, client-facing teams of the company, and business consultants. All can gain benefits in using Trackabi software.
Trackabi is the best platform to play the time tracking game. It is feature-rich including features like opened applications log, user activity monitoring, screenshot capturing, invoicing, reports, project estimates, access roles. Or even importing the Git commits to timesheets. And to make its working fun trackabi has adopted a gamification approach. Like in video games, you can create achievements for your team according to the different goals with badges, entertaining congratulation messages, and karma points. It includes a desktop timer application especially for Linux, Windows, and macOS that can automatically record capture screenshots, time worked, log titles of all the opened windows (including the browser tabs), and prepare the activity status of the user.
Pros and Cons of Trackabi
Pros-
Feature-rich.
Easy to use. Clear and neat.
Has the ability to easily track time worked.
Automatically tracks activity while working.
Available at an affordable price.
Cons-
Could be a little better in graphics.
No integration with Trello dashboard.
The Review
Trackabi
Trackabi is a time tracking software that can enhance the productivity of your organization to 10x. It gives you enormous satisfaction in terms of employee management. With Trackabi, it becomes quite easy to track activities and performance so as to make various adjustments and take decisions. This software comes with a number of features that make your working management quite smooth and result-oriented.
PROS
Feature Rich Time Tracking Tool
Easy to use, Clear and neat.
Has the ability to easily track time worked.
Automatically tracks activity while working.
Available at an affordable price.
CONS
Could be a little better in graphics.
No integration with Trello dashboard.
Review Breakdown
Ease of Use

0%

Features

0%

Compatibility

0%

Value for Money

0%

Brand Trust

0%