In the fast-paced world of digital media, creating captivating and trending videos is essential for capturing the attention of the audience and staying relevant.
With the rise of platforms like TikTok, YouTube Shorts, and Instagram Reels, the demand for innovative video content has reached new heights. According to the reports by Demand Sage, 82.5% of the internet traffic will be from video, as such It's worth finding a good video editing software so you can capitalize on this trend.
In this landscape, Movavi Video Editor emerges as a standout solution, offering a plethora of features that empower users to craft compelling and viral-worthy videos.
In this article, I will provide you with a full Movavi Video Editor review. I'll give my thoughts on the software – what I like about it and what I don't like so you can make a better-informed decision as to whether or not this is the right video editing software for you.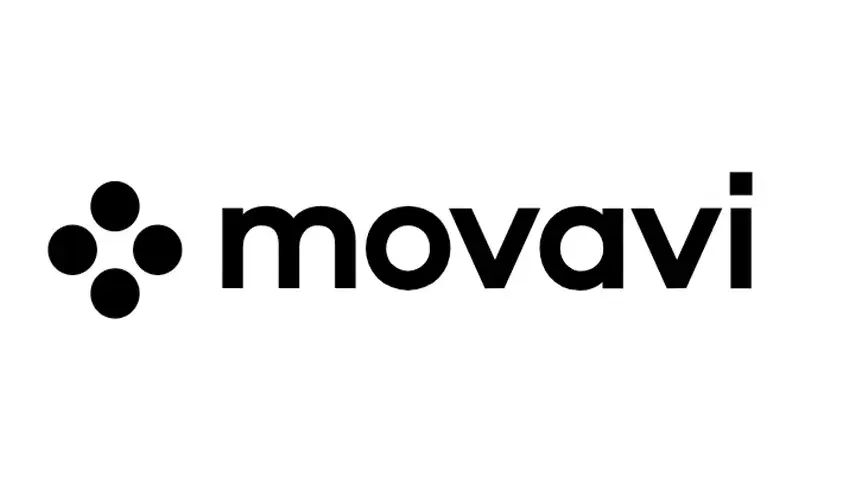 | | |
| --- | --- |
| Editor Name | Movavi Video Editor |
| System Requirements | 2GB RAM, Dual core processor, 2GHz |
| Best For | Content Creators, YouTubers |
| Customer Support | Chat |
| Our Rating | 4.8/5 |
Why a Reliable Video Editing Software matter?
Trending videos play a big role in today's digital world, mainly because they're really good at getting attention, making people feel strong emotions, and having the potential to go super viral. In the never-ending race to grab people's focus, trending videos have this special power to instantly grab your eyeballs.
They do this by looking amazing, having catchy titles, and telling interesting stories that stand out from the constant flow of stuff online. This makes people want to click on them and get involved.
One cool thing about trending videos is how they make you feel stuff. They're like masters of storytelling, creating tales that hit you right in the feels. This emotional connection doesn't just fade away – it actually makes you feel connected to the videos. And that connection makes you want to share the videos, talk about them, and stay loyal to them.
To make these trending videos, you need a mix of imagination and the right tools. That's where Movavi Video Editor comes in. It's like a super helpful sidekick that lets creators make videos that look totally professional and really connect with the people they want to reach. With its easy-to-use design, all sorts of editing tricks, and templates you can tweak, Movavi Video Editor is like pure gold when it comes to turning cool ideas into awesome trending videos.
Features of Movavi Video Editor
User-friendly interface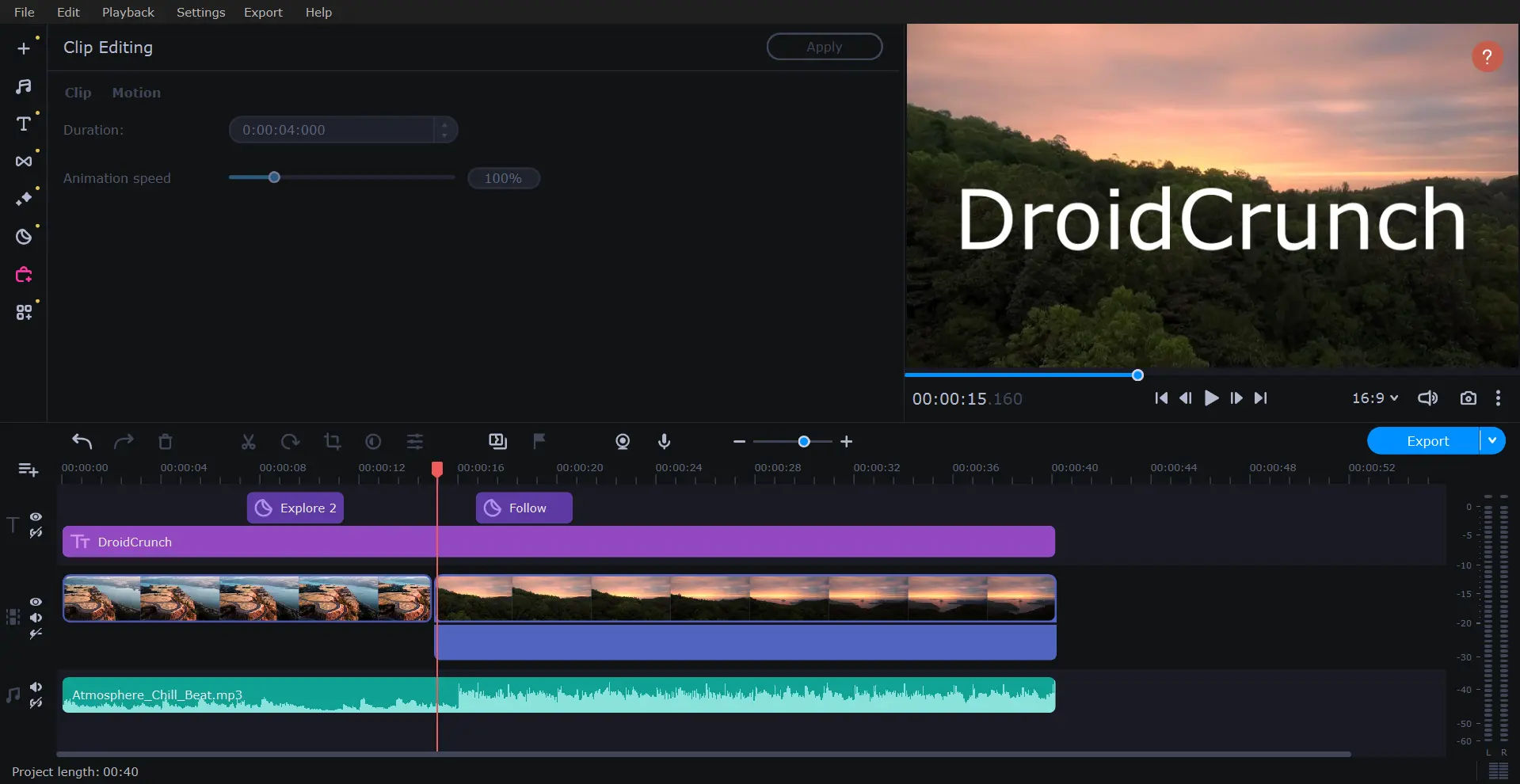 Movavi Video Editor is refreshingly simple and properly names every aspect. As you begin to conduct tasks, a succession of tooltips emerge to show you how to utilise the application. Buttons on the left rail choose between Importing, Filters, Transitions, Titles, Stickers, and other modes. Colour Adjustments, Crop and Rotate, Pan and Zoom, Stabilisation, Slow Motion, and Chroma Keying are all included in the final group.
The Import mode includes not only importing parts, but also the standard Media bin, which contains all project content, as well as sections for sounds, music, sample videos, backgrounds, and effect packages.
The program's main section structure is similar to that of other video editing applications, with a source box at the top left, timeline tracks across the bottom half of the window, and a preview player at the top right. Only the video preview panel can be undocked, although the size of the other panels can be changed.
There are controls for Split, Rotate, Crop, Colour Adjustments, Clip Properties, Markers, Record Video, and Record Audio above the timeline, which does not limit the number of tracks you can add.
AI-powered Tools
AI Background Removal: This tool uses artificial intelligence to automatically remove the background from your videos, leaving only the foreground subject. This is a great way to create green-screen effects or to simply make your videos more visually appealing.
AI Noise Removal: This tool uses artificial intelligence to remove unwanted noise from your videos, such as wind noise, camera shake, and background chatter. This can help to improve the audio quality of your videos and make them more professional-sounding.
AI Upscaling: This tool uses artificial intelligence to upscale your videos to a higher resolution, without sacrificing quality. This can be a great way to improve the look of old or low-resolution videos.
AI Motion Tracking: This tool uses artificial intelligence to track the movement of objects in your videos. This can be used to apply effects to objects, such as blur or color changes, or to create dynamic titles and transitions.
Cutting and Trimming


The Cut and Trim feature in Movavi Video Editor is a powerful and user-friendly tool that allows users to precisely edit their video footage with ease. This feature provides the capability to remove unwanted sections of a video and trim clips to the desired length. With a simple drag-and-drop interface, users can easily select the portions of the video they wish to remove, whether it's to eliminate mistakes, shorten lengthy clips, or create a more polished final product.
Movavi's Cut and Trim feature also provides frame-by-frame accuracy, ensuring that your edits are precise and seamless. Additionally, users can apply various transition effects to smooth out the transitions between edited clips, enhancing the overall visual appeal of their videos. This versatile tool empowers video editors of all levels to craft professional-looking videos effortlessly.
Whether you're a beginner or an experienced video editor, Movavi's Cut and Trim feature simplifies the editing process, making it an essential tool for creating captivating video content.
Cropping and resizing

Movavi Video Editor offers a versatile and user-friendly cropping and resizing feature that empowers video editors to customize their footage effortlessly. Whether you need to eliminate unwanted portions of a video or adjust its dimensions to fit various platforms and screens, this tool simplifies the process.
Cropping allows users to trim away unnecessary elements, such as black bars or distracting background details, while maintaining the focus on the essential content. Resizing, on the other hand, enables easy adaptation to different aspect ratios, resolutions, or screen sizes, ensuring compatibility with various devices and social media platforms.
Movavi Video Editor's intuitive interface and real-time preview make it straightforward for both beginners and experienced editors to achieve polished and professional-looking videos through precise cropping and resizing. Whether you're preparing content for YouTube, Instagram, or any other platform, this feature proves to be an indispensable asset in the video editing toolkit.
Rotating and flipping

The movavi rotating and flipping feature is a really helpful tool for editing. These functions empower video editors to manipulate their footage with ease, allowing for creative control over the orientation and perspective of their clips. The rotating feature enables users to effortlessly adjust the angle of their videos, correcting any unintentional tilts or capturing unique angles for added visual interest.
On the other hand, the flipping feature enables horizontal and vertical mirroring, opening up a world of possibilities for creating captivating and artistic effects. Whether you want to correct a shot's orientation or add a fun twist to your content, Movavi Video Editor's rotating and flipping features are essential tools that grant you the freedom to transform your videos with precision and creativity.
Speed control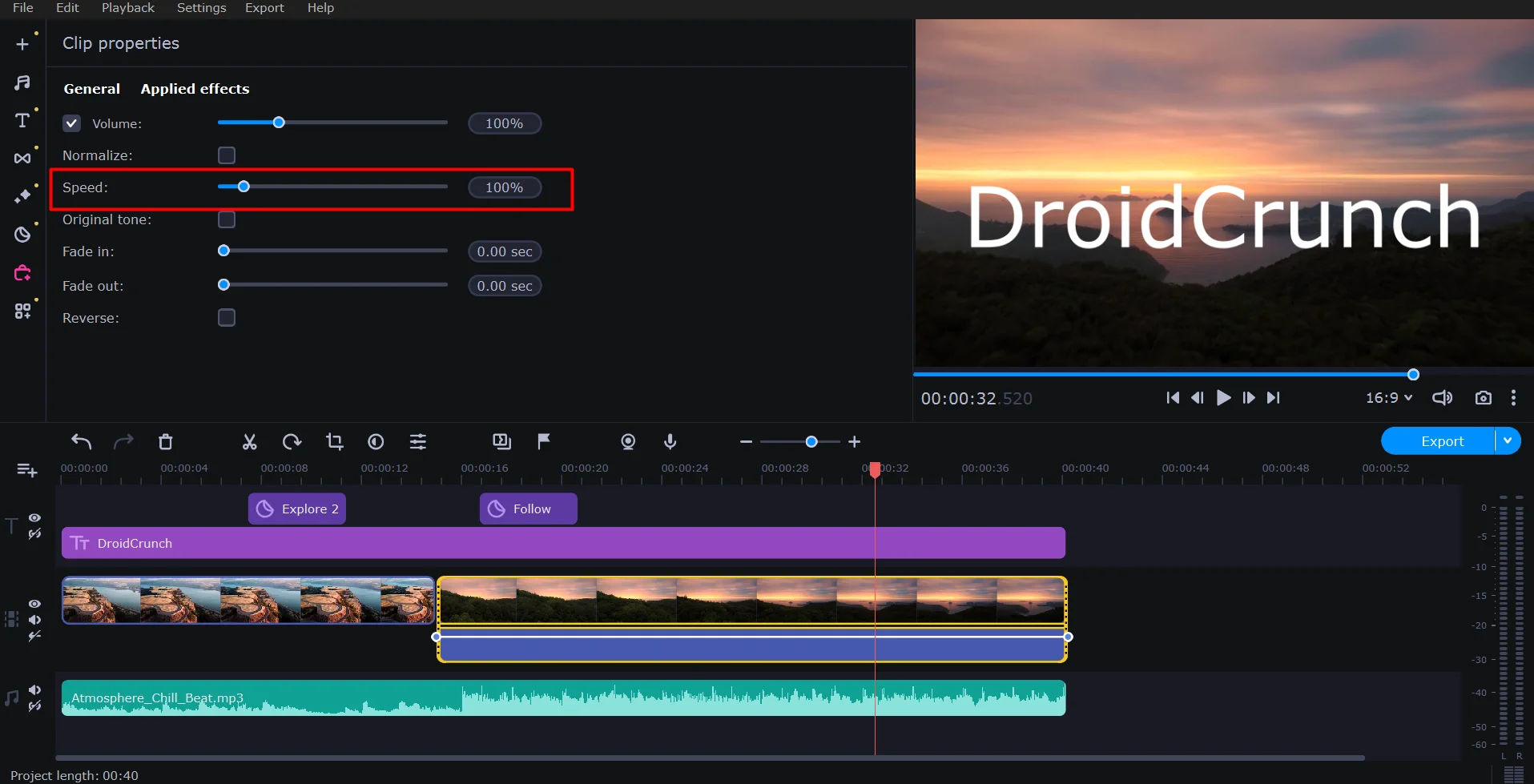 Movavi Video Editor offers an impressive Speed Control feature that allows users to manipulate the pace of their videos with ease. This feature is particularly useful for creating dynamic and engaging content. With Speed Control, users can both speed up or slow down specific parts of their videos, enhancing their storytelling capabilities.
Whether you want to add a dramatic slow-motion effect to capture intricate details or create fast-paced, energetic sequences, Movavi's Speed Control feature offers a user-friendly interface that simplifies the process. Users can choose from a range of speed options, ensuring full creative control over their video's tempo. This versatile tool is a valuable addition for video editors, enabling them to bring their vision to life and craft videos that leave a lasting impression on their audience.
Adding Transitions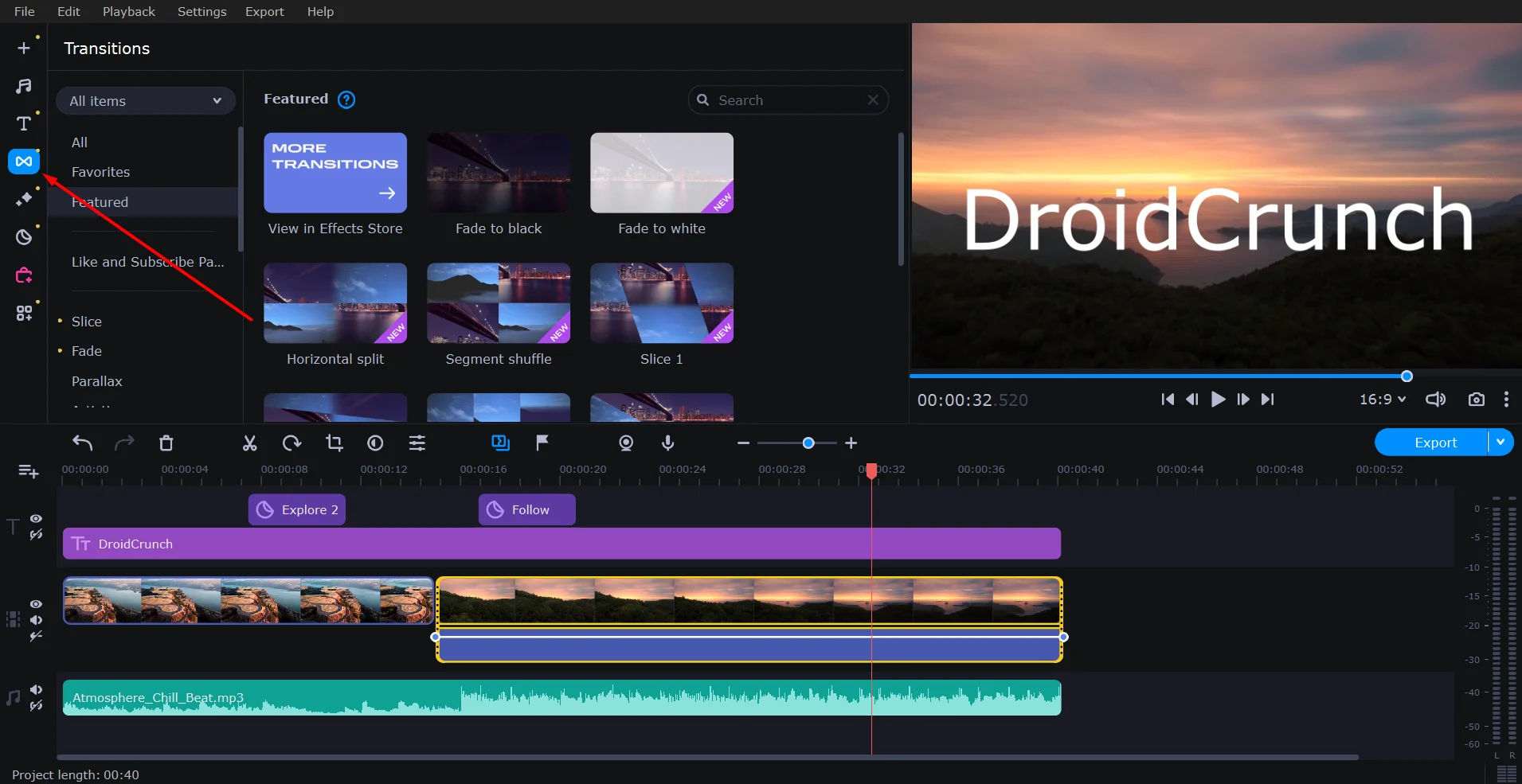 The Transitions feature in Movavi Video Editor is a powerful tool that enhances the overall quality and visual appeal of your videos. This feature allows users to seamlessly blend two video clips together, creating a smooth and professional transition between scenes. Whether you're working on a personal project or a professional video production, Movavi's Transitions feature offers a wide variety of transition effects, such as fades, wipes, zooms, and more, to suit your creative needs.
With just a few clicks, you can add these transitions to your videos, giving them a polished and cinematic touch. The intuitive interface and user-friendly drag-and-drop functionality make it easy for both beginners and experienced video editors to incorporate captivating transitions into their projects.
Whether you want to convey a sense of time passing, change in location, or simply add a stylistic flair to your videos, Movavi Video Editor's Transitions feature is an invaluable asset in achieving a professional and engaging final product.
Adding Effects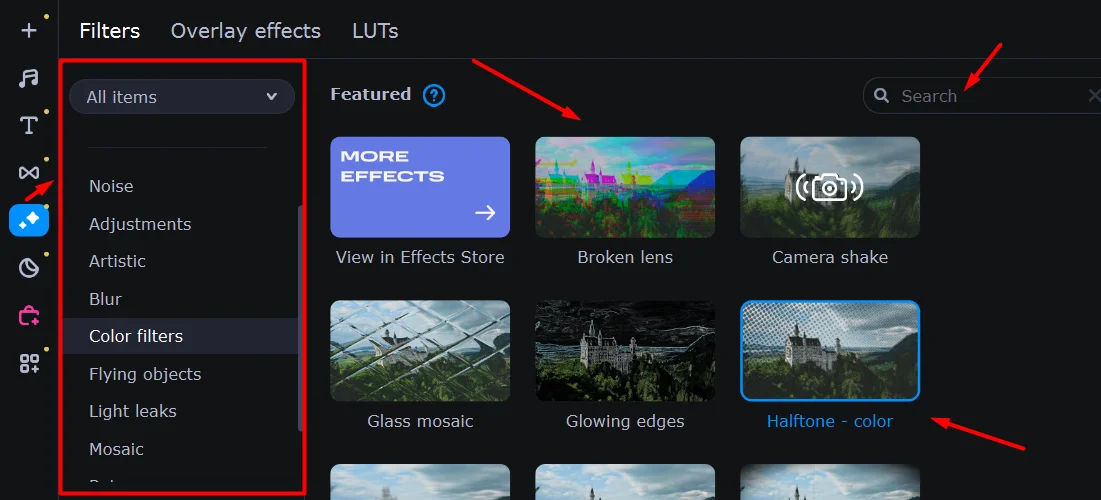 It offers a comprehensive array of editing tools and features, and one of its standout functionalities is the "Effects" feature. This powerful tool allows users to enhance their videos in creative ways, adding a layer of professional polish to their projects. With a vast library of visual effects, filters, and transitions, users can easily transform their footage to achieve the desired mood or style.
Whether you want to apply cinematic filters for a dramatic look, add dynamic transitions for smooth scene transitions, or incorporate creative visual effects to emphasize certain moments, Movavi's Effects feature provides the versatility and simplicity needed to bring your video vision to life. Additionally, the real-time preview option ensures that you can see the effects in action before finalizing your edits, ensuring a seamless and visually captivating end result. Whether you're a seasoned video editor or a novice, Movavi's Effects feature opens up a world of creative possibilities, making your videos truly stand out.
Color adjustments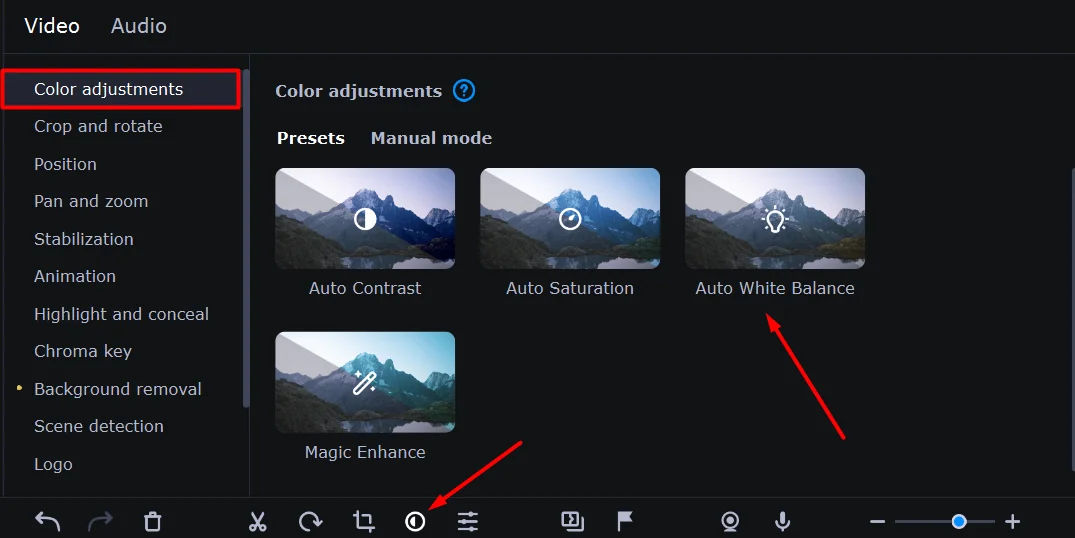 The Color adjustments feature in Movavi provides a spectrum of tools to transform the visual palette of your videos. It offers a wide array of options that enable you to fine-tune and modify the hues, saturation, brightness, and contrast in your footage. With this tool, you can craft the desired mood and atmosphere for your videos by effortlessly manipulating the colors. Whether you want to enhance the vibrancy of your content or create a nostalgic, vintage look, Movavi Video Editor's Color adjustments feature allows you to achieve your desired aesthetic effortlessly.
Chroma Key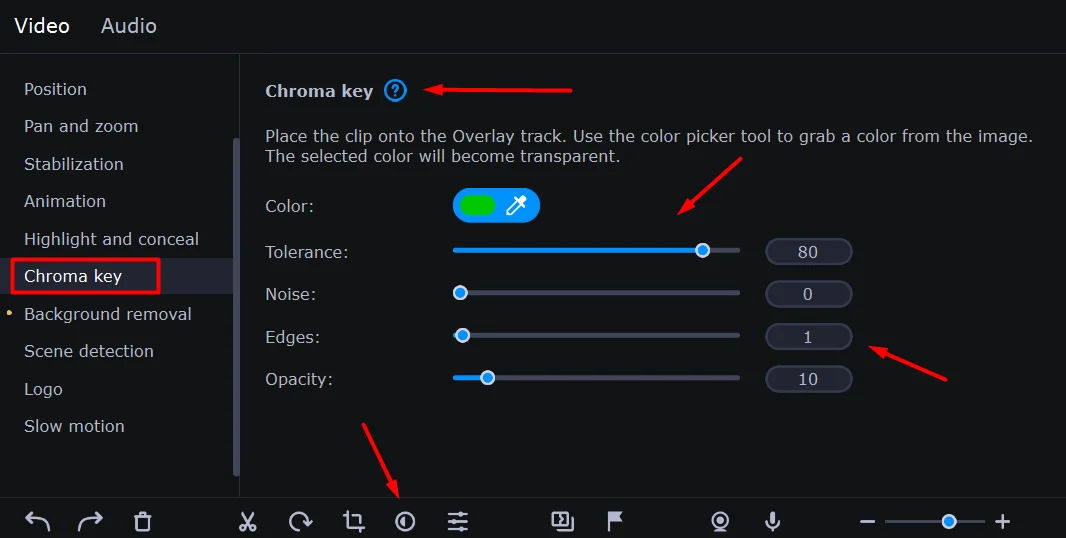 The Chroma Key feature in Movavi Editor is a dynamic tool that enables seamless integration of objects or characters into a video scene. This feature effortlessly removes a selected color from the footage, creating a transparent background through which other elements can be layered. By doing so, Movavi Video Editor opens up a world of creative possibilities, allowing users to insert custom backgrounds, merge distinct clips, and conjure up captivating visual effects. This function simplifies the process of transforming your videos, facilitating the blending of disparate elements with precision and ease, resulting in a more polished and visually appealing end product.
Motion Tracking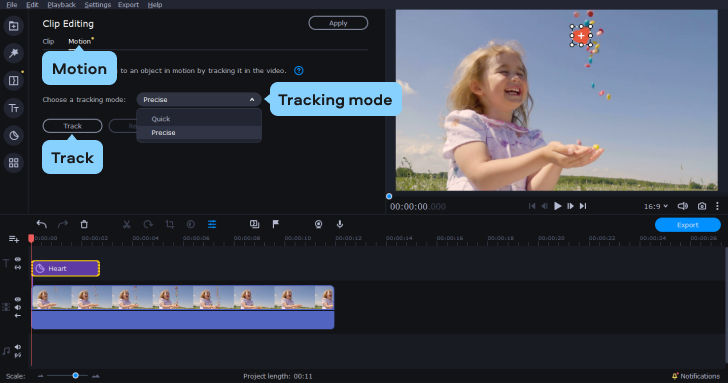 The Motion Tracking feature in Movavi Video Editor offers a seamless and efficient way to follow and capture the movement of objects within your video clips. This tool excels in precisely locking onto the chosen subject, ensuring that it remains in focus and appropriately framed throughout the video. Whether it's for enhancing visual effects, adding text or graphics, or simply keeping a particular element within the frame, the Motion Tracking feature in Movavi Video Editor provides a reliable and intuitive solution for achieving these objectives effortlessly. It simplifies the process of maintaining visual consistency in your videos and elevates the overall quality of your video editing endeavors.
Audio Editing Tools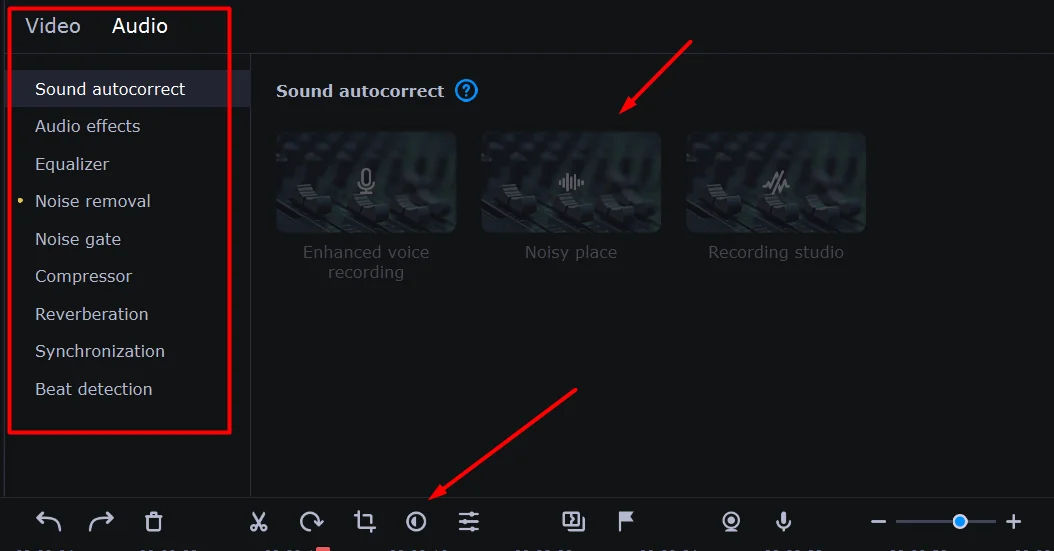 The Audio Editing feature within Movavi Video Editor offers a comprehensive set of tools and options to enhance your video's sound. This feature allows you to manipulate audio elements with precision, providing control over volume levels, seamless trimming, and precise synchronization with your visuals. Whether you want to fade in or out, remove background noise, or insert audio effects seamlessly, Movavi's Audio feature empowers you to fine-tune your video's audio soundtrack. With an intuitive interface and a variety of audio editing functions, it ensures that your video's sound quality matches your creative vision, bringing an enhanced auditory experience to your audience.
Titles and Texts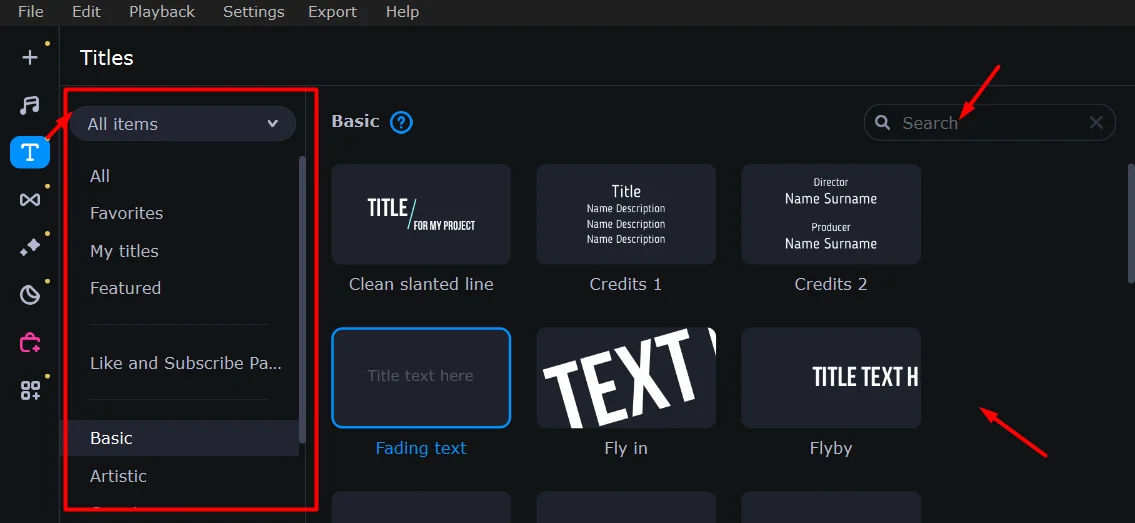 You have a wide variety of stylish and fun titles to choose from, including some with cool animations. Plus, you can make these titles move along with your video by tracking their motion. When you resize or reposition them on the screen, you'll instantly see how they'll appear in your final video – not all video editors can do this.
You also have a excess of options when it comes to fonts and colors, and you can even pick a background color and outline (which is like a border). Once you've customized a title to your liking, you can save it as a preset for future use. And for a bit of extra flair, some titles come with simple animations, like flying in or zooming in.Effects Store
Export Options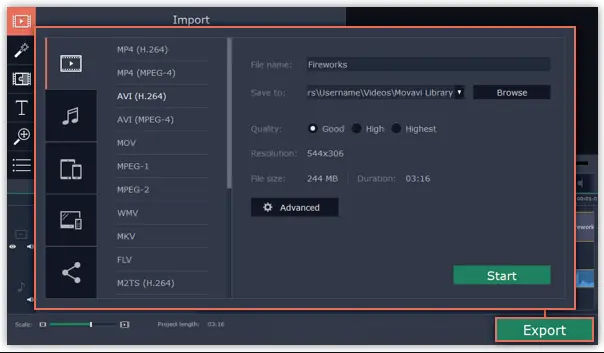 Video formats: You can export your videos in a wide range of formats, including MP4, AVI, MOV, MKV, WMV, and FLV. You can also choose the video quality, from low to high.
Audio formats: You can export the audio track of your video in a variety of formats, including MP3, WAV, AAC, and FLAC.
Device presets: Movavi Video Editor 2023 includes device presets for popular devices, such as smartphones, tablets, and TVs. This means that you can easily export your videos in a format that will play on your target device.
Direct upload to social media: You can also export your videos directly to social media platforms, such as YouTube, Facebook, and Vimeo. This is a convenient way to share your videos with friends and followers.
To export your video, follow these steps:
Click the Export button in the toolbar.
In the Export window, select the desired export options.
Click the Export button to start the export process.
Preview and Export
Real-time preview: You can see the changes you make to your video in real time, so you can be sure of the final result.
High-resolution preview: You can choose between low and high-resolution previews, so you can get a good look at your video.
Full-screen preview: You can watch your video in full screen to get a better sense of the overall look and feel.
Multiple export options: You can export your video in a variety of formats and to a variety of devices or platforms.
Preview before exporting: You can preview your exported video before you save it, so you can be sure that it is the way you want it.
Pricing
If you are a newbie, try the free trial of Movavi Video Editor. If you like Movavi's free service, you may upgrade to their premium plan for $2729 per year.
FAQs
Is there any trial version of Movavi Video Editor available?
Yes, Movavi often offers a trial version of their software that allows you to explore the features and functionality before making a purchase. This is a great way to determine if the software meets your editing needs.
Does Movavi have a built-in media library?
Yes, Movavi Video Editor 2023 includes a built-in media library with a collection of stock videos, music tracks, and sound effects. This library can save you time searching for external resources, allowing you to quickly access and incorporate media into your projects.
Can I edit audio in Movavi Video Editor 2023?
Yes, you can edit audio within the software. Movavi Video Editor 2023 allows you to add audio tracks, adjust volume, apply audio effects, and even synchronize audio with video clips.
Can I work with 4K and higher resolution videos in Movavi Video Editor 2023?
Yes, Movavi Video Editor 2023 supports editing and exporting videos in 4K and even higher resolutions. This ensures that your projects maintain their quality, whether you're working with high-definition footage or aiming for the best visual experience.
Is there a feature for stabilizing shaky footage?
Certainly. The software comes equipped with a video stabilization tool that helps smooth out shaky or unstable footage, resulting in a more professional-looking final product.
Can I record and edit voiceovers in Movavi Video Editor 2023?
Yes, you can record and edit voiceovers directly within the software. This is useful for adding narration, commentary, or any other type of audio commentary to your videos.
Final Words
In final words, Movavi Video Editor 2023 represents a significant advancement in video editing software. It appeals to both novices and experts because of its user-friendly interface, extensive features, and revolutionary capabilities.
The most recent version includes AI-driven tools, powerful visual effects, and seamless multimedia integration, demonstrating Movavi's dedication to market leadership.
The software's user-friendly design allows users of all skill levels to easily realize their creative ambitions. The variety of editing choices, together with AI innovations such as automated upgrades and scene detection, ensures fast and high-quality output.
Movavi Video Editor 2023 appears as a useful companion, helping the transformation of raw footage into fascinating narratives, making it a must-have for modern content makers and video enthusiasts. Future developments promise even more thorough editing.
The Review
Movavi Video Editor
Movavi Video Editor 2023 is a powerful video editing software that can be used by the professional vloggers, YouTubers, and Videographers. One can easily give a mesmerising touch to the videos in Movavi. It lets you play with the effects and video adjustments so that you can render perfect shots. It is really easy to use and quite affordable for any video editor.
PROS
Easy to understand user interface
Affordable
Motion Tracking & Picture-in-Picture Tools
Supports Multiple File Formats
Tutorial & Support
CONS
Watermark in the free version
Rendering can be slow
Review Breakdown
Easy to Use

0%

Features

0%

Effects

0%

Templates

0%

Support

0%

Flexibility

0%

Compatibility

0%