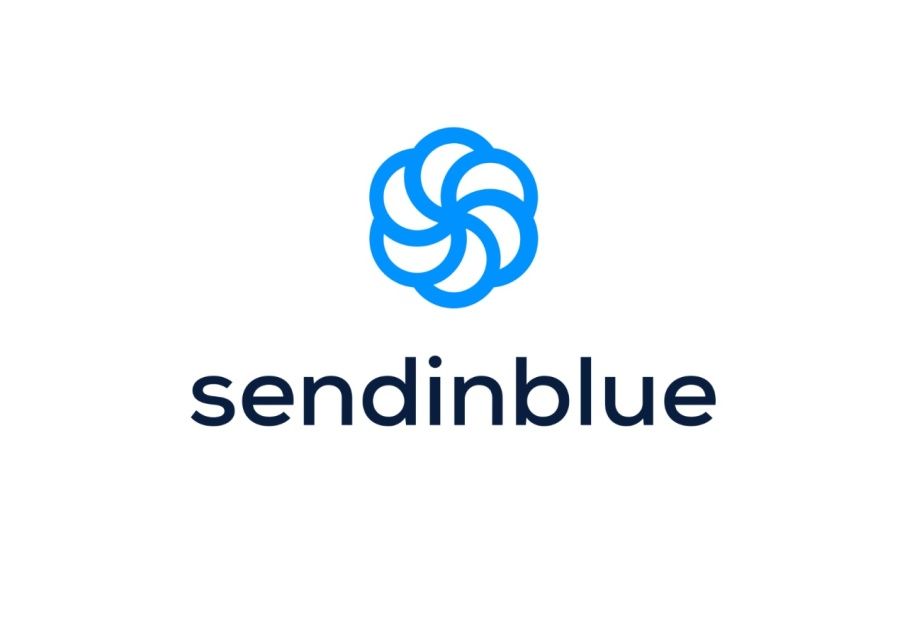 Sendinblue is one of the most powerful and smartest marketing automation companies for growing businesses. It gives the right marketing and sales tool that helps you thrive digitally. Sendinblue helps you to reach the right people and produce the right content. This smartly thought approach has paid off very well, today it has about 80,000 users and sends a whopping over 100 million emails per day. Most marketers and brands use Sendinblue to send newsletters and email marketing campaigns.
Email marketing has become very crucial probably a key component for many online businesses now, even in the age of so many social media networks, there is still a no better and secure way to contact people directly than through emails and especially if it's for any business purpose. And along with that, we wish to minimize any additional costs allowing us to keep a bigger revenue. Here comes the role of Sendinblue, it is a great solution that helps you in achieving that. You can test this tool without putting any money at stake by trying out its free plan and seeing if this is what you were looking for. Feature-wise also Sendinblue is outstanding, it doesn't lack anything, so it can help you to grow your business. The UI is also very great and it's easy to use. I have used Sendinblue as my main email tool and I am very satisfied with it. I liked the speed and knowledge level of support that the team provides.
Sendinblue Overview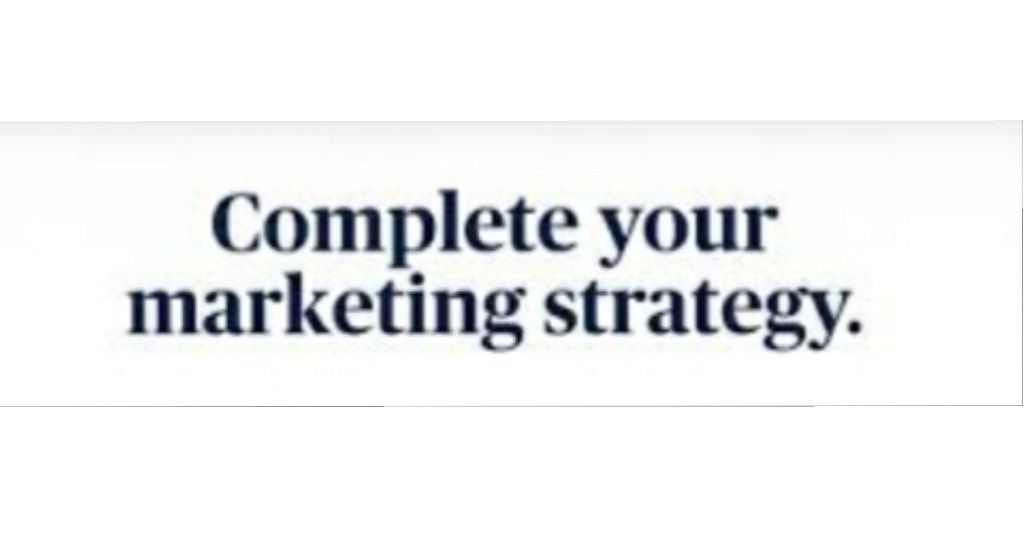 Sendinblue is an email marketing solution that offers everything you would expect. It provides a user-friendly all-in-one solution that aims to help small to midsize businesses in growing. It is a complete digital marketing hub with all the important functionalities, some notable features include baked-in customer relationship management (CRM), beefier automation, and a new professional template creation service when combined with its highly affordable and attractive pricing tag it is the perfect email marketing platform for you.
Sendinblue helps businesses grow and build relationships through email campaigns, marketing automation, SMS messages, and transactional emails. It is a cloud-based marketing communication platform that is designed to meet all digital marketing needs. Most people use it because of its excellent marketing capabilities but it also provides services like send-time optimization and autoresponders. You can easily create very complex marketing workflows with the help of Sendinblue. Using this software, you can sell more through sleek email messages that can be designed in no time, communicate more directly with your customers for time-sensitive offers or urgent messages, keep your team ready with a shared inbox so that you never lose the track of your customer's email history. There is also a chat option that lets you become instantly available for your customers if they have any questions while browsing your site. Sendinblue is an intuitive platform that can become one of the best email marketing tools.
Features of Sendinblue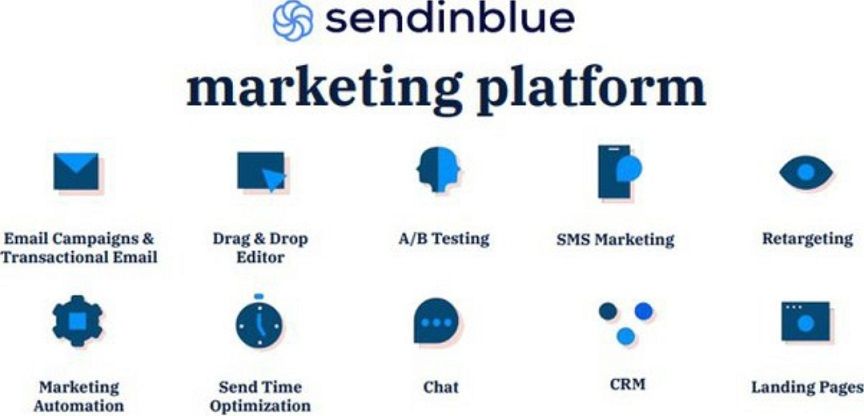 A/B testing
The A/B testing feature in Sendinblue is amazing. It optimizes your emails by testing the multiple subject lines and picking winners.
Drag and Drop Email Editor
An intuitive drag and drop editor comes in Sendinblue that lets you choose from a range of different varieties of pre-set elements and then customize your email design.
Landing pages
The feature of landing pages is available only in the Premium and Enterprise plans. Landing pages can be created using Sendinblue straight from scratch or by using one of its professional-looking attractive templates that help in speeding up the entire process.
Opt-in-Forms
There are dynamic subscription forms in Sendinblue. You can customize them as you like to fit your brand. There are more complicated or sophisticated features like captcha verification and automatic data population so that people don't have to invest any of their time in filling in their name or other details twice.
Email Marketing Automation
There is plenty of email marketing automation functionality that Sendinblue offers. For example, it has a workflow editor that allows you to target leads completely based on their on-site actions, email engagement, web behavior, etc.
Great Customer Support
Sendinblue offers fantastic customer support, other than the live web chat, you can also contact the Sendinblue support team via phone and email. Its site also has a knowledge base with many helpful FAQs and tutorials.
Social Media Marketing Tools
There are social media marketing tools in Sendinblue that are relatively a new addition to the marketing platform. The most commonly used feature is to launch Facebook ads directly from your Sendinblue account, retarget old contacts and reach new audiences based on your email lists.
Sendinblue CRM
There is a sales CRM included in Sendinblue. It is a place where you can store all the important information that you have of your plan follow-ups and contacts. You can also store additional profile information like the notes from previous communications that you had or upload relevant documents to the contact profile directly.
Reporting and Analytics
Sendinblue tracks all the must-have email metrics like bounces, send and clicks, subscriptions and unsubscribe rates, sales on automated campaigns, and A/B testing outcomes. There are geo-tracking, click-map in the emails, google analytics integration and engagement rates of your lists that will provide you with invaluable insights about your subscribers.
How to use Sendinblue?
Step1- Set up your Sendinblue mailing account.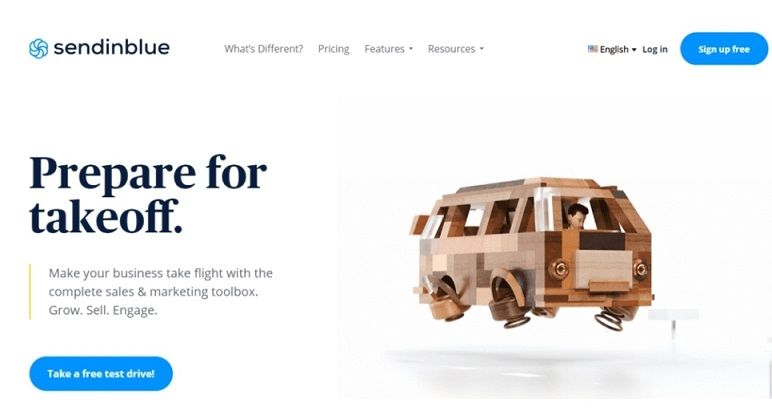 Step2- Start setting up your profile by clicking upon the button present on the official Seninblue website that invites you to create a new profile.
Step3- Fill out the details or use your Google account to sign up with a single click.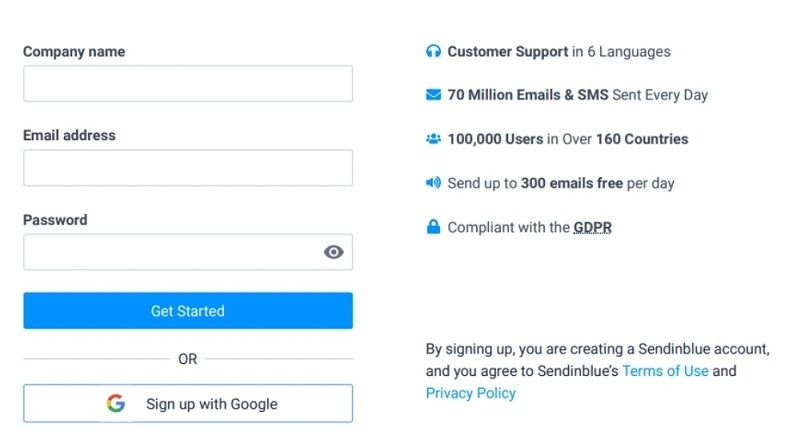 Step4- Choose a pricing plan after getting the confirmation e-mail.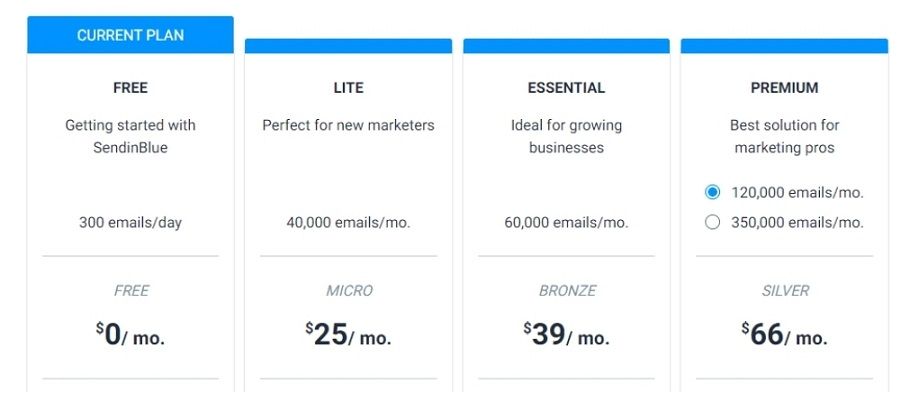 Step5- You will be taken to the dashboard from there you can complete your profile information, import your existing contacts, and schedule your first campaign.

Step6- Set up your contact list by importing contacts from your Campaigns>Dshboard or create a subscription form to collect new leads if you don't have any contacts.
Step7- Schedule your first campaign by going to Campaigns>Dashboard>Create a New Campaign. Then set up and design the e-mail campaign.
Step8- Activate your Sendinblue account and start sending out campaigns.
Step9- Set up email automation to create a perfect marketing workflow.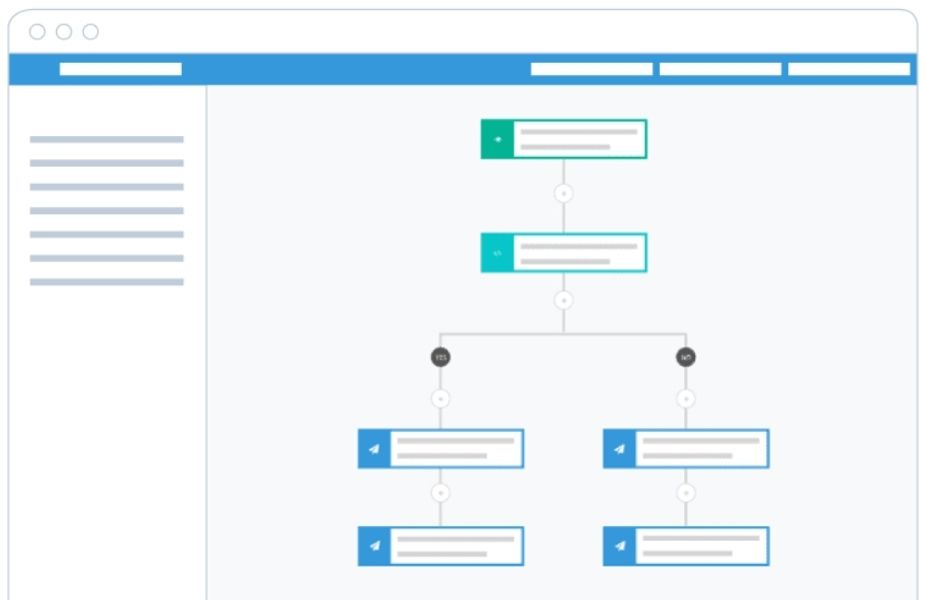 Firstly enable the transaction emails by visiting Main Menu>Transactional. Then activate automation. You can also create custom automated workflows and to do so go to Main Menu>Automation> Create a Workflow.
Step10- Run promotions and grow your contact list by setting goals and objectives and creating target audience profiles.
Alternatives to Sendinblue
SendGrid is a renowned email delivery software by Twilio. It is very robust and can easily replace Sendinblue in all matters. SendGrid is best for transactional emails. It is a very reliable and efficient tool for startups and brands to nurture their email list. Again, it is cost-efficient and a strong competitor to Sendinblue. You may sometimes get confused about whether to go with Sendinblue or SendGrid because they are extremely popular and similar in features. However, the integration part distinguishes the two and helps you opt for the preferred one.
Mailchimp
Mailchimp is one of the most popular email marketing platforms. It is software that comes with a powerful email builder that allows users to create branded, personalized emails with plenty of pre-loaded templates. Mailchimp lets you create marketing emails with its pre-loaded templates and email builders. You can use SMTP and API to send and track transactional emails. There is also marketing automation and real-time email analytics in the software. It is no doubt a competent tool to launch successful email marketing campaigns.
Mailgun
Mailgun is an amazing tool for cloud-based email services for businesses and developers. It is an API-driven email platform that allows you to track and send transactional as well as marketing emails effortlessly. It includes features like advanced email analytics, automatic email parsing, improved email deliverability, personalizing and schedule emails. The software is ultimately a worthy alternative to Sendinblue.
Mailjet
Mailjet is an all-in-platform that helps users send and track transactional and marketing emails. Using Mailijet's you can do real-time collaboration and advanced analytics. It is an impressive email platform with a gallery of pre-loaded templates that helps you to create a personalized or branded email. Mailjet can solve email deliverability issues that make the software one of the best alternatives to Sendinblue.
FAQs of Sendinblue
Who are the common users of Sendinblue?
Sendinblue is a tool that does email marketing, any small-sized or medium-sized business can use this platform if they wish to send and automate email marketing campaigns. The marketing and advertising industry commonly use this tool.
Who can use Sendinblue?
Anyone who needs to send transactional emails and SMS and wants an email marketing tool at a lower price can try out Sendinblue.
What integrations does Sendinblue have?
Sendinblue is in the Zapier library that lets you integrate your account with many other apps. It has a bunch of native integrations, including- Drupal, Shopify, jimdo, WordPress, SalesForce, PrestaShop, Magento, and many more.
Does Sendinblue have a free plan?
Yes. Sendinblue has a forever free email marketing software plan. This plan gets you 300 emails daily means 9,000 per month and the email automation is free up to 2,000 email subscribers including the page tracking.
What is the pricing of Sendinblue?
Sendinblue paid plans to start from $25 per month for over 10,000 emails.
Pricing of Sendinblue
Sendinblue pricing depends upon the emails sent. It charges per email sent and not per size of your contact list. So, it doesn't matter if your contact list has 100 or 1,000,000 people, Sendinblue will not charge any extra amount for that.
Sendinblue has a free plan that has a cap of 300 emails per day translating to 9,000 per month with email automation of up to 2,000 contacts. If you have your list anywhere between 100 to 500 people then the free plan can be the perfect choice for you. Other than that, it also offers paid plans, you can upgrade to them and get some extra perks and more send volume. The paid plans include unlimited contacts. The Lite plan comes at $25 for 10,000 emails per month and goes up to $99 for 100,000 emails per month. The Premium plan starts at $65 per month with 20,000 emails per month and goes up to $599 with 1,000,000 emails per month. Lastly, the third paid plan is the Enterprise plan that comes with custom pricing for large organizations that wants to exceed the threshold of 1,000,000 emails.
What makes Sendinblue stand out?

Sendinblue prevents you from working hard by making you work smartly, using Sendinblue you can focus just on the important tasks and put the rest on autopilot with automation. The support system of Sendinblue is very strong, they are round-the-clock to support you with any questions or queries. Any small and medium-sized business can use it even if they have a limited budget. The pricing of Sendinblue is probably the one thing that stands out first, it is a cheaper software than most of its other competitors, what you pay to get Sendinblue is almost nothing for an email marketing software. So, if you are looking for a helpful email marketing tool at value-for-money then Sendinblue is the perfect tool for you as it provides you with all the necessary functionalities that you need.
Sendinblue boasts solid workflow-based automation. It lets you trigger campaign actions using the visitor's email and website engagement behavior, send transactional messages, assign lead scores, plus loads more. There are not many newsletter tools in the market that offers SMS marketing and transactional email but Sendinblue does that too. It is an email campaign builder that has very responsive technical support and does a quick product innovation implementation. It also allows you to send emails that do not arrive in spam. The security measures and filters of Sendinblue are very strong it keeps your databases up to date and well organized. In all, Sendinblue provides a robust suite of services all within a single user-friendly solution.
Pros and Cons of Sendinblue
Pros-
Sendinblue email editor is a breeze and requires no learning curve.
The customer support of Sendinblue is responsive and knowledgeable.
Has a flexible and impressive email automation functionality.
Compared to other email marketing platforms the pricing of Sendinblue is lesser.
Offers a highly attractive free forever plan.
It has over 65 email templates that can be used to make the email designs attractive quickly.
Email render checking and autosave are included.
Keep your data and privacy secure.
Cons-
Logins for different users are only in the Premium plan.
It is not an enterprise marketing tool in general.
The free plan of Sendinblue has a sending limit of 300.
Sometimes the system feels a little bit slow while loading certain pages.
The Review
Sendinblue
Sendinblue is an all-in-one email marketing platform that's highly capable of taking care of all email marketing needs. With Sendinblue by your side, you can be everywhere your customers are and give life to their journey.
PROS
Sendinblue email editor is a breeze and requires no learning curve.
The customer support of Sendinblue is responsive and knowledgeable.
Has a flexible and impressive email automation functionality.
Offers a highly attractive free forever plan.
Email render checking and autosave are included.
CONS
Logins for different users are only in the Premium plan.
The free plan of Sendinblue has a sending limit of 300.
Review Breakdown
Easy To Use

0%

Features

0%

Support

0%

Brand Trust

0%

Value for Money

0%
Sendinblue DEALS
We collect information from many stores for best price available
Best Price
$10