WhatsApp is one of the most used messenger application which comes with a very clean and friendly user interface. In the official version of WhatsApp, you can change the background of the chat window in solid colors or any wallpaper. But it's not sufficient, as you can not change fonts, change the theme of the home window, wholly customize the conversations bubble style fonts and background, change ticks style, change custom chat theme. In this article, I will let you know how you can change WhatsApp themes for Android Mobile step by step.
Before I talk about the way to change theme on WhatsApp, you must know that original version does not allow you to do such things. As such, you will be downloading or installing a third party application that resembles to WhatsApp or helps you change the behaviour and appearance of it. In such case, it is pertinent to note that the use of these apps is not recommended and for any consequence you will be the solely responsible.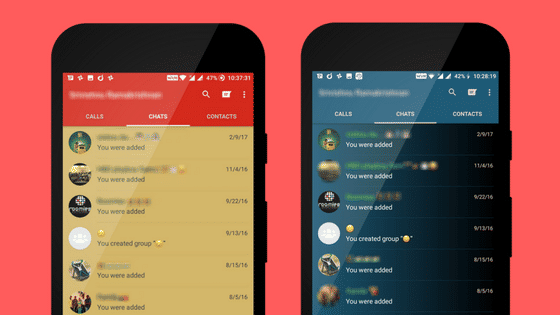 Prerequisites
As I mentioned in the official version you can't apply these changes. You will need to download WhatsApp Plus in your device to have these functionalities. There is, however, no need to root the device for applying the changes.
[alert-announce]Read this :
how to download WhatsApp plus in android
[/alert-announce]
How To Change WhatsApp theme on Android
When you finish downloading the application, install it in your smartphone and follow the instructions for Whatsapp themes download and to change WhatsApp theme on your android smartphone.
Step 1: click bottom corner button and click brush icon button in the extended menu.
Step 2:  download any theme you want from the list of themes given
[alert-announce]Also See:
How To Send Scheduled Messages on WhatsApp
[/alert-announce]
another way
Step 1: Click the top corner three dotted option menu and select "plus settings" from the further alternates
Step 2: Just tap of the Download Themes option under the head themes. Just go ahead and Download any theme you want.
[alert-announce]Also See:
How To send a message to any no on WhatsApp without saving  
[/alert-announce]
Well, this process will change the overall theme of your Whatsapp Application. You can customize other things separately as well. While clicking on plus settings you can find Appearance settings for customizing Conversation Screen, Main/Chats Screen, Widgets and many more.
You can also change the font style for your WhatsApp in the appearance settings.
There are lots of things to discover with this application. This was how you can change the theme in WhatsApp. Also, read our more article to know how to customize Whatsapp.
Please let me know in comments your feedback. Subscribe Droidcrunch on YouTube and follow us on Facebook to be connected with us.