Directory Listing themes for WordPress are very trending these days. If you have an idea to create a listing website where the users may create their own listings, manage it, claim it, promote it, then WordPress is the great option to do that.
What I should actually see when looking for the Directory Listing WordPress theme?
You are crazy, you asked a great question though. To be honest, we always check for the below things while choosing a suitable listing theme.
It must satisfy all the needs of your idea/plan.
There should be quick and reliable support.
The code quality of the theme must be good.
It must be scalable and stable.
It must have the essential functionalities such as claiming, paid promotion, payment gateways, easy frontend submission, spam protection and much more.
Its user interface should be good.
The mobile interface must be better enough as most of the users come from mobile these days.
It may have a number of demos to pre-install.
It must have a robust and advanced explore/search option so that users may easily find the listing they are looking for.
It should be compatible with the most and trending visual composers such as Elementor.
And at last, it should be such that you don't feel after seeing another theme that you might have installed this and repent.
So, while taking care of all the points I have listed some of the best directory listing WordPress themes that you can install on your website and make it live. I also know that you are here because you want to do serious business out of an industry best directory WordPress theme.
As such, I have included all the themes that actually allow you to create a scalable business out of it.
Mylisting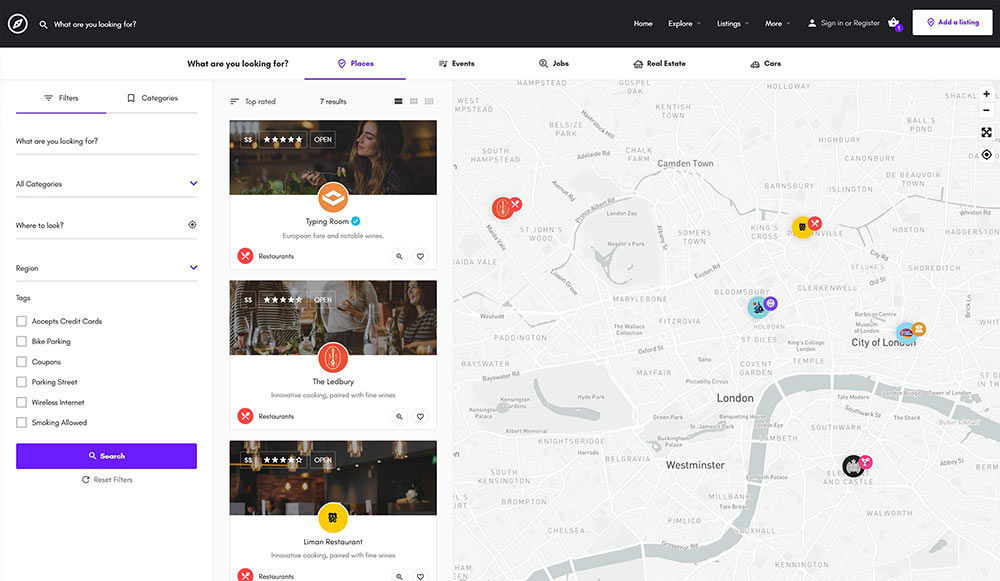 Mylisting is one of my favorite themes for the listing and directory websites. This theme is light weighted and comes with nice animations and a better UI and UX. This theme provides you with tons of stunning features that you will miss in many other themes. With Mylisting listing theme, users can interact with the listing owners.
It supports Elementor page builder and lets you easily set up the listing types and define the listing fields. This theme is fully functional and comes in handy when you have big plans in your mind.
Whether you are looking for restaurants directory, events directory, real estate directory or any other directory business, Mylisting theme is just superb. This theme has staggering 10k plus of sales on Themeforest.
You can easily charge from the users for listing anything. There is also an Android & iOS app available for this theme and it is really amazing and easy to setup. In fact, there is so much to tell about the theme, so, I will just recommend you check the demo once to see the power of this listing WordPress theme.
Wilcity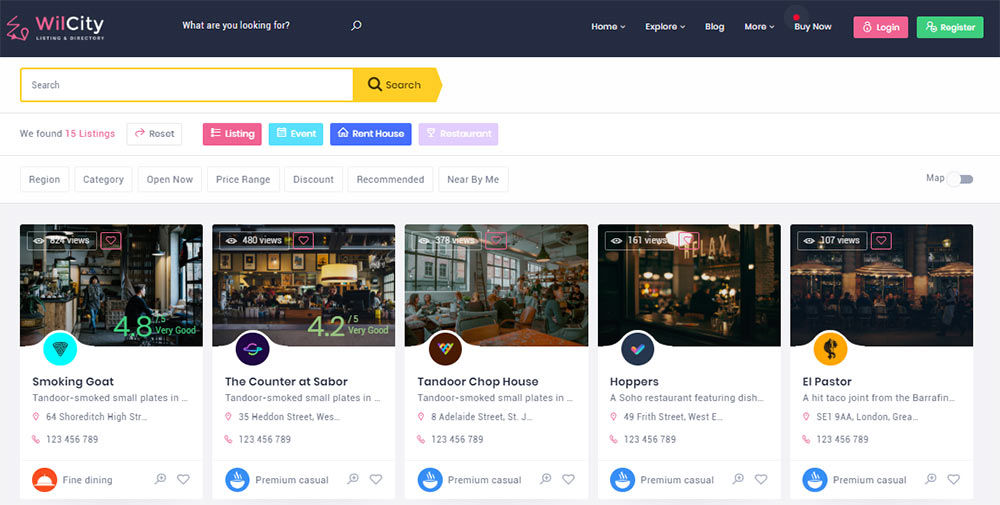 Wilcity is a powerful listing WordPress theme. With this theme, anyone can easily create a nice looking directory website. Wilcity offers great functions and seamless experience to the users whether on desktop or mobile.
Wilcity gives you advanced search options where the users can easily find the listings of their will. It lets them use filters for better selections.
Frontend submission on Wilcity is also amazing. The theme is developed by Wiloke, so if you have ever used ListGo, you can easily get to know the basics of backend. Even if you are not, the documentation provided will help you to the fullest.
With Wilcity, you can charge from your users and monetize the website easily. The theme is very well designed, so as an owner, you will not need to do much customization from your part.
One of the interesting this about Wilcity theme is that it comes with free Android and iOS apps. As such, you will not need to buy the applications for Wilcity from elsewhere.
ListingPro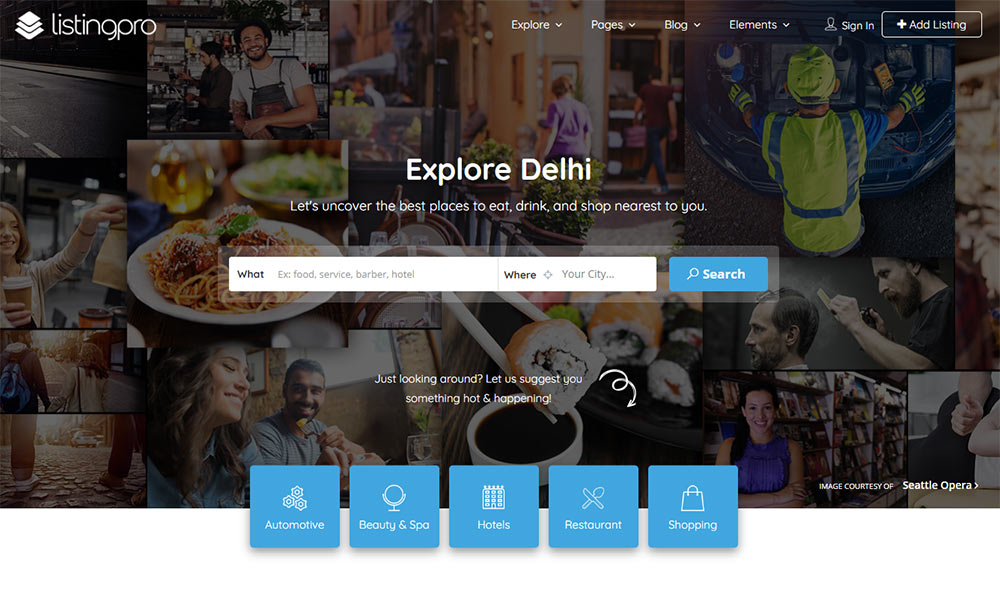 ListingPro is a stunning listing directory theme with over 14k of downloads on Themeforest. The theme is for professional businesses. It allows you to launch your dream listing website within a matter of minutes.
The powerful backend options help you to customize the major options of the theme or how it is presented to your audience. ListingPro uses some of the best WordPress plugins to add the unlimited functionalities inside the website.
Some of the notable features of ListingPro are as follows:
Booking
Events Management
Inbox (Internal Messaging)
Ratings and Notifications
Forms
Menu Management (EMS)
Coupons and Deals
Advanced Search
Claim and Verify listings
Ad campaigns
ListGo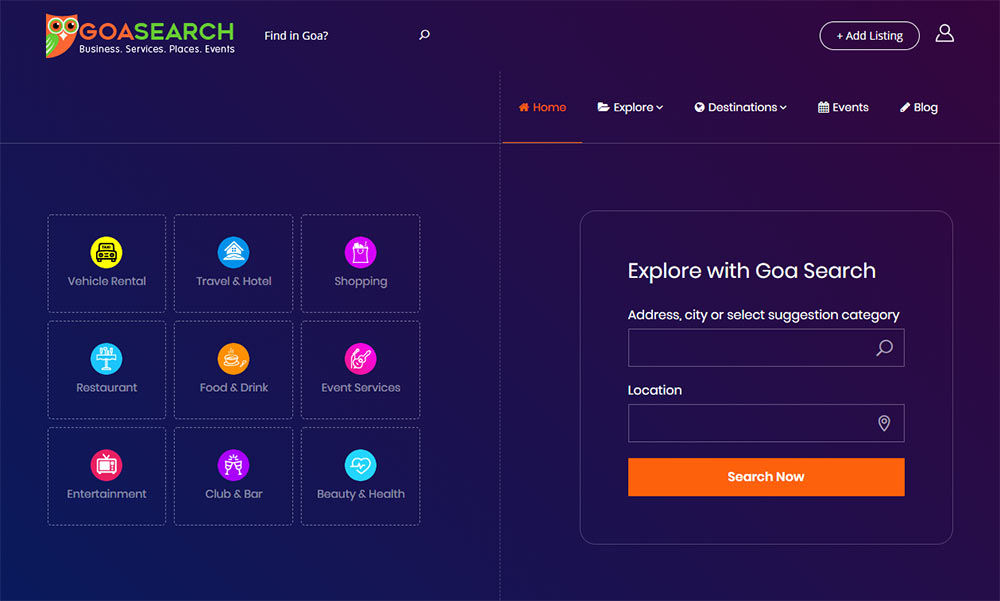 LIstGo is a robust theme for listing purposes. If you want to create any listing based website that possesses awesome functionalities, then ListGo is the theme that can suffice your needs. The theme is developed by Wiloke that provides you very good support.
ListGo is a very well structured theme. This theme has over 2.5k sales on Themeforest. The Listing theme offers great functionalities. It has all the basic listing functions such as:
Frontend Submissions
Paid Listings
Claim and Manage
Rating and Notifications
Better Search
Ads Ready
Listings Promotion
This theme is SEO friendly and comes with a better schema that allows your website to rank higher on search results.
DirectoryPRO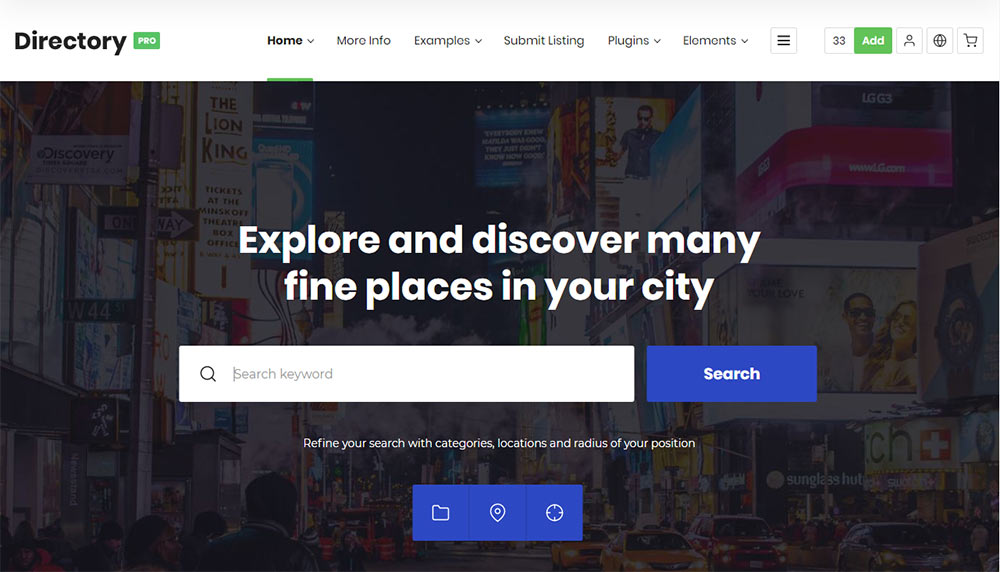 DirectoryPro is a decent WordPress theme for directory listing websites. With over 14k sales, it boasts of one of the best selling directory theme on Themeforest. With great features, design, coding and awesome support one can easily create a nice website and make that hit.
This is very professionally designed. It looks decent on both mobile and desktop. There is no doubt that the theme is exceptionally amazing however the buyers of this theme have encountered many issues such as full of bugs, bad support, license key verification not working and especially the paid plugins used tend to create unrest among the buyers as they have to pay extra prices.
Listeo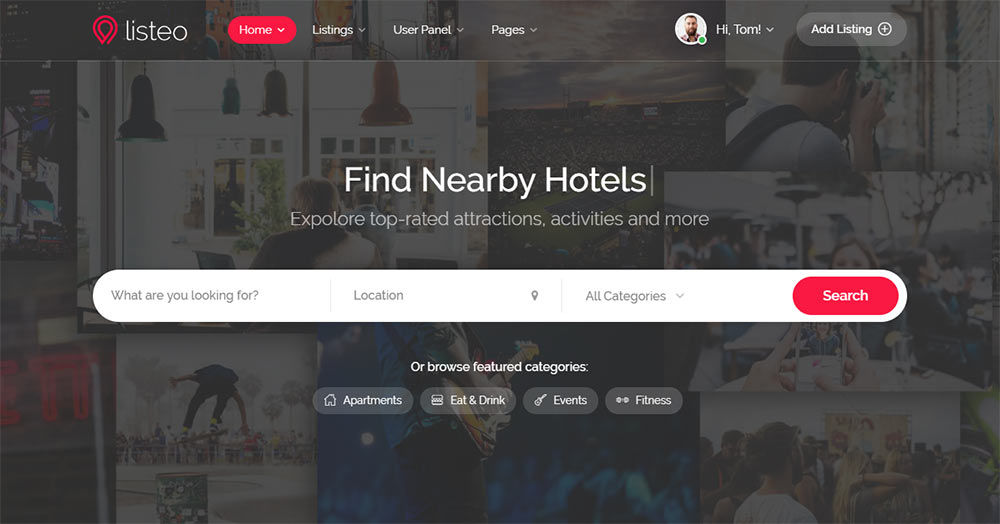 Listeo is doubtless a wonderful theme. It's UI is very soothing and it attracts the eye. It is customizable. Listeo theme comes with an advanced booking widget or functionality that attracts the buyers a lot.
This WordPress theme is very well designed. Listeo offers you nice icons that you can use. It has a nice dashboard that is fully functional.
They have collaboration with Inspire UI that offers an application for the theme. As such, you can easily create an android or iOS application for your website based on listeo theme.
DWT Directory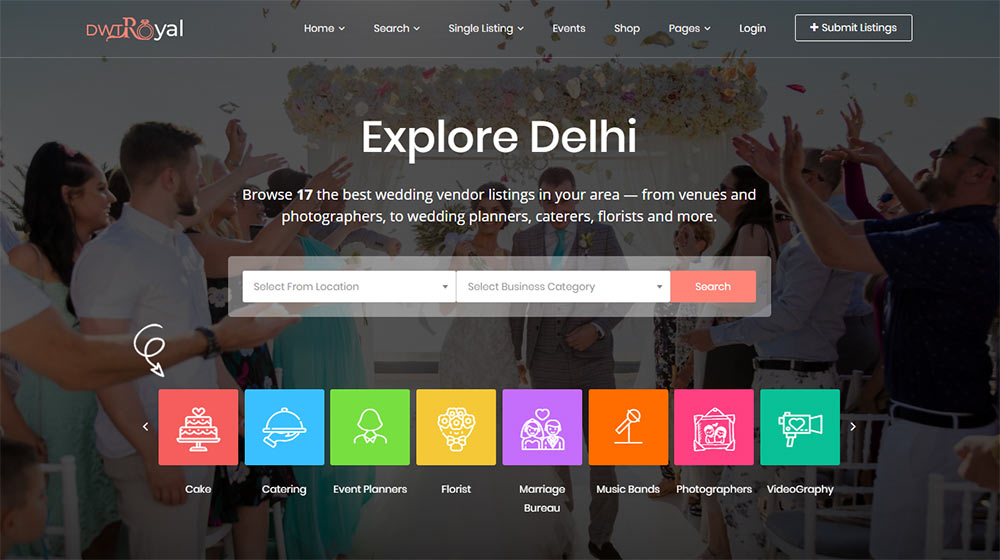 DWT Directory and Listing theme is a great listing theme alternative for anyone who is looking to fire in the market with fully functional listing website and application. Yes, DWT listing theme also has its own Android and iOS apps available. You can download the source code and connect the website with app and get the most out of it.
DWT provides you with a powerful dashboard and all the basic listing functionalities that a directory website needs to have. DWT is SEO friendly theme and you can rank easily on the search engines using this theme.
From the design perspective, the theme developers and designers have worked on it to make it look decent to the users. As a buyer, you will not ever need to do much with the redesigning. All the icons are pixel perfect, typography is amazing and the colors are very bright and nice.
Cityo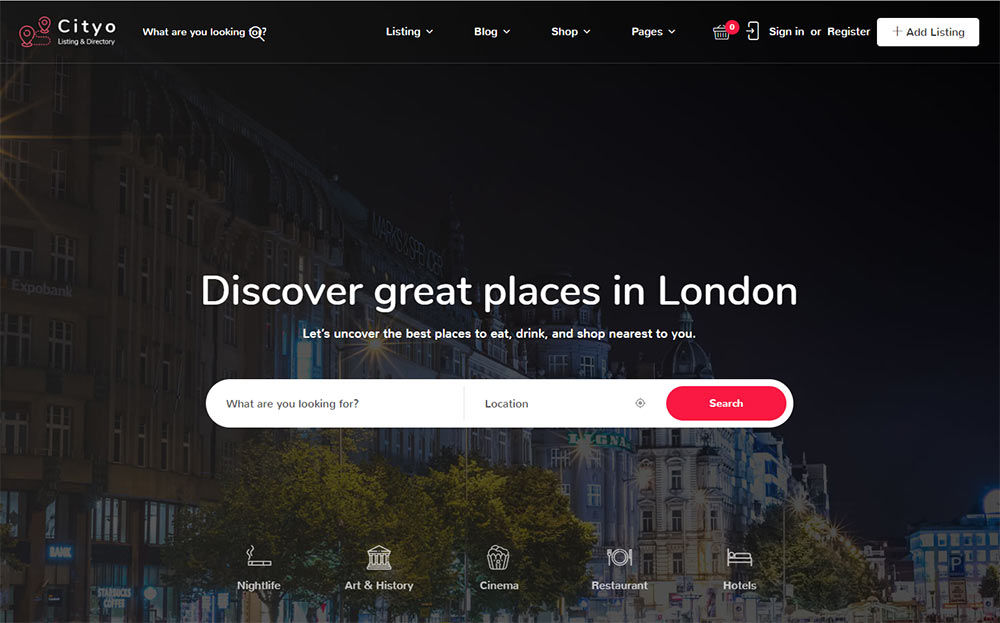 Cityo is one of the fully functional directory WordPress theme that is best for place, real estate, car, event, restaurants, cafes, bars, hotels, malls, museums and galleries, hair and beauty salons, sightseeings and more. With Cityo you can create a nice directory website.
The developers of the theme provide excellent support. The theme is very flexible and scalable for any business.
Cityo uses the below listed plugins to add the functionalities to your WordPress website.
Elementor Page Builder (required /free)
WP Job Manager (required /free) for General Listing Management
Apus FrameWork (required /free)
Apus Cityo (required /free)
WooCommerce (required /free) for Making Money
WordPress Social Login (free)
CMB2 (free)
Contact Form 7 (free)
MailChimp for WordPress (free)
WP First Letter Avatar (free)
Listable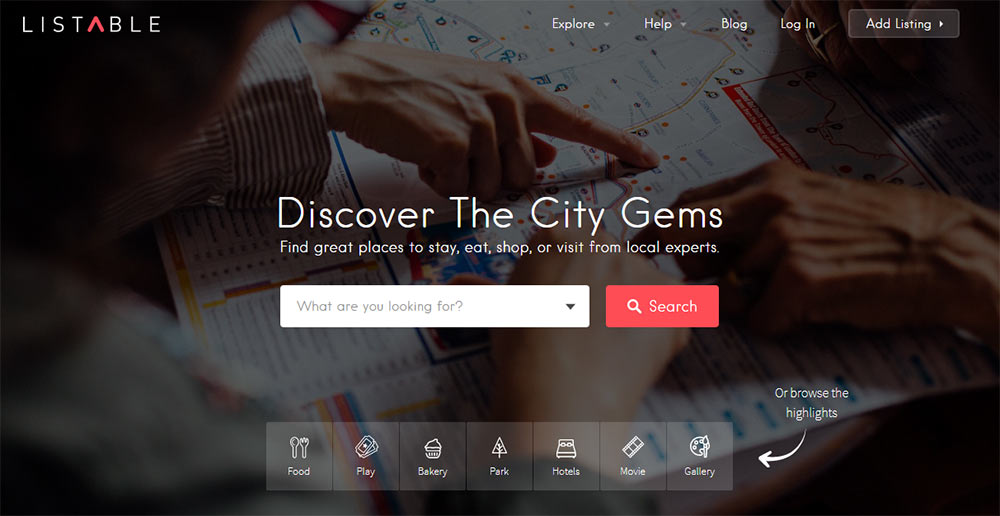 Listable is a powerful listing WordPress theme that has over 8.6k downloads on Themeforest. You can easily monetize your website created out of this theme. The listing theme has a very positive response from the buyers so far.
Listable uses WP Job Manager for the management of listings such as Mylisiting theme. It has an advanced filtering system and advanced search options. The UI of the theme is very attractive.
The theme supports major visual composer plugins. However, coming to the price, it seems like they are charging high when compared to the other listing theme.
UrbanGo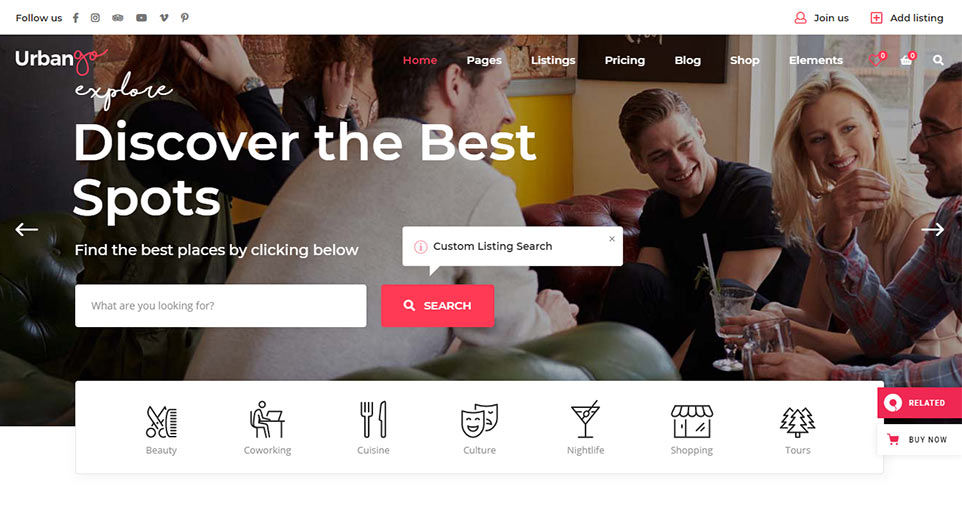 UrbanGo is an another listing theme that lets you create a nice listing directory website on WordPress. The listing theme provides you a nice and intuitive user dashboard.
Like other listing themes, it also offers you advanced search functionality. From the user's perspective search functionality is the major thing in any listing based website.
If you want to start a listing website then UrbanGo can never be a bad option.
So, these are the top 10 best directory listing WordPress themes that you can use for your listing website in 2020.