Podia is one of the leading tools that allows you to create and sell your courses online. If you are here, you already know many things about the software. Isn't it 😋?
But stay connected, we are gonna uncover a lot and will talk about different aspects of Podia and will also compare it with other competing tools. All the bloggers will only share with you the features and tutorial but believe me, this review is gonna be different. 💪
Podia solves your problem of selling paid courses to your audience, by giving your audience an interface where they can learn and earn, and by giving you the ability to manage your students, affiliates, courses, marketing activities, and sales in one single location. Isn't it exciting?
Not only courses, but you can also sell digital downloads, webinars, and coachings with confidence.
This course selling tool is one replacement for your website domain, hosting, email software, affiliate marketing software, sales funnel software, CMS, theme, and whatnot.
Do you know the good news? They launched a free plan on June 8, 2022. 😍 You can sign up for a free account and resume reading.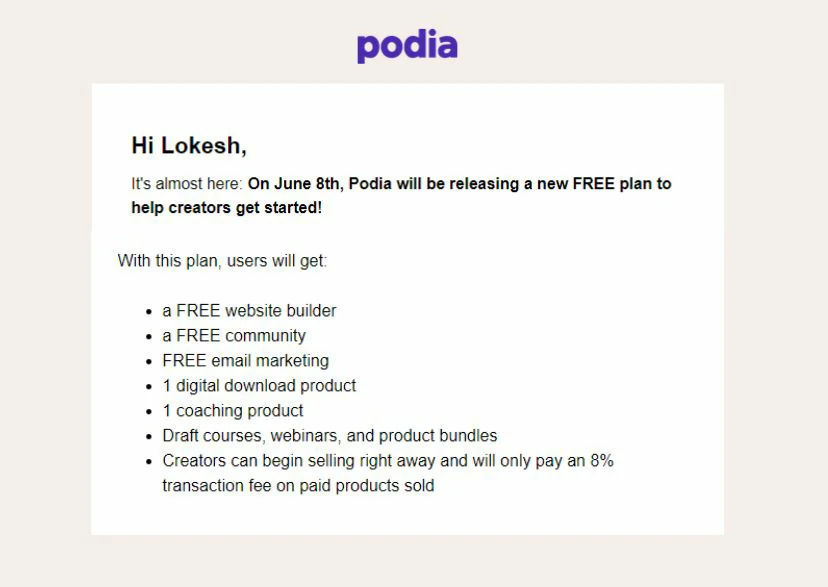 Podia ensures you get all the necessary tools to turn your passion into money; it also tries to educate through its webinars how creators can sell more by creating quality courses.
So, by now, I think you have a better idea of what Podia is all about.
This platform enables you to extend your limits and lets you earn money while turning your skills into a money-making machine. You can sell online courses and teach a vast audience.
You can make easy cash through your affiliate program and drip campaigns. Podia even allows you to not only sell but market your digital products. I'm very excited, so let's discuss everything in detail, and at last, we shall compare Podia with Teachable, Thikific, Kajabi, and Kartra.
What is Podia?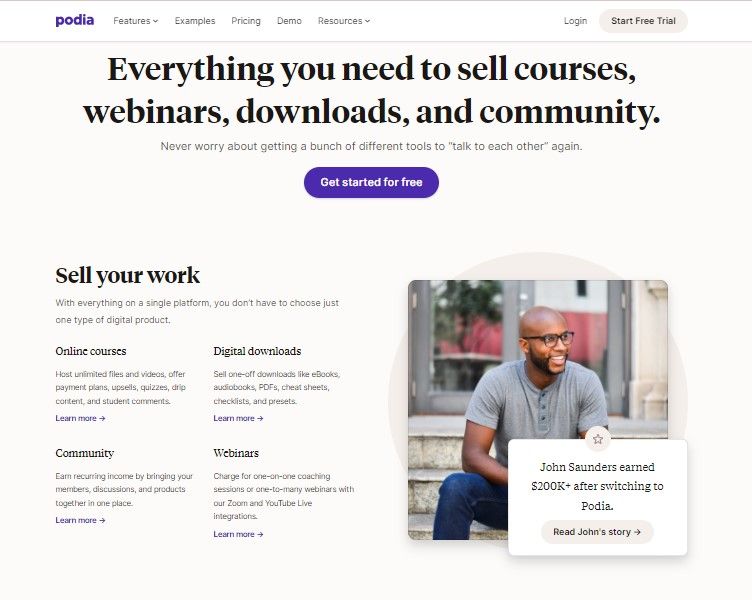 Podia is a platform that can be explained with the help of three simple words that's is – Create, Market, and Sell. This all-in-one platform offers almost all the features required for your business. Beginning from community, courses, digital products, payment processing, email marketing, and much more. It enables you to even connect your payments, scheduling, and sales pages in a matter of minutes with Podia.
How to Use Podia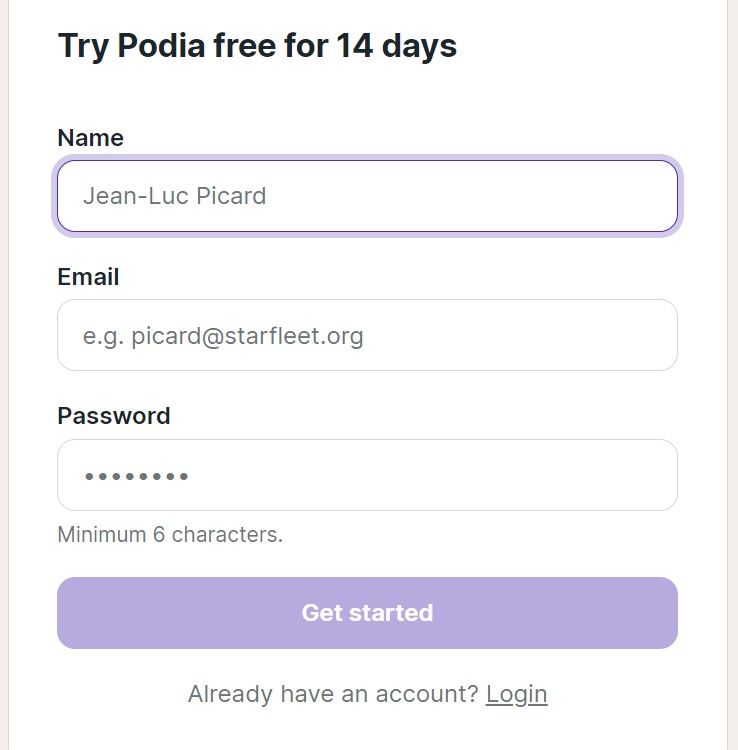 Podia offers simple yet efficient working to its users. All you have to do is create an account on Podia with your family and get going!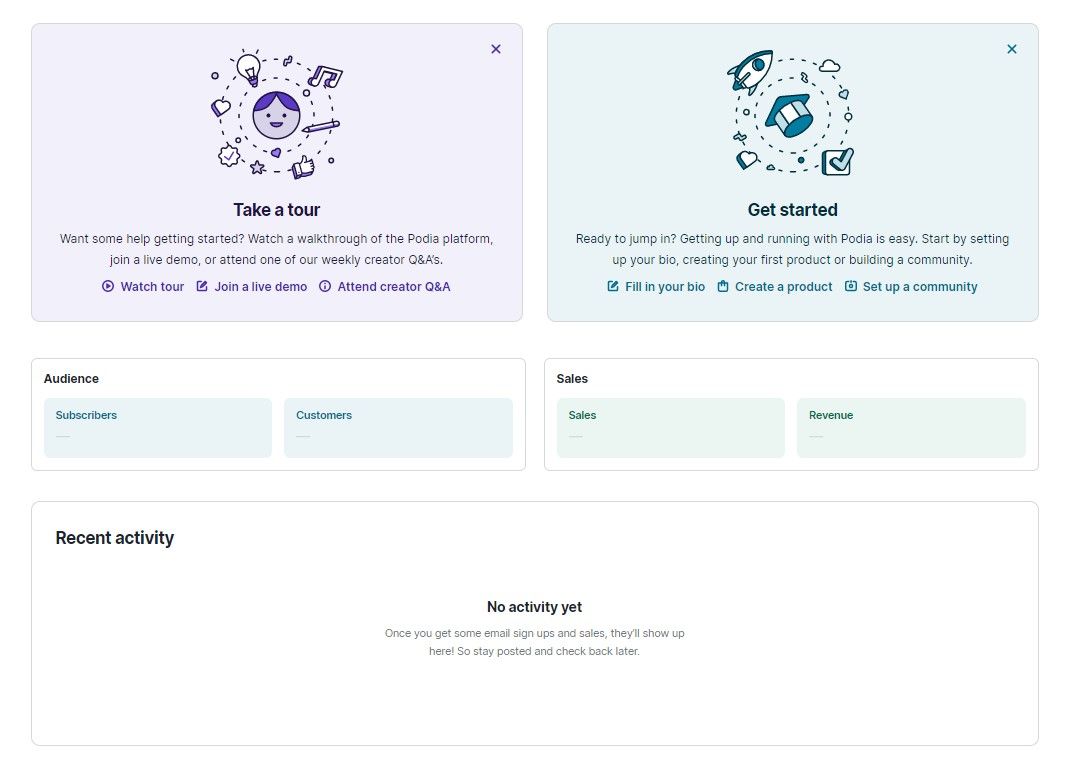 After setting up, you will be shown a screen as above, from here, you can either choose to take a tour a learn or directly get started. It will show you the sales of the month and the revenue collected from it. You can even look at the number of subscribers as well as customers and then reach out better.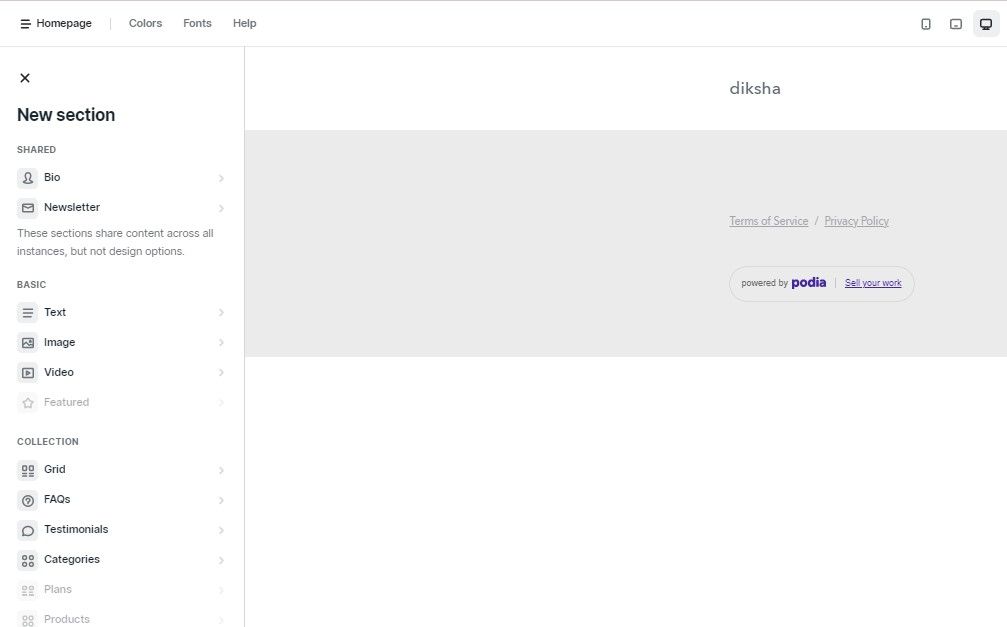 After choosing to get started, you will land on your dashboard. Here you will have all that is required to create your content, sell it and then increase your sales. It shows various options starting from video making to adding images, grids, and whatnot! With your content, you can directly upload it and generate revenue.
Podia Features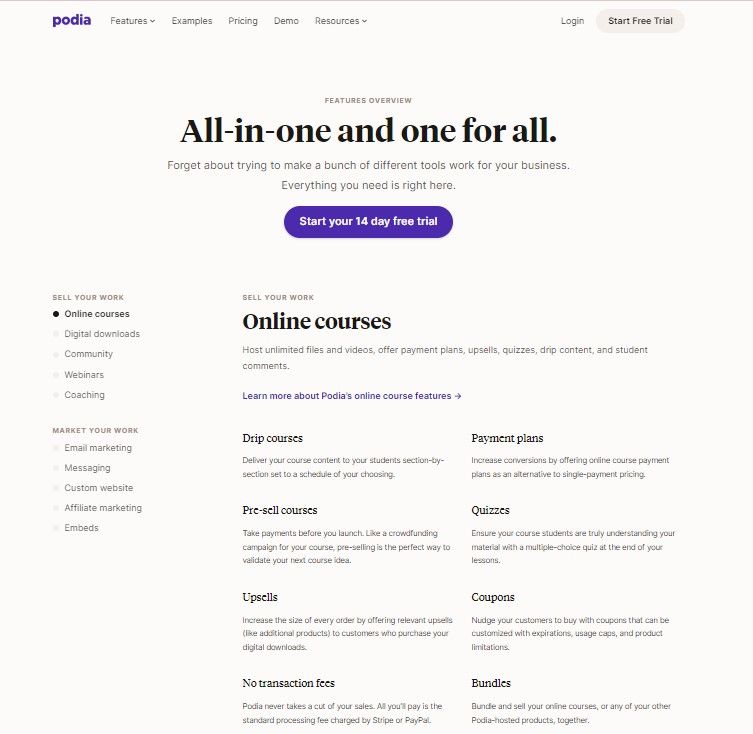 There are various features offered by Podia. These features will help you to create amazing content and will also help you sell it through Podia. They fall into two categories:
Online Courses
The online course feature allows you to take payments before selling your courses. This will ensure crowdfunding and will also create a base for your next course idea. You also get to put quizzes and fun ways to test the knowledge of your students while making your sessions more fun. You can increase the size of every order by offering different products. You can also engage your students to buy coupons that have various benefits with operations, product limits as well as usage caps. Podia does not take any payments, so the profit is all yours. You can post all the sessions with the bundling feature offered under Online Courses. You have unlimited access to all the features, students, and earnings with this platform. The best part is that podia also covers video hosting that is even included in all plans!
How to Create Courses in Podia
Let's talk about the Podia course creation functionality in this part.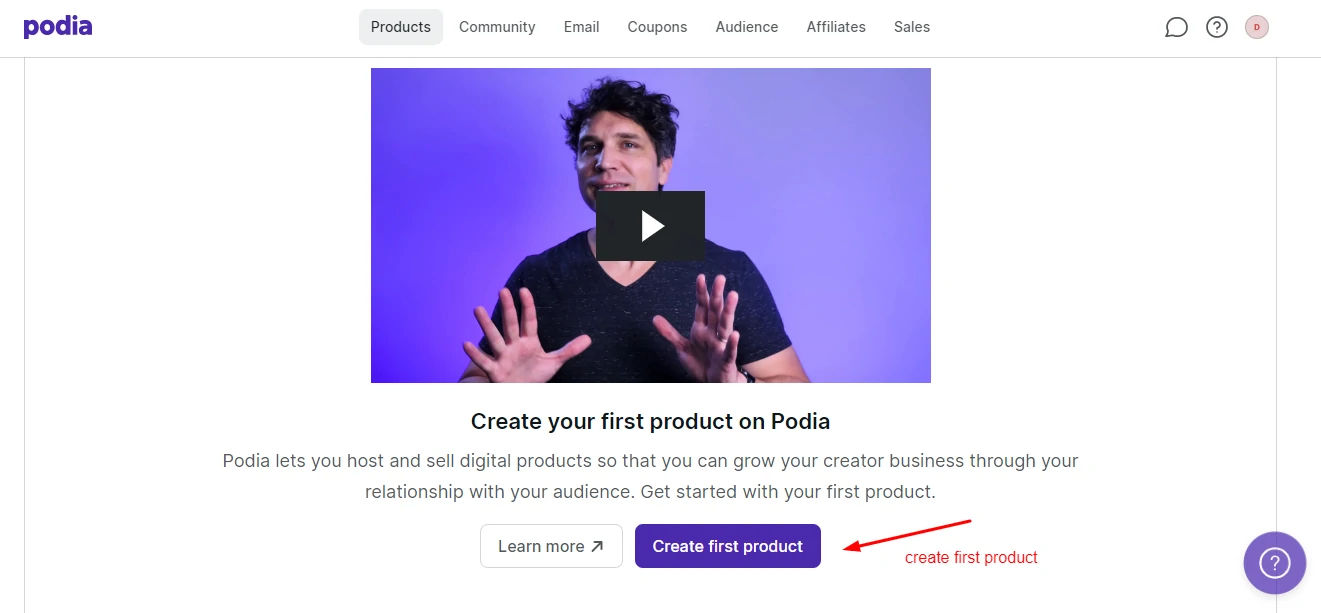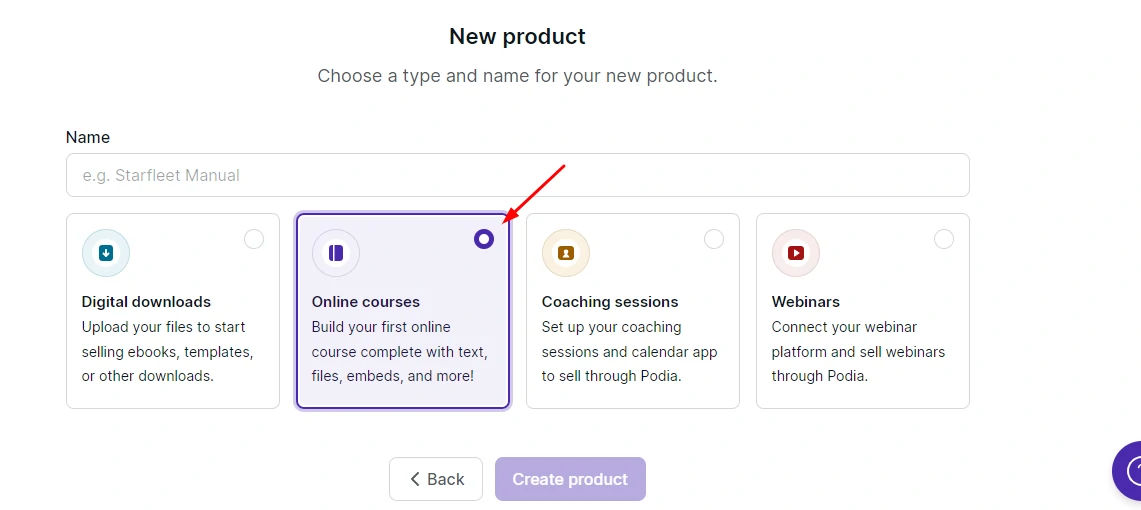 You must visit the "Create Products" section and add "course name" to create a new online course. You should be able to see your recently created course in the products area.
Course modifications.

The course material needs to be added in the following stage. Its course curriculum is divided into sections (which are nothing but modules), each with a lesson inside (like topics).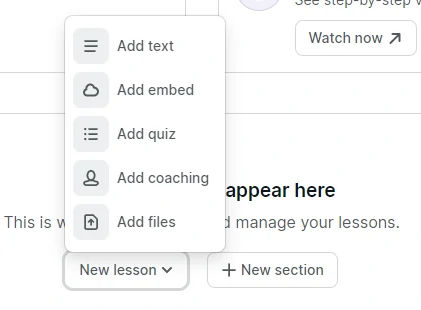 Text, embed, tests, coaching, and files are all supported by Podia. Podia provides comparatively few lesson kinds when compared to rivals like Thinkific. It is deficient in exams, Articulate Storyline, Adobe Captivate, HTML5 content types, and custom scripts. The ability to incorporate material from more than 1900 platforms is the finest part, though.
The top platforms that it supports are listed below:
Dailymotion, Vimeo, and YouTube
Soundcloud, Spotify, and Podbean
Google Slides, Speaker Deck, and Slide Share
Twitter, Pinterest, TikTok, and Behance
Google Forms, Typeform, and Paper Forms
Codepen, Github
You can set up scheduled access with Podia for each segment.

If you want to drip/unlock the second segment just after buying it for one day, you can. This is particularly beneficial in making users log into their course site frequently in anticipation of fresh information. This option is useful if you don't want your students to binge-watch the lectures, depending on your marketing strategies.
To keep your students informed, you can also email them each time a new portion becomes available.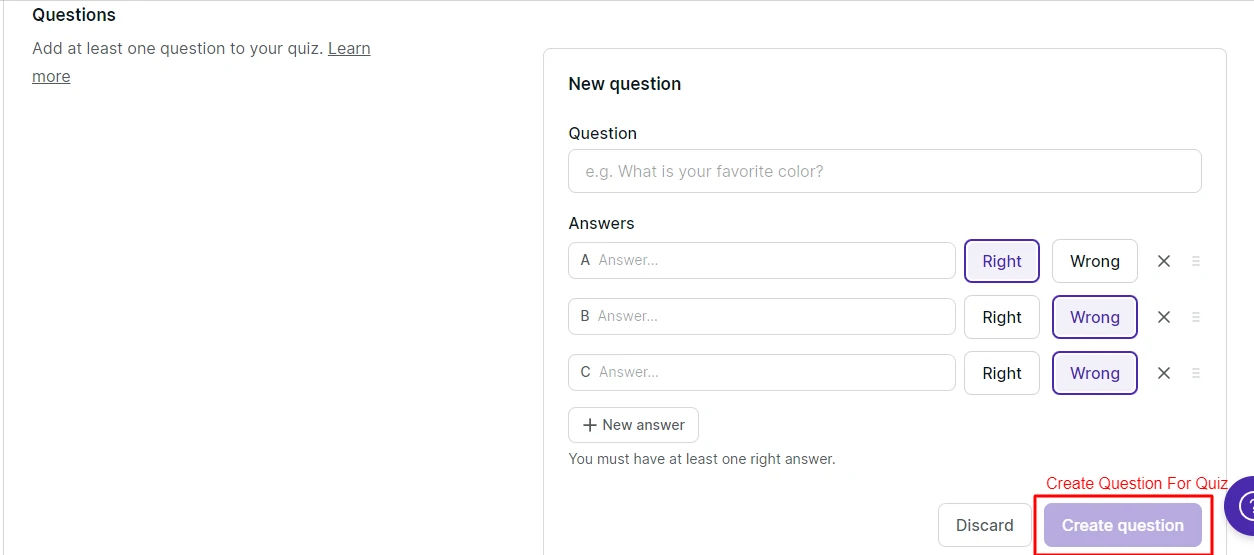 The quiz feature is also very helpful. In a single quiz lesson, you can include several questions. This kind of quiz ensures that your students remain interested.

Recently, Podia debuted the function of the certification. You can give students a notification when they finish their course along with a link to obtain their certificate. However, Podia does not yet offer certificate templates or choices for certificate design and personalization.
Other digital products
Digital downloads
You can offer free downloads, this will allow you to get email addresses and therefore will enable you to reach out to a bigger audience. With this, you can do almost everything including eBooks, PDFs, cheat sheets, checklists, video files, audio files, text, or any content you wish to share. The instant payout of Podia is a great money-motivated way to earn. You can get quick payments without a waiting period.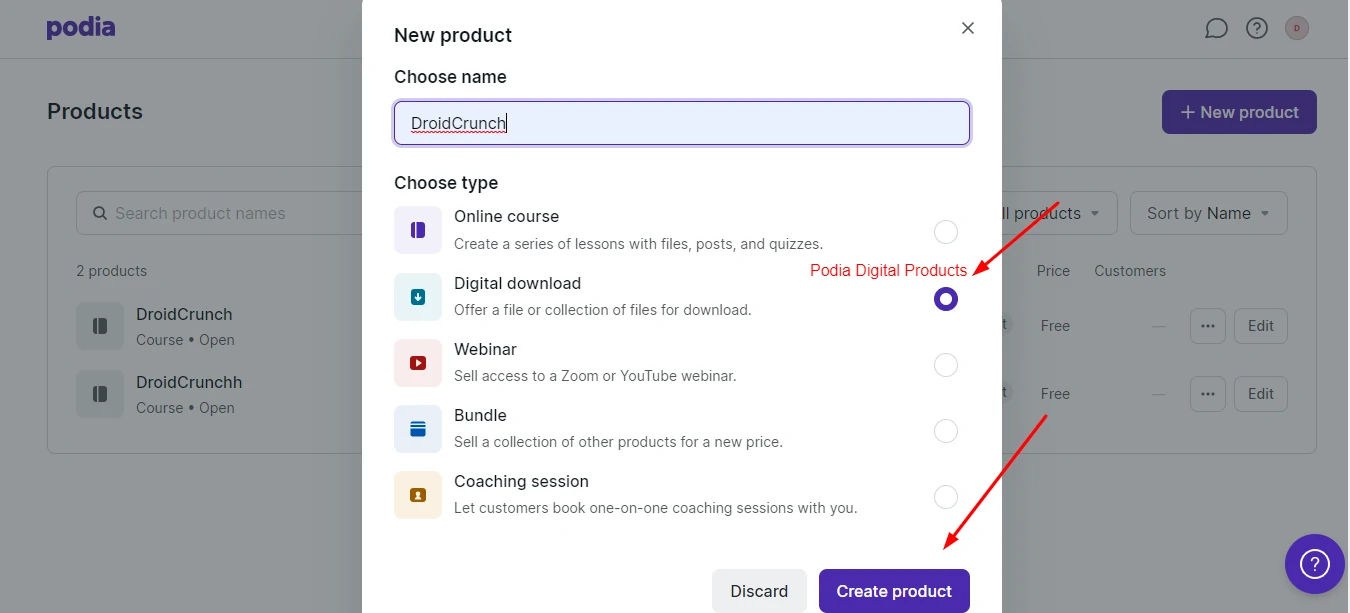 In addition to selling memberships and courses, you can also market webinars, packages, coaching, and other digital content. For each of these products, you can add a number of upsells. For this functionality to function, your storefront must contain a variety of digital products.

When it comes to digital downloads, you can create sections and files inside each segment, similar to how you do so when developing courses (except for the drip-feed feature).
Webinar
You can even give Webinars to your views as Podia has integration with both YouTube Live (all plans) and also Zoom (shaker/earthquake). With these webinars, you can either earn by charging fees or else give free webinars and then increase your email list. Instead of going live publically on Youtube, you can require attendees through Podia. This will bring out more email subscribers. The best part is you can schedule your webinars and also sell them in advance.
webinar functionality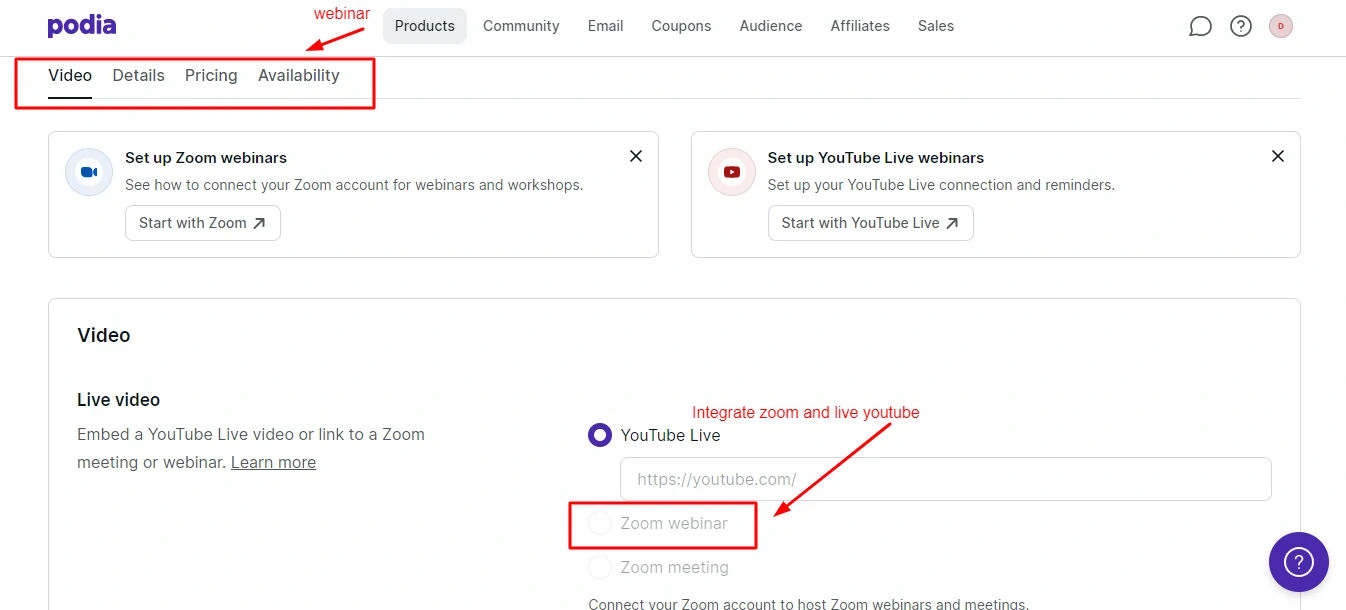 You must integrate Podia with Zoom or YouTube Live in order to start hosting webinars. As seen in the screenshot, you can view future webinars and meetings from the dropdown. One drawback is that recurring meetings won't show up in this option because the integration does not yet support them. You can also select to send reminder emails, add replay videos, and provide instructions for participants.
Product bundling
One of the best methods to get people to spend more money on your items is to bundle them. If you include several additional products with the purchase of the main product, it works fantastically. You can add as many products as you want. However, keep in mind that pre-launch or draught products cannot be bundled. However, you can include package upsells to boost product sales. Podia's extensive product creation interface makes it ideal for selling digital goods. You are free to sell anything. Discounts and upsells increase sales and conversion rates.
Coaching
Monetize your expertise with Podia and connect to your students with live sessions. You can schedule your coaching sessions easily through Podia as it is integrated with various platforms including Calendly, Acuity, YouCanBookMe, and SavvyCal. You can also use a link that is unique to you. You can sell countless coaching sessions. Providing coaching as an upsell is a great way to earn additional income. With Podia you will have more sales and fewer drops off and it offers simple yet fast checkouts.
You can market coaching and product packages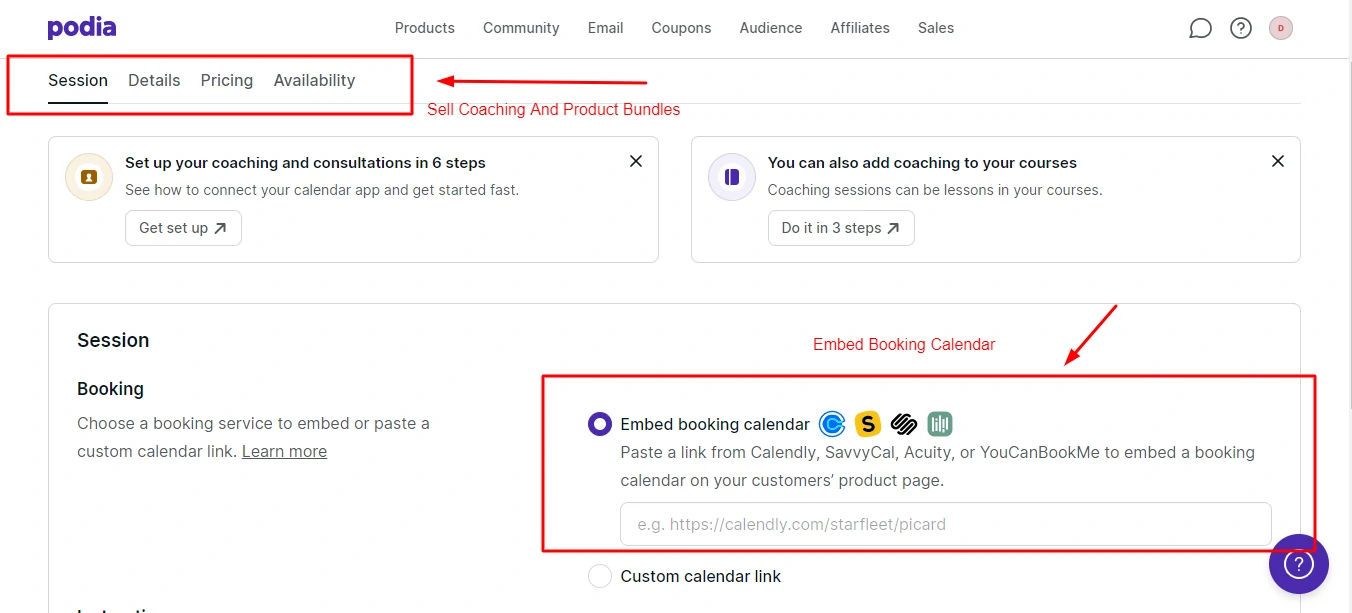 You must embed your meeting link and interface with technologies like Calendly, SavvyCal, Acuity, or YouCanBookMe in order to sell coaching. Podia lets you sell an infinite number of coachings. Even better, you can integrate coaching into your courses so that students can schedule appointments directly through your Podia website.
Community
Podia offers you to connect with your community as well as sell your digital products on the same platform. It will help you to create engaging content and therefore will automatically help increase your sales. You can have full access and also customize without any limitations. You can even adjust the privacy and settings according to the members, topics as well as plans. Moreover, you even have access to all your user's information. This includes emails, names as well as products.
Memberships and communities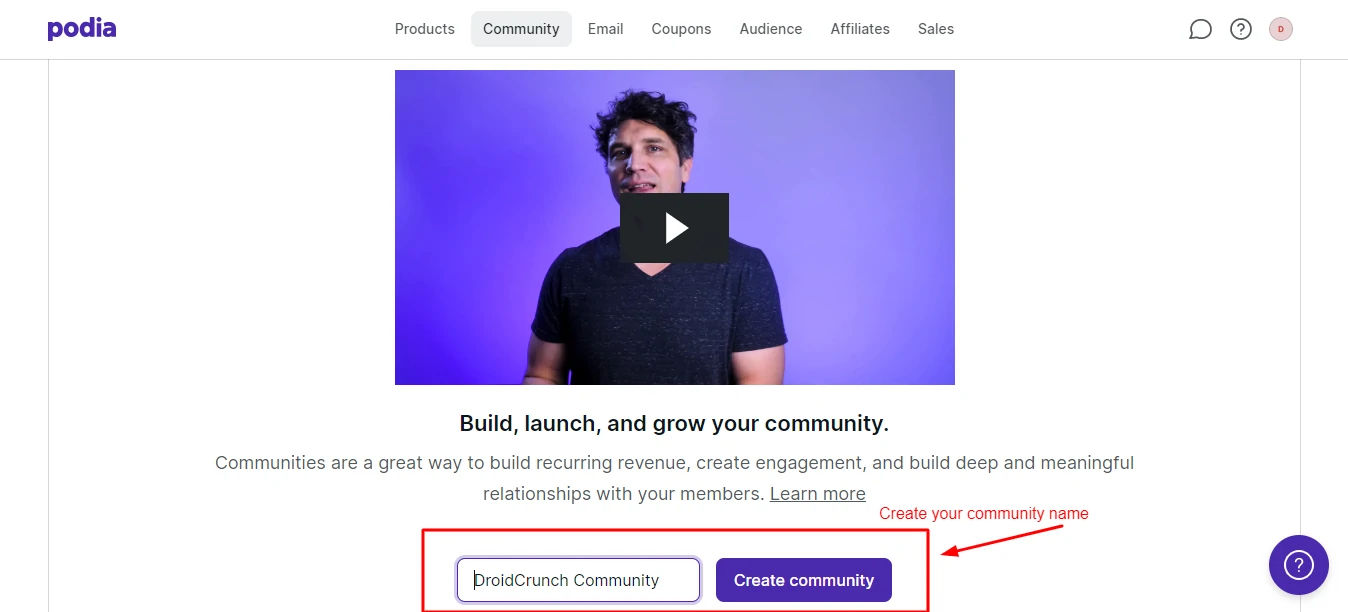 There is no membership function in Podia. However, it includes communities that can be utilized as a membership website. The Podia plans all include access to this function.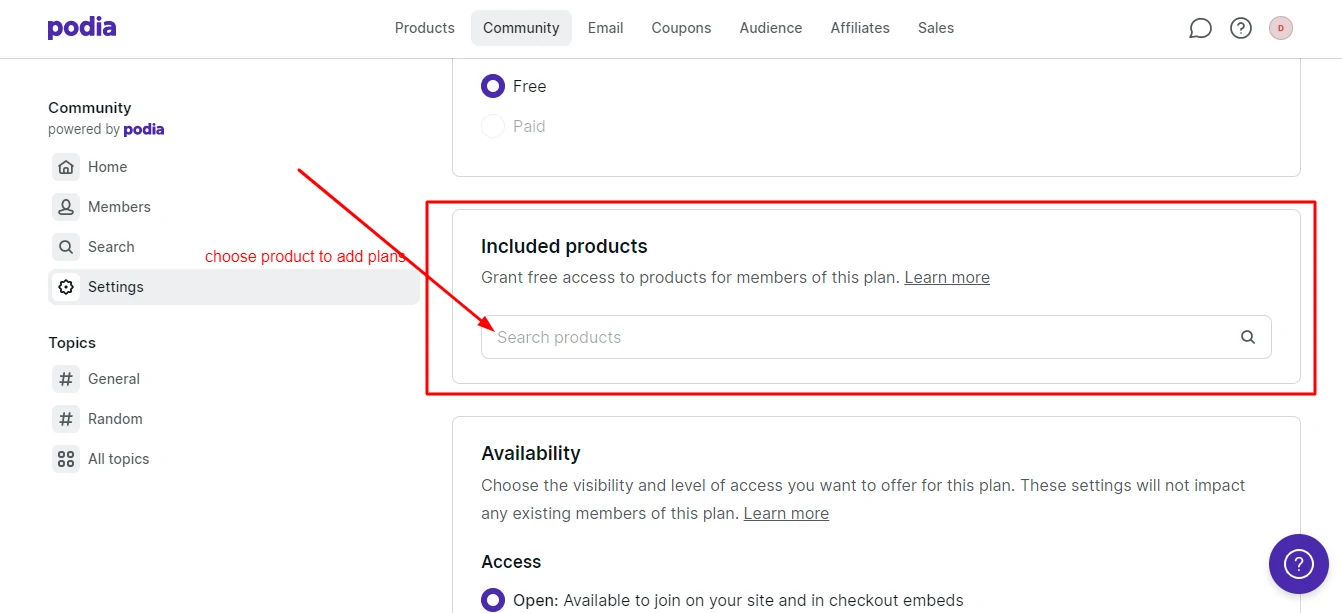 You can make paid plans or provide the community with free services. You can make paid subscriptions and offer free trial periods for your items. This encourages members to join your community. Multiple price schemes with monthly or yearly memberships are possible.
The community encourages comments, likes, and posts. For the pupils to engage with, you can create a variety of topics.
The community function on Podia is really simple. You can provide the products, create different access levels, and allow people to sign up for your club. You don't have any other gamification features aside from this.
Email Marketing
You can broadcast your emails in various ways. You can send one-off updates to the entire list and also send specials to your target audience. You can even create automated drip email campaigns that will enable you to engage your subscribers. The segmentation will help you to target and sell products that your previous customers will love. Podia even gives you the complete revenue metrics for every single email you are willing to send.
Automated email marketing
When you have finished the mail setup and created a strong list, you may use Podia's email marketing to promote your services and programs.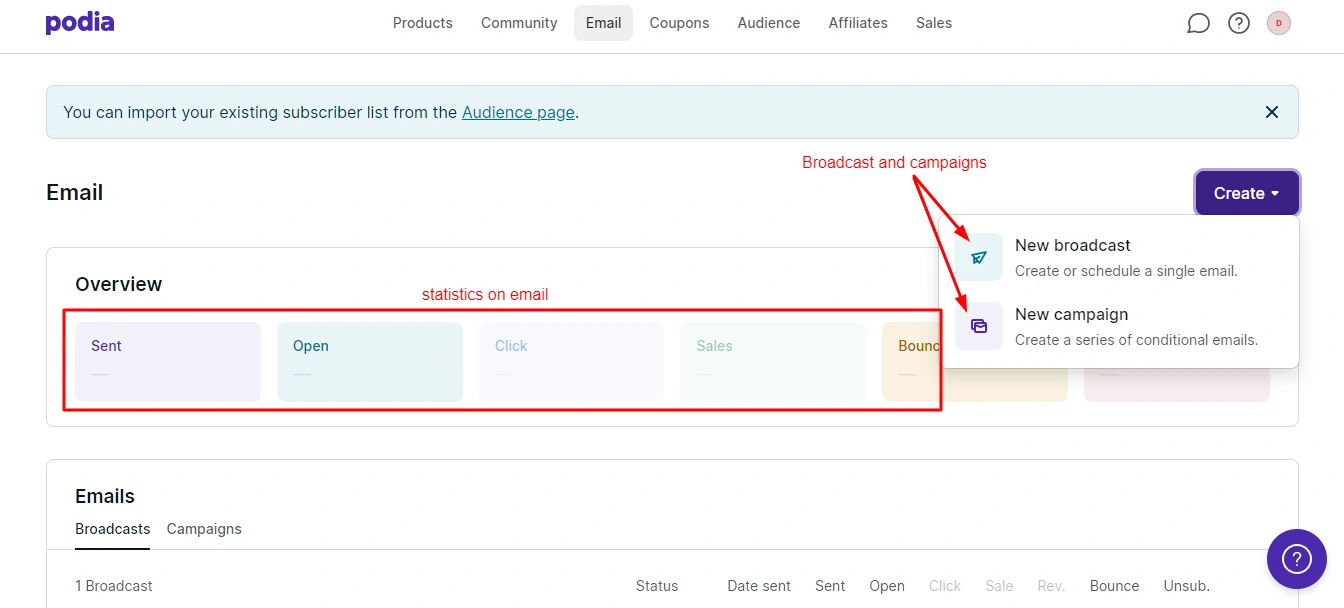 Email marketing and broadcasts are supported by Podia. Campaigns are made out of a series of emails that are sent later than a broadcast, which is only a single email.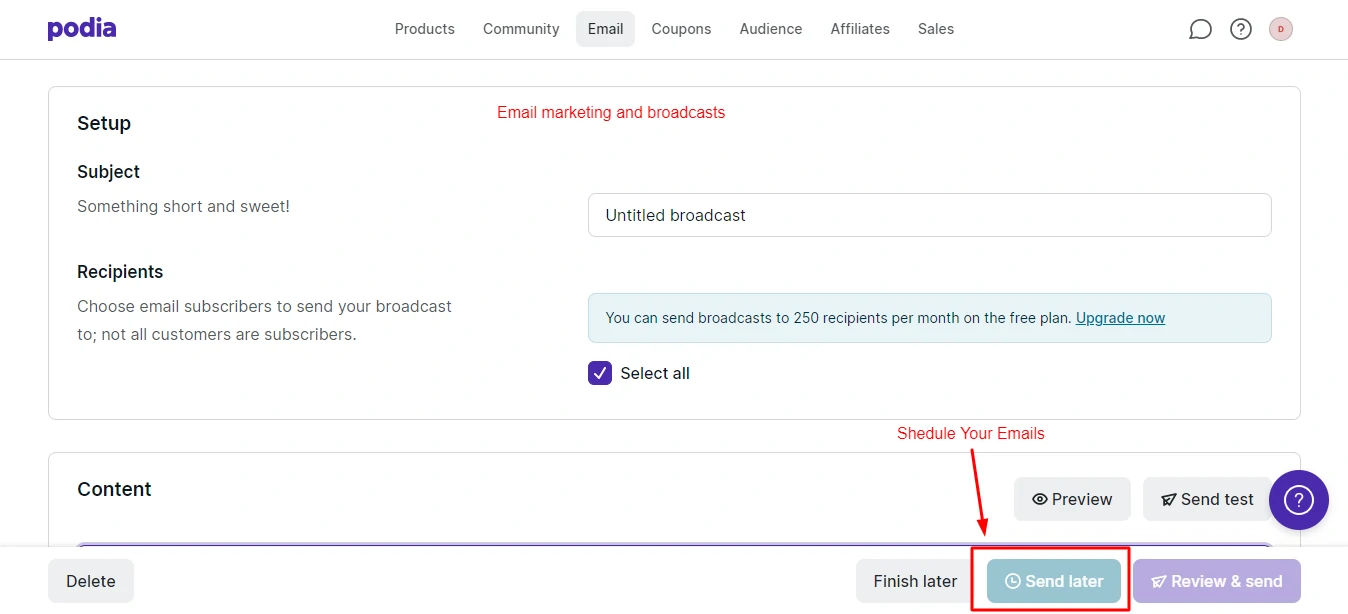 Podia only offers a simple text editor for creating emails. Contrary to Kajabi, which offers email templates for affiliate announcements, cart abandonment, new community posts, the community connects requests, and much more, it doesn't have any pre-made email templates. It also lacks functionality for email split testing and personalization tags.
You can add entry and exit requirements for campaigns to carry them out. You can include a delay and as many emails as you like. Podia, unlike Kartra or Kajabi, lacks sophisticated marketing automation features (which come with pipelines).
Podia just offers a simple email marketing solution with the capacity to send email campaigns and broadcasts. Email templates, personalization fields, split testing, and automation functionalities are all missing from it.
Marketing considerations
Podia includes a number of additional features that enable efficient marketing.
Upsells
Coupons
Embed
Pre-launch
Affiliates
Upsell
All goods come with this option. If your storefront sells a variety of goods, you can entice customers to purchase other goods right away after they buy the first batch. When selling upsells, you can entice customers with a variety of products and an OTO discount. However, complementary or completely reduced products cannot be supplemented by upsells.
Coupons

Use coupons to entice your target market to purchase your goods. You can provide discounts using Podia on:
Every item and community project
only products
plans just for the community-specific plans
particular items
You can put a usage restriction on the coupons and indicate when they expire. Notably, Podia does not support the creation of group coupon codes.
Embeds
Embed is easy to set up and work with. All you require is to copy and paste a code snippet into WordPress, Squarespace, Wix, LeadPages, or any other platform. You can customize the look by sampling choosing from a rich product card, a simple button, or a plain hyperlink. Podia's buy buttons embed the entire checkout flow. With Podia your customers will be able to buy your products from various devices without having to leave the page.
Pre-launch

You can prelaunch your offer using Podia even before you have developed your key content. A wonderful way to test the market with your MVP or generate excitement for a product even before it is built is to pre-launch. When in prelaunch mode, you can gather the emails of potential customers and use the Podia email drip emails feature to send them emails on a regular basis to keep them warm.
Additionally, you can use SurveySparrow and Podia as optional survey tools to learn more about the audience's demographics, which will aid in the production of value for your audience.
Affiliates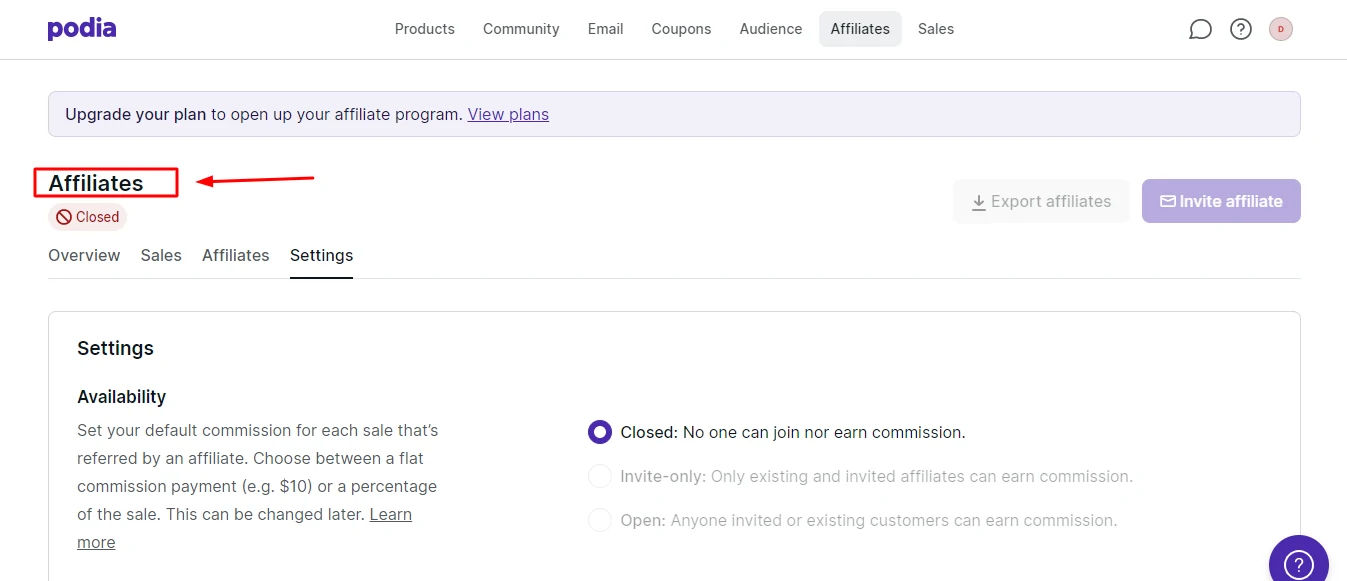 You can set up your affiliated program with ease. Your program, your terms therefore you can set custom commission amounts for any product and even use a default site-wide commission structure. You can also change the privacy settings to public or invite-only. Podia even tells you who owed what and makes your accounting simple yet accurate.
For various products, you can establish different commission rates.
You can set the commission level higher if you want your affiliates to market the particular product more successfully.
However, Podia does not have numerous commission tiers.
Afterward, you must begin encouraging affiliates to join and advertise your products.
Additionally, you have the choice to only disable particular affiliates.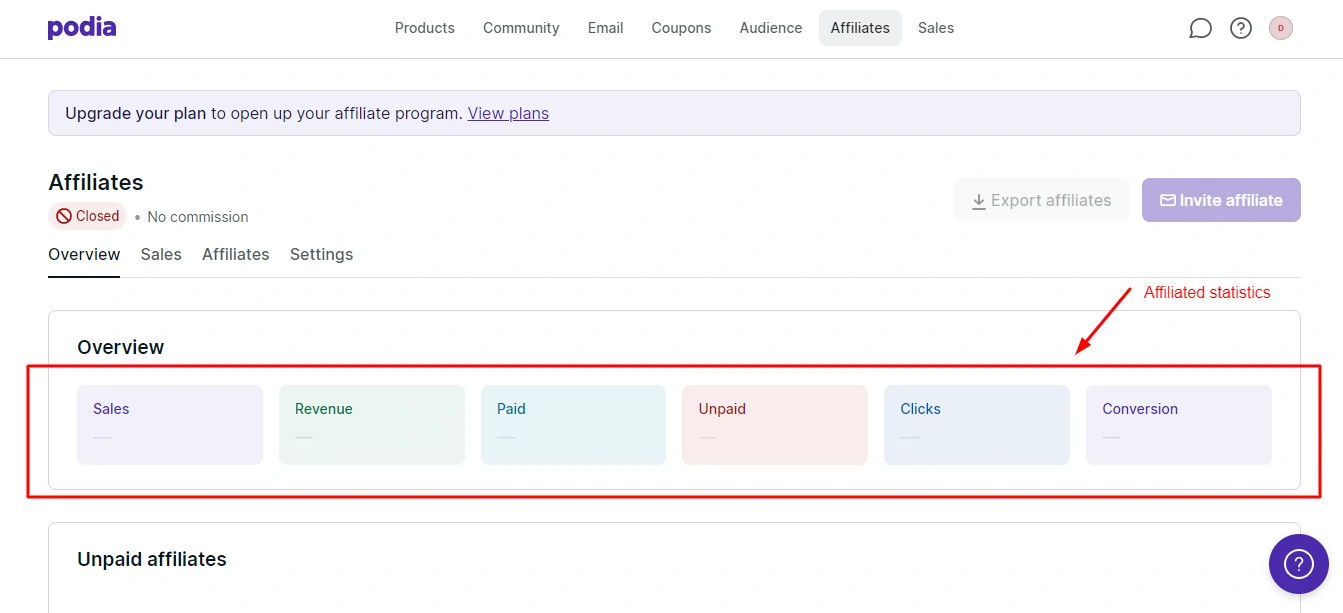 You can also export the affiliate's data for manual analysis in addition to these. You can examine the development of your affiliate program using indicators like sales, revenue, paid, unpaid, clicks, and conversions found in the affiliates overview.
Podia contains beneficial features that might increase the efficiency of your marketing. In order to find new use cases, it also interfaces with Zapier. You can sell more thanks to its upsells, product bundles, and coupons. However, it lacks capabilities that would elevate your marketing, such as downsells, order bumps, and sophisticated automation.
Custom Website
Podia offers everything you require to build a good sale page and then increase conversion rates. There is no coding required and also has a beautiful website up. With Podia you do not have to worry about page limits and it also offers an amazing interface.
Messaging
You can turn visitors into customers simply by having a site conversation with them. It offers on-page live chat with your logged-in users and gives better access to your products. With live chat, it will become easy to reach your users and therefore give them better assurance. You can even reach your users when you are actually not there and allow you to Capture customer questions, feedback and requests.
Integrations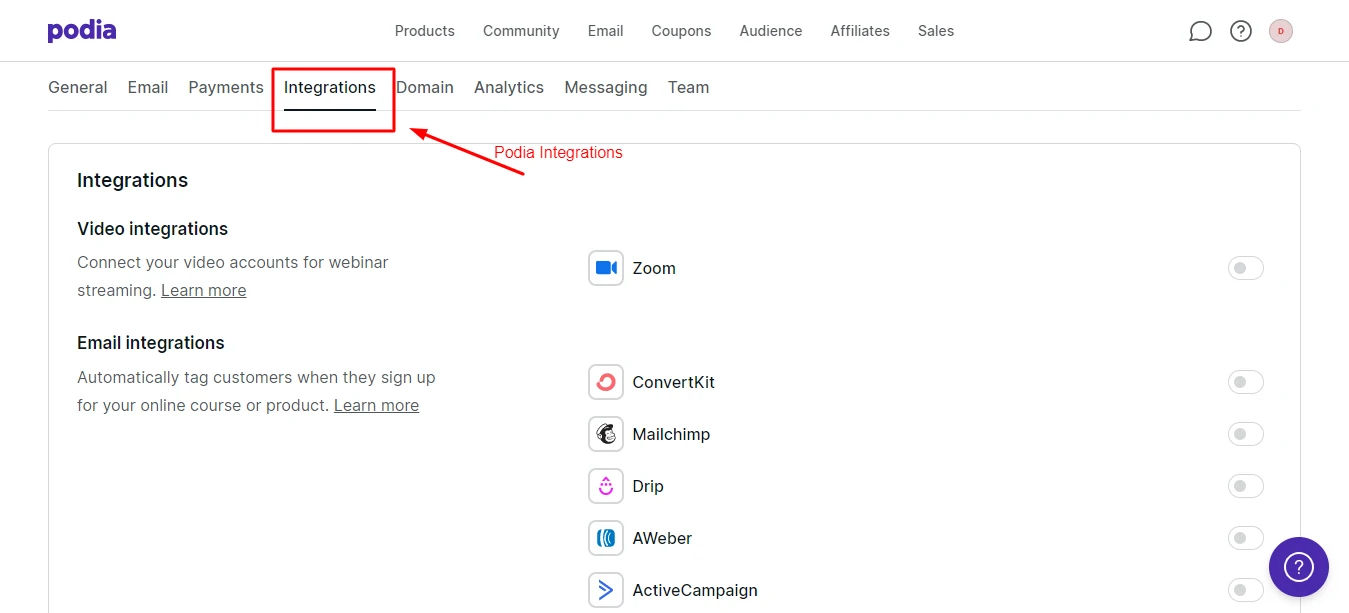 Podia offers native connectors with calendar apps, email marketing providers, streaming services, payment gateways, and Zapier. Podia has the following integrations as of the time of this review:
Zoom
YouTube Live
Stripe
PayPal
ConvertKit
Mailchimp
Drip
AWeber
ActiveCampaign
GetResponse
MailerLite
Integrations are being added by Podia quickly. They currently offer integrations with both Zapier and the major email marketing services. I'm hoping that soon they'll also have the integration with other tools.
Podia Set Up Payment processors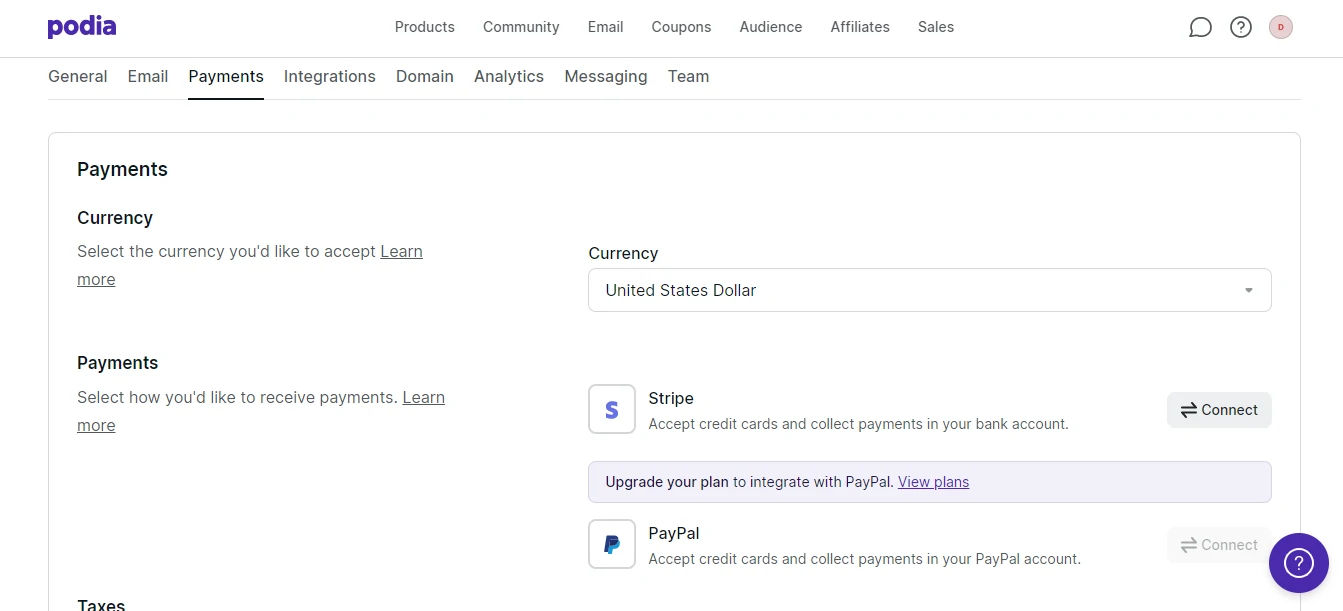 You must link your bank account or PayPal account to these payment processors to receive payments for selling any digital products from Podia. Podia has PayPal and Stripe integrations for taking money from your students.
Additionally, you should be aware that Podia does not accept PayPal for community plans. because PayPal experiences various API issues, particularly when processing recurring payments. Therefore, as of right now, only Stripe is supported for community planning.
Customers can complete the checkout process using their credit cards. Payments are typically processed in 2 days and added to your bank or PayPal account. It happens really quickly.
Podia Pricing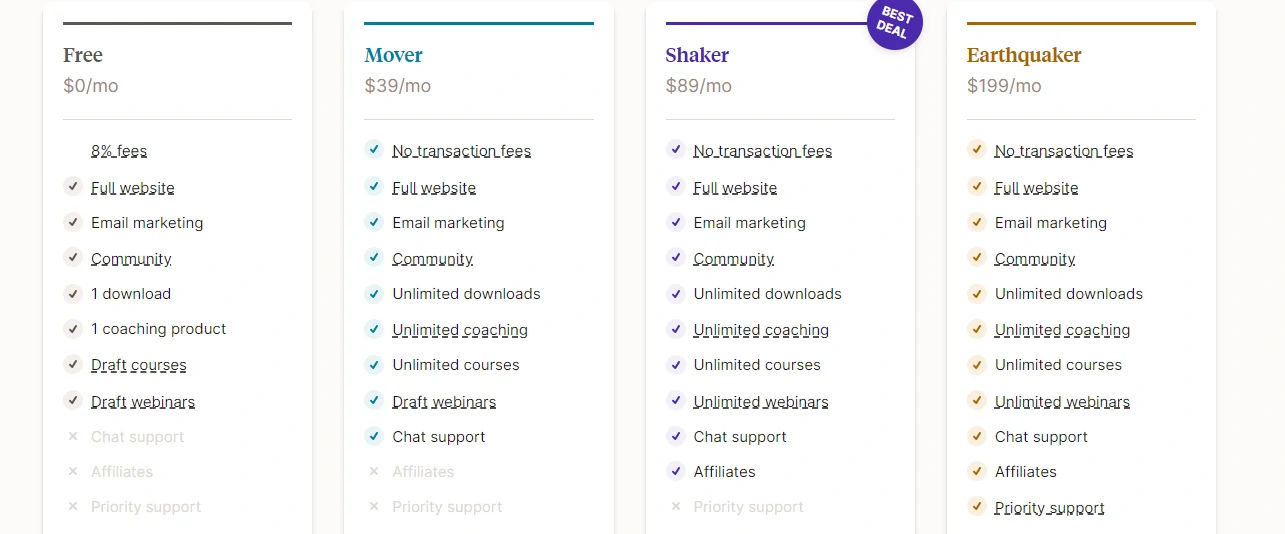 Recently, Podia unveiled its free plan. However, it lacks some features in the free plan. You can only sell one coaching product with 8% transaction costs under the free plan. Courses are not supported by this plan. However, you can design course draughts. The pricing offered by Podia is affordable. It has various plans according to users' needs and includes various features. These plans include:
Mover:- ($39/month)
Shaker:- ($89/month)
Earthquake:- ($199/month)
Podia FAQs
How can Podia be used to sell digital content such as e-books, webinars, and courses?
E-books, webinars, and other digital content. You can create a free or premium account to start selling your content right away. Once you have created an account, you can easily add new courses or e-books to your store. You can also manage your sales and marketing efforts from one place using Podia's powerful tools.
You can use Podia to sell both physical and digital products, so there is no need to worry about which format is best for the market that you are targeting.
What are the different types of products that you can sell on podia?
There are a few different types of products that you can sell on podia, including online courses, coaching, and webinars. Online courses allow entrepreneurs to teach their knowledge and skills in a way that is highly accessible and engaging for potential students. Coaching allows business owners to help others achieve success through hands-on support and guidance. Webinars let people learn about new topics or gain expert advice from industry leaders in a live environment.
Are you a good fit for Podia?
You should use Podia if you:
To offer your courses, digital products, and community-building services while not having to worry too much about integrations, you need an economical all-in-one platform.
To engage with students, the community needs to include features.
want to sell coaching and webinars to make money.
require an integrated affiliate program.
The fundamental marketing tools suffice.
in contrast to Kajabi or ClickFunnels, don't require sophisticated automation and funnel functionality (not an LMS).
Are there any restrictions on the types of digital products that podia can be used to sell?
There are no restrictions on the types of digital products that podia can be used to sell. This includes eBooks, courses, videos, and articles. You can also sell downloadable files such as templates or fonts. Additionally, podia make it easy to manage your sales and inventory so you can always stay organized and motivated.
What are some common mistakes that people make when selling online?
Some common mistakes that people make when selling online include not setting their expectations appropriately, not creating a compelling sales pitch, and failing to entice buyers with attractive pricing options. It's also important to set up accurate shipping information, provide clear instructions for bidders on how to pay, and keep track of comments and feedback left by buyers. If you have any questions or concerns about your sale process, contact the Podia support team immediately so that they can help resolve the issue as quickly as possible.
Alternatives to Podia
There are a few different podia alternatives available on the market today.
Teachable
This is a great alternative to Podia if you want to simply build online courses. Teachable is very popular and provides all of the fundamental tools required to design and deliver an online course. When it comes to courses, it contains special features like course completion certificates, compulsory completions, compliance reports at the student level, forms, surveys, assignments, and much more. You can get going right away because the platform is so simple to use. Even their $39/month plan carries a 5% fee, and they also offer a free plan with a 10% transaction fee. The ability to construct websites with Teachable is currently somewhat limited.
Learndash is a WordPress-based learning management platform/plugin. It is very easy to use and allows you plenty of features to create courses, lessons, topics, quizzes, assignments, challenge exams, certificates, and whatnot. It gives you advanced reporting options. With LearnDash, you can easily set up notifications for various events and triggers.
Integrations with various builders, apps, and services give you great control plus allow you to keep it sophisticated for your learners. It is a paid plugin which is very valuable if you have any plans to create and sell courses online.
Kajabi
To replace Podia, Kajabi is a fantastic feature-rich platform. Kajabi is an online business hub that gives small enterprises (mainly) access to everything they need to conduct online business in one location. Similar to Podia, it offers digital products, memberships, courses, and email marketing. You may use emails, build funnels, manage your CRM, and other tools. The robust integrated platform enables you to manage everything from a single location. It's a fantastic platform primarily for those looking to sell online courses.
Thinkific
If you only want to produce courses and don't want to pay the exorbitant fees associated with Teachable, consider Thinkific. The primary distinction between the two is Teachable's unlimited access to courses, students, and products under its free plan. A reputable platform for creating, marketing, and selling your own membership websites or online courses is Thinkific. The platform has fundamentally altered how people work and learn online by developing an all-in-one platform for course authors and their viewers. If you have a Stripe account and are based in India, you can only use the Thinkific Stripe connection to charge INR.
Over to You
Here we are at the end of this Podia Review with a lot of information to consider. Definitely, the software can bring some dramatic results.
It is very straightforward to use. The UI makes it a perfect choice for modern-day instructors to opt for this tool over the other competitors. Even the pay-as-you-go strategy is very lucrative and gives you the opportunity to come up with sophisticated materials and features.

With Podia, you can save costs in managing hosting, email service, third-party affiliate software, website builder, and various integrations. You will never regret opting to use this software for your online course program.
The success of your online course, however, depends upon the quality of your course content and the advertising activities that you execute to market your course business. Podia only gives you a plot where you can lay your course house where the quality of it depends on your skills and knowledge.
So, what are you waiting for? Try the FREE plan of Podia right away to see if it really solves your problems.
The Review
Podia
Podia is a great platform that enables you to sell a variety of courses and digital downloads. It has good marketing features like communities, emails, coupons, upsells, and affiliate programs. It is affordable and worth the money for the features it offers. So, what are you waiting for? Give it a try and see if it really helps you overcome setbacks by launching scalable courses online.
PROS
Podia features a very advanced UI/UX that is very appealing
There is very less to no learning curve
It is very easy to use and set up for the beginners
Podia has a 0% transaction fee on sales (on paid plans). They emphasize their focus on the creator in this way.
You can sell a variety of goods using Podia, including courses, memberships, webinars, bundles, community content, and other digital downloads.
In contrast to Kajabi, which limits the number of items you can build based on the pricing plan, Podia offers infinite courses and goods.
It allows you integration with various other third party apps
Campaigns and broadcasts are supported by its integrated email marketing.
Order Upsells & Coupons to Boost Sales
An amazing site editor to customize the course website
Incredible documentation that can be accessed by anyone
CONS
Some marketing techniques are absent from Podia
Review Breakdown
Easy To Use

0%

Features

0%

Support

0%

Documentation

0%

Value for Money

0%

Integrations

0%

Interface

0%

Flexibility

0%

Brand Trust

0%