Unique content is something we all strive to achieve. But unique content needs to be well optimized for the search engines for its better SERP ranking. To rank the content better you need to have the right keyword research tools, competition research tools, and content creator tools in hand. There are many AI writing software in the market these days. The best implication of these tools can save you a lot of time while creating content. These tools save you time spent on keyword research, outline fabrication, grammar checking, plagiarism, and content creation.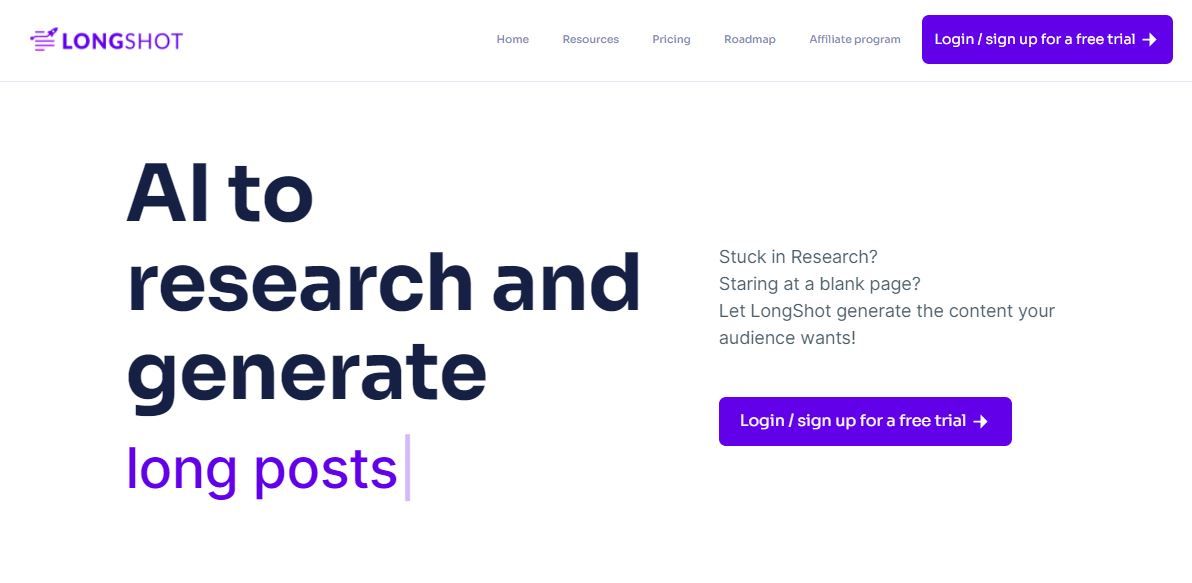 Having the write AI content creating tool is absolutely heaven for creators in order to create high-quality and market-based content on a daily basis.
In this review, we'll take a closer look into an exciting AI content creation product called Longshot.ai which is an AI-based tool that helps you to create long-form and short-form content for blogs in a matter of seconds.
LongShot is a GPT-3 tool that is an All-in-One blogging tool that helps to create high-quality content with the help of keyword research you perform or paragraph that you provide to it.
LongShot.ai – What is it?
LongShot AI is a company that's aiming to bring "AI" to the masters in a way that has never been done before. While most companies try to bring AI to everyone, Longshot can be considered a "game-changer" in the AI space as well as SEO features.
It aims to bring AI to everyone, by offering a unique feature called Research Topic to help teach people how to use AI for everyday tasks and generate SEO-friendly content. All in one SaaS AI tool !
How does Longshot.ai work?
Signing in to LongShot is basically where everything starts. When you do so, it presents an easy-to-navigate dashboard where it offers you to create multiple projects through different models such as blogs, long-form blog posts, FAQ or blog insights, text extender, and many more options.
Along with these basic and excellent features, it also gives you ideas and comes up with headlines and outlines of the blog.
LongShot uses the latest advances in machine learning and neural networks to offer the best AI-based analysis software to the general public. It's largely available or built on Microsoft's Azure cloud computing services. Doing so, it's allowing the company to offer its users an easy-to-use interface.
Just like any other AI content writing tool, LongShot gives you all the features that you are looking for.
Some Exciting Features of Longshot.ai:
LongShot comes with a list of features that are unique for the crowd and helps you create a good amount of content in whatever space you want to.
Here is a list of a few :
Blog Post
Marketing Content
Ads Copy
Brand Development
Product Descriptions
Sales Email
Content Extender, and more.
List of Best LongShot.ai Features you must know
AI Blog Assistance
If you're looking for a platform that is going to help you create the most perfect, high-quality content for your customers, without you putting in much effort, LongShot AI got you covered. From the beginning to the end, the AI assistant will help you throughout the process of writing the best content ever.
To create the blog content longshot lets you do the research, choose headlines and outlines and then use its AI blog editor to complete the content. Let's see step by step how you can create blog content with Longshot.ai
So, the first step is to do the research for keywords so that AI can understand what you are looking to create, and as such, it may help you further to command the AI.
In the below screenshot you can see the blog research interface where you can select the keywords from related keywords and questions from various sources such as Google, Reddit, and Quora.
It is very essential to choose the right and most relevant keywords in this step, otherwise, the results offered by AI in the blog generation step may not be as relevant as you might need.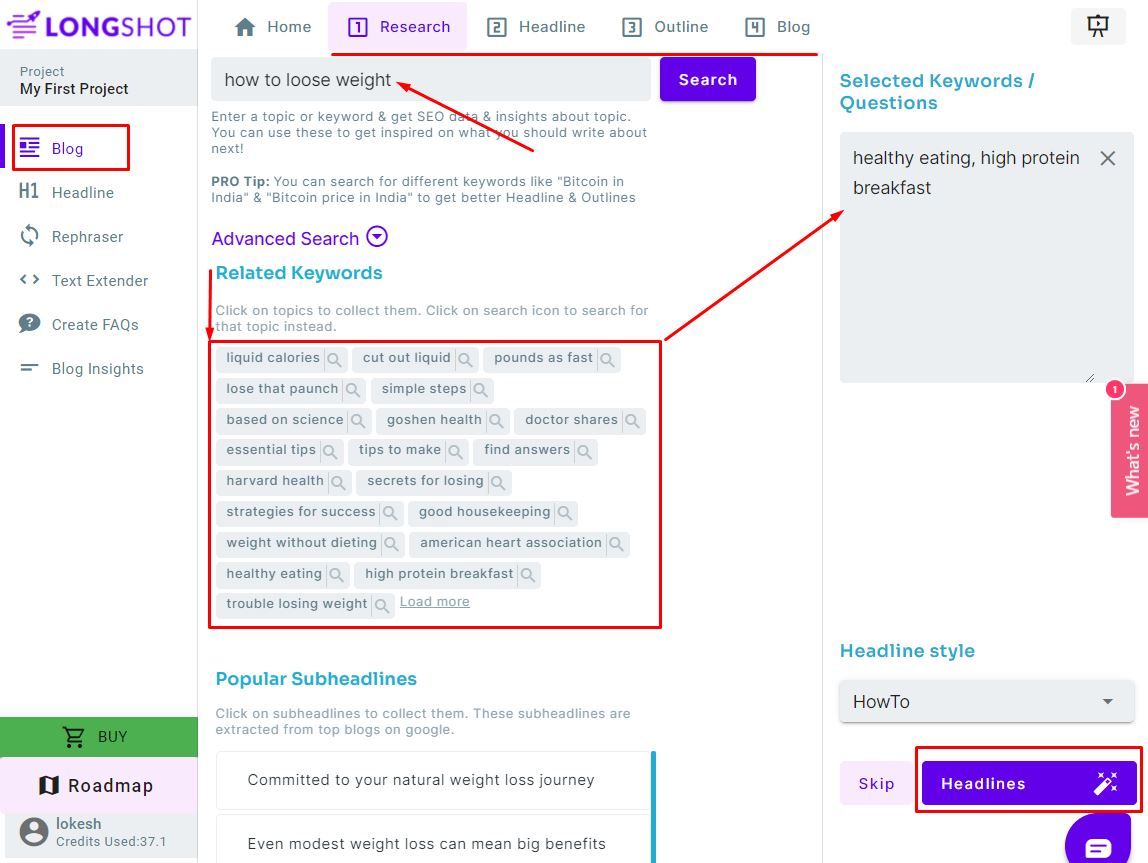 Once you are ready with the keywords, you can choose the heading style whether it is how to, listicle or descriptive and move on to select or create Headlines for your blog.
As you click on the button to generate the headlines, you will be charged the credits assigned for the time being for that job and the resulting interface will allow you to choose the desired headline from the list of suggested headlines.
As you click any headline, it will be saved to the 'customize headline' section where you can customize the headline before moving to outlines or creating a headline manually.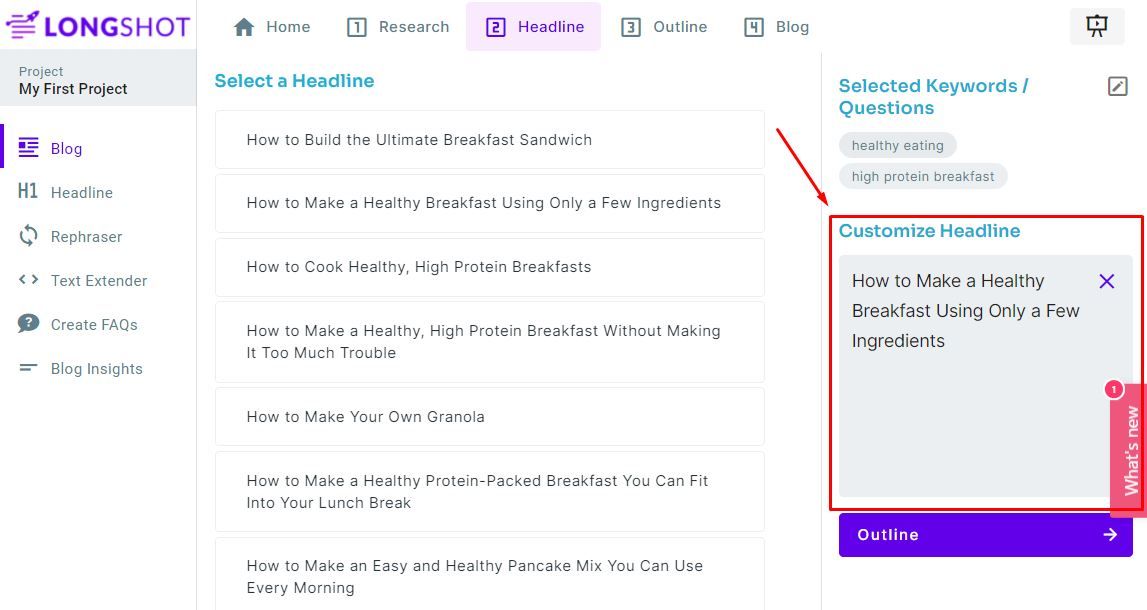 Once you are happy with the headline, you can step further to create the outlines for your blog.
Unlike Headlines, there can be multiple outlines of course which you can easily order as per your requirement.
You can easily add outlines manually or customize any outline if the suggestions offered are not relevant to your blog.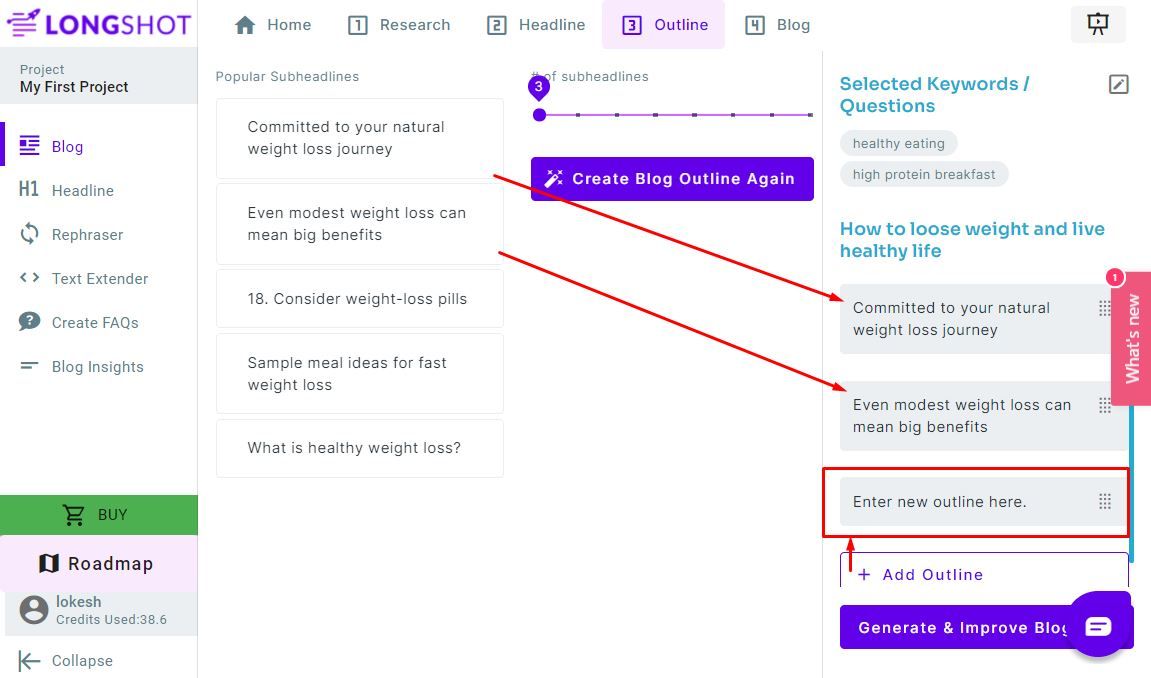 Once you are happy with your keywords, headline, and outlines, you can move further to Generate & Improve Blog.
This is where the story begins. As you click the button, it takes only 3 credits(at the time of writing this tutorial) to generate the blog content for all of your headings and outlines.
If you missed any outline, you can add them to your blog, select it and click on "generate intro" to get the paragraph for the same.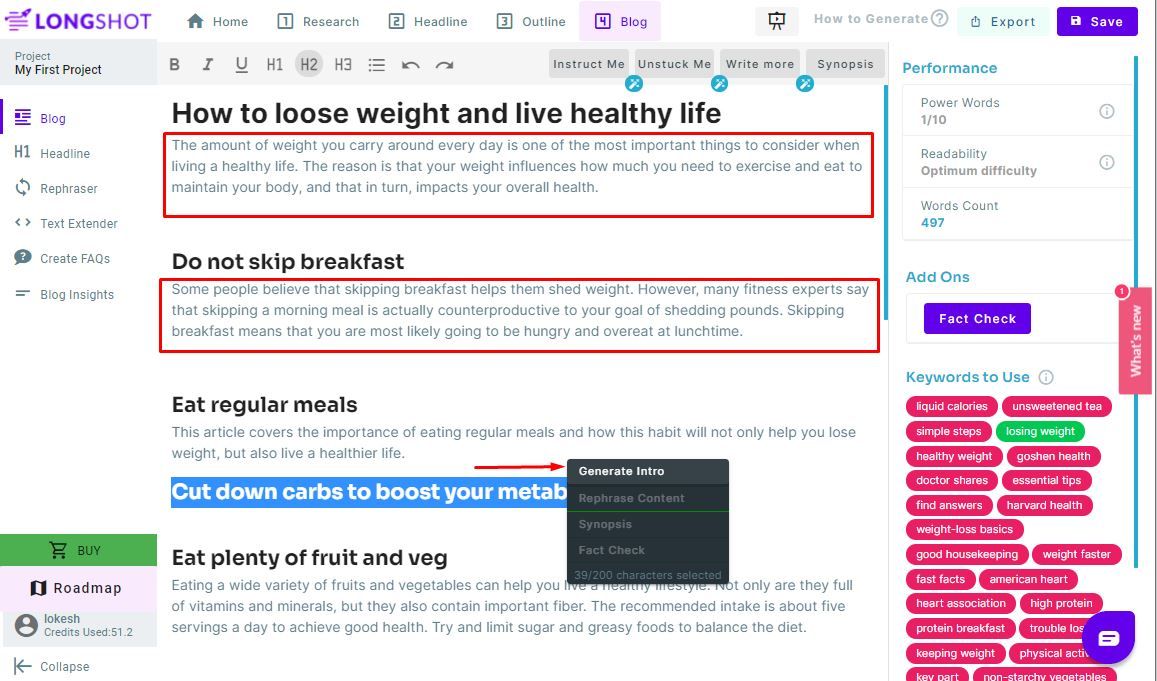 You can also go back to outlines if you are not happy, change them, and re-click on the generate blog button.
Some of the interesting things you can do on the blog editor page is as follows:
Rephrase Content: You can rephrase the content of any paragraph which you feel can be different or more relevant.
Instruct the AI: You can instruct the AI to write something for you.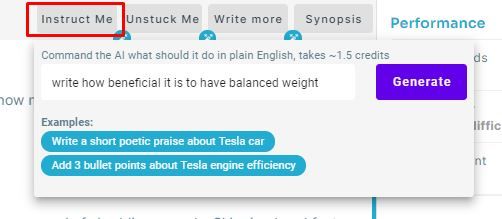 Unstruck Me: It is a feature of longshot.ai that lets you write quick copy based on selection of keywords. You can select 1-3 keywords only for the purpose. It is beneficial when you want to write something but you are suddenly blank of thoughts.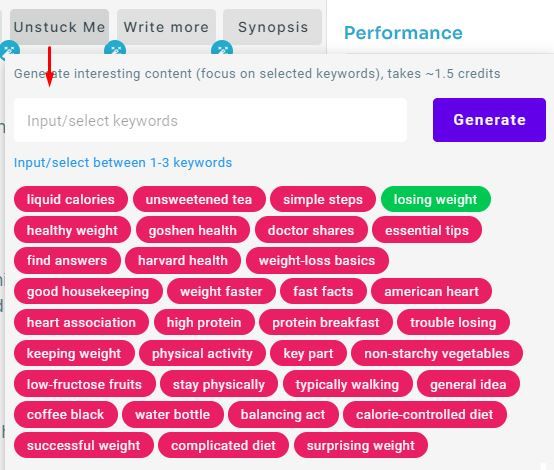 Write More: With this feature, you can ask the AI to continue writing the content from where you left. It takes only 1.5 credits.
Synopsis: This feature of Longshot lets you write the synopsis and ending paragraphs for your blog content.
Fact check: In this feature of Longshot, one can see if the facts mentioned are right.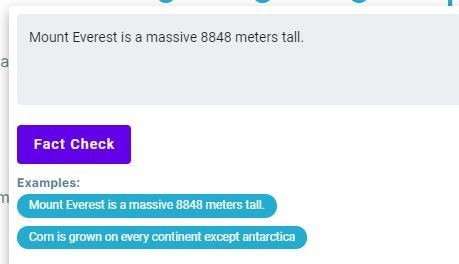 Expand content: You can easily expand the content of your paragraphs by making use of this feature of longshot.ai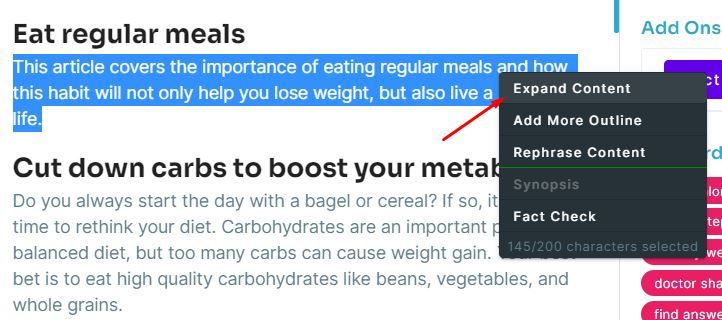 Add more outlines: You can select the content and click on "Add more outline" to generate more outlines for your blog content.
Generation of Marketing Copy
All you need to do is enter the main keywords that you want to include in your content and give a little description about it and there you go!
With so few details, you get to choose a pre-installed template before AI fills the areas for AIDA for you, based on its marketing research.
Advertisement Generation
Want to advertise your product in the best way possible to attract customers? Don't worry, LongShot is here to help you as well. With its high-quality templates and ideas, you cannot create ads for Google, Facebook, or LinkedIn.
Brand Development
With great content comes a great market and it becomes extremely important to develop your brand on a more advanced level. LongShot helps you do that as well. With quality content that can pass plagiarism checks easily, your brand will only go up and up.
Product Descriptions
Not only blogs or long-form content creation, but LongShot also helps you in creating descriptions for your products by selecting a few of the best through different big markets and helps in boosting the quality of your products to its full potential.
Sales Email
When it comes to pleasing your customers and always being on top of your game by keeping them up to date with all the new features or products that are available on your website, emails are one way to convey such messages. LongShot opposite feature that helps you create ostrich sales-oriented email copy using information from your provided customers list.
Content Extender
Sometimes, we want to expand the meaning of a sentence more descriptively but we do not know how to do it and it becomes quite difficult to make it scale to a certain word limit. This is where LongShot stands out, by giving them a few words or just a word, it is going to expand it in a more meaningful way by creating a whole paragraph, from a single word. Now isn't that amazing!
These are the few highlights of LongShot but of course, this is not all. A few other things that attract customers are :
It's an all-in-one solution, that is, it helps generate SEO marketing content as well as block post + email sales.
With nothing more than a click, you get an entire blog post. Yes, with just one click!
It comes with not only a small blog-post generator but long-from as well as medium length. Whatever you like.
Research Topic is the highlight of LongShot. With this, you get to decide what kind of content you want and you can go through it with all the options that the software has to provide you.
LongShot content 10 passes any kind of plagiarism check because of its unique content creation for everyone and anyone.
The content that is generated by the software barely needs any kind of edit before publishing it. Yes, it's that good!
With its easy-to-use and user-friendly interface, it becomes extremely easy for a starter or a professional to navigate through the entire site.
Some of the highlights of the software are its option to add keywords into the model and its research tool.
How Longshot.ai is different from other AI Content Generator Tools?
LongShot.ai is not just a content writing tool, but a broad spectrum that is going to help people generate monetary benefits. Since there are a lot of content writing tools in the market, it becomes extremely difficult for one to navigate the best SEO tool. What makes LongShot stand out is its advanced research technologies that create long-form articles from the very outline to the end product that is likely to attract customers because of its good quality.
Who can use LongShot.ai Content Generator Tool?
While the platform is open for all, it is the best for copywriters, bloggers, marketing companies, and agencies that are starting up. You may wonder why?
LongShot is a platform for people who love to make and spread their creative content by social media and blogging. It is a platform for those who are willing to work smart and gain as much as they can while having some amount of creative control over what they publish.
LongShot is also a platform that is ever-evolving and is on a run to advance itself to a better place for content creation. It is the best platform when it comes to beginners. While one loves to write, sometimes it does become hard when you are facing writer's block, but with this AI-creating tool, you don't have to sweat much. LongShot will help you write your blog and you don't even have to worry much.
Why Should You Choose LongShot?
While it's a growing company, it hasn't failed its customers once when it comes to helping them make money and sharing their progress in the big market field. With its amazing team and its ever-evolving features, which are only going to be better with time to come, they have been very transparent with their progress on social media because of their good and active blog quality.
What does it offer?
LongShot AI offers a trial with no credit cards added. You can take a tour of the entire website without paying anything and if you feel that it is good enough for you, you can go ahead and purchase it.
Is LongShot worth buying?
LongShot, being the world's first AI-powered research topic feature, is no doubt that it is a great platform for anyone who wants to create good quality content using technology that also is accurate when it comes to creation and publishing. If you're looking for a platform that is going to help you create good quality content to boost your brand reputation and give the hype your website needs, you should go for LongShot! You won't regret it.
LongShot.ai Pricing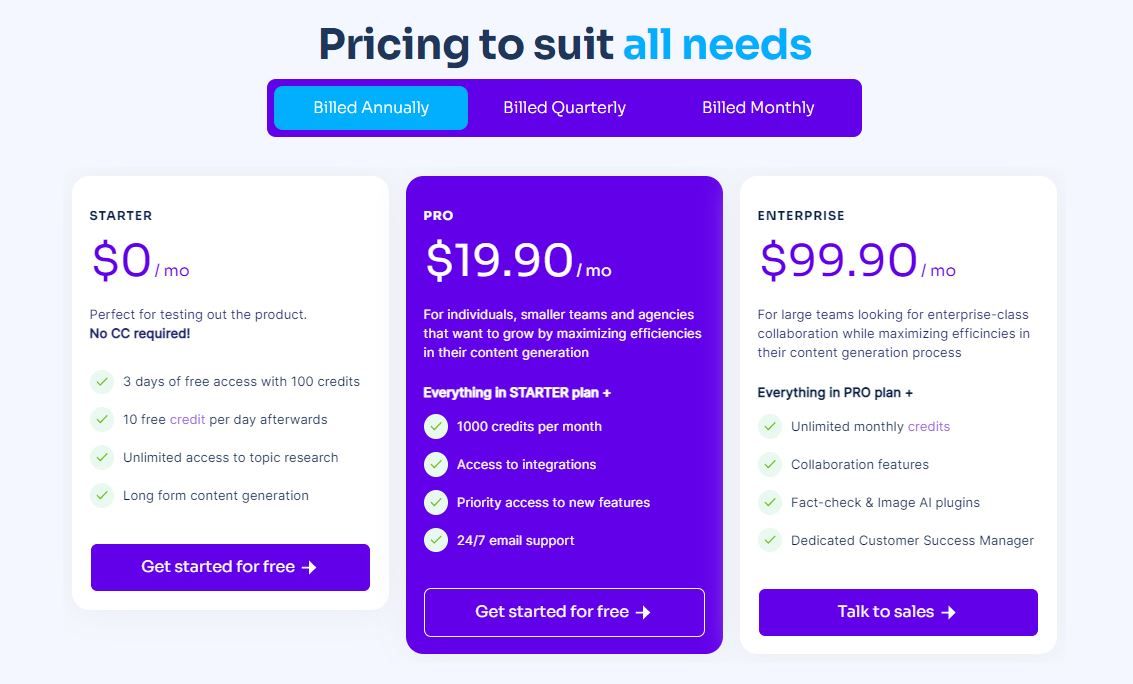 LongShot offers three different plans that are based on annual, quarterly, and monthly billings. If we look annually, these are the options :
Starter – $0/month
Pro – $19.90/month
Enterprise – $99.90/month
There are other plans listed on the website as well and you can check them out too. To avoid the credits system, you can simply opt for an enterprise plan where you will get unlimited monthly credits. It also gives you collaboration features that are most important for agencies.
LongShot.ai On Dealify
"LongShot is an AI-powered software tool that helps to create high converting blog posts, just in a few seconds." This is what Dealify says.
On Dealify, you can purchase a lifetime deal for just $79 and use it to create content forever.
Grab this Deal now on Dealify, before it runs out!
Final Thoughts: Is LongShot.ai Worthy?
LongShot.ai believes that if they can develop an AI tool that is not only affordable but credible as well, it is going to change the way people look at AI and its market as a whole.
But of course, the end choice is yours. As for us, we say that you should give it a shot!
LongShot.ai is one of the most innovative tools for blog content generation in the market right now and it won't hurt to try since you get to try it for free and if you're willing to go for it, you can!
The Review
Longshot.ai
Longshot is an affordable, easy to use solution for generating marketing articles ranging from 500-5,000 words. With just a couple clicks and right on your computer screen, you are able to generate content that has been researched and validated with the simple tap of a button. This AI Content generation tool empowers business owners by saving their cost and time while also answering one major problem in digital marketing: it's difficult being the only person who manages all online efforts like blogging! While Longshot is highly equipped with features as diverse as Data Entry Mode or Research Topic to help people learn how to use AI for everyday tasks and generate SEO-friendly content before even launching into drafting a blog post.
PROS
Ease to use AI Content Generator
Time Savor for Copywriters and Entrepreneurs
Cutting-edge features when compared with other AI tools
Comparatively less priced and value for money
Takes very less time to generate 500 words or even thousand word article
Generates Quality Content ready for publishing
Review Breakdown
Ease of Use

0%

Features

0%

Brand Trust

0%

User Interface

0%

Support

0%