Snapchat is a popular social media app with over 187 million daily active users.
When it first debuted in 2011, one of Snapchat's distinguishing characteristics was that images and videos known as "Snaps" used to vanish forever once seen. It became obvious that a means to preserve Snaps would be helpful so that time spent on the app could be recalled.
Snapchat's response to that issue was Snapchat Memories. While many people still think of Snapchat as a platform for disappearing images and videos, Snapchat Memories allows you to create and share long-lasting content.
With this tool, you can browse a searchable archive of your Snapchat posts and save great material for later usage on Snapchat or another social site.
In this article, we'll go through the Snapchat Memories feature and see how you can utilize it.
Snapchat Memories
Snapchat Memories is a private archive of snaps that you've saved. In response to users' requests to be able to preserve the Snaps they take through the app to Snapchat's servers; Snapchat Memories was unveiled in 2016. You may preserve all of your Snaps using Memories so that you can review them later or re-share them on Snapchat or another network.
The appeal of browsing through old images with friends and family served as the inspiration for the Memories feature. You can find some of the finest Throwback Saturday material in your Snapchat Memories.
Users of Snapchat could previously store Snaps on the camera roll of their phone, but Memories enables users to save and remember Snaps within the app itself. Unless you change your settings to save Snaps to your camera roll as well, they are now kept in Memories.
Here are some additional details about Snapchat Memories:
Snapchat Memories utilize cloud storage, which means that the saved content doesn't take up space on the your mobile device
Memories are stored on Snapchat's servers, so you can access them from any device.
You can search your Memories by date, location, and keyword.
You can create custom albums to organize your Memories.
You can export your Memories to your phone's camera roll.
You can set up a passcode or enable biometric authentication (such as fingerprint or face recognition) to access Memories.
How to see Snapchat Memories?
Your account's automatic Snap Memories activation makes using this feature simple.
Swipe up from the camera screen to get direct access to Memories. Nothing further needs to be said. To view stored stories, your camera roll, screenshots, and your "My Eyes Only" area, swipe right in the app's Memories section.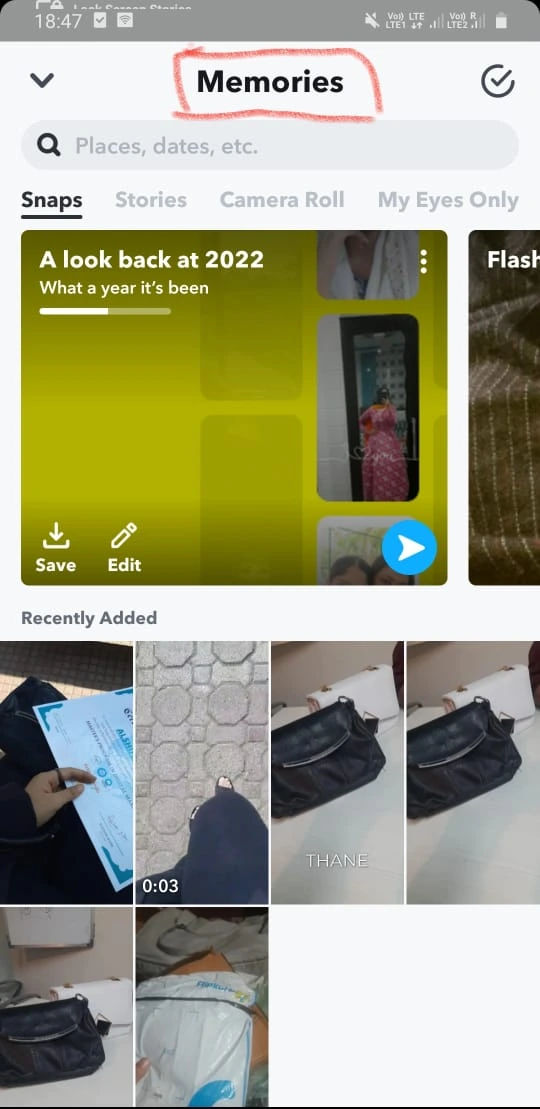 Saved Stories will display as circles, while individual saved Snaps will appear as rectangles. To find a certain Snap, utilize the search option or go through all of your saved entries.
Your Memories are arranged by categories and places when you press the search box, enabling you to focus your search. Additionally, Snapchat offers a smart search filter that enables you to look for certain Snaps by searching for terms like "sunset" or "food."
How to keep every Snapchat memory?
Each Snapchat Memory may be separately saved to your camera roll, however, doing so can take a while. To save all of your Snapchat Memories to your camera roll quickly and easily, simply:
In the upper right corner of your Snapchat profile page, click the gear symbol.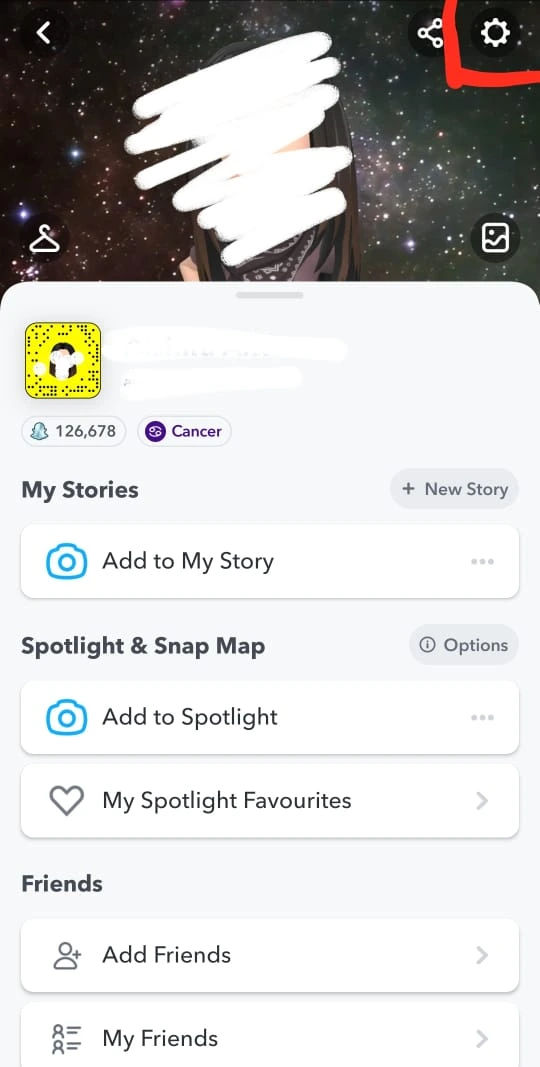 Select Memories & Camera Roll in Save Destinations by scrolling down and tapping it.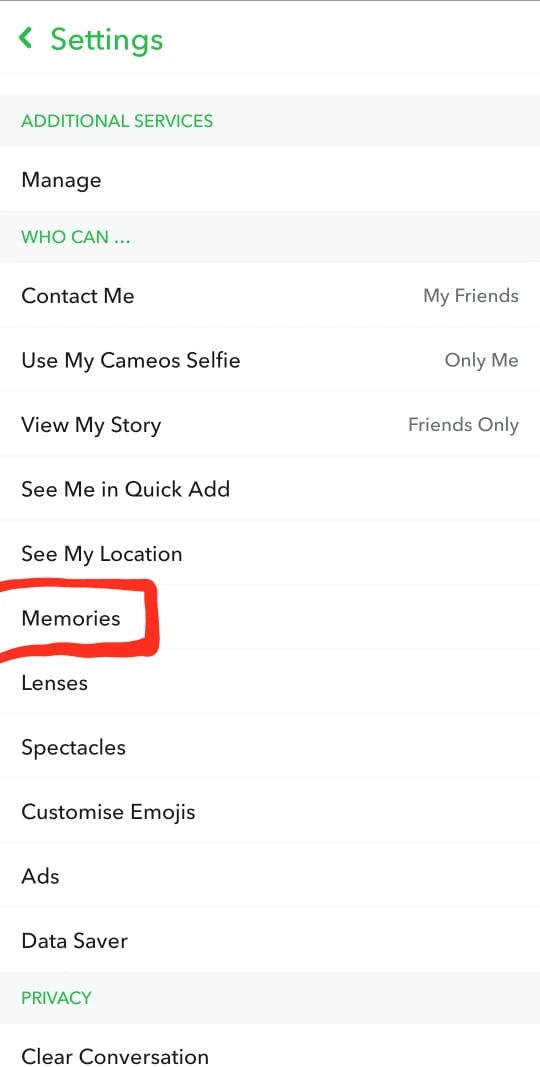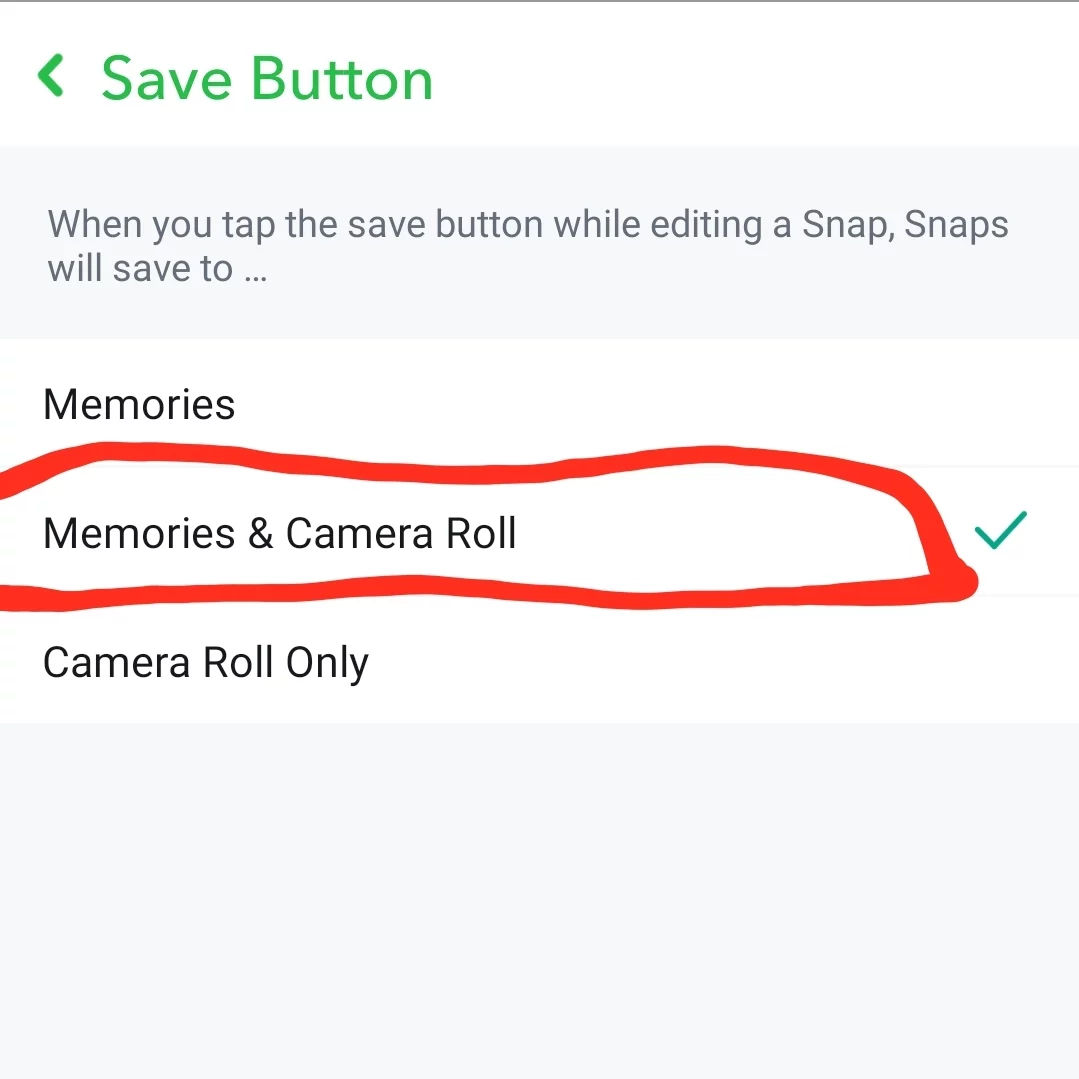 Unfortunately, if you haven't already done this, each of your current memories has to be stored separately by:
Open the memory that you wish to preserve
Choosing the More option by tapping the three dots in the upper right corner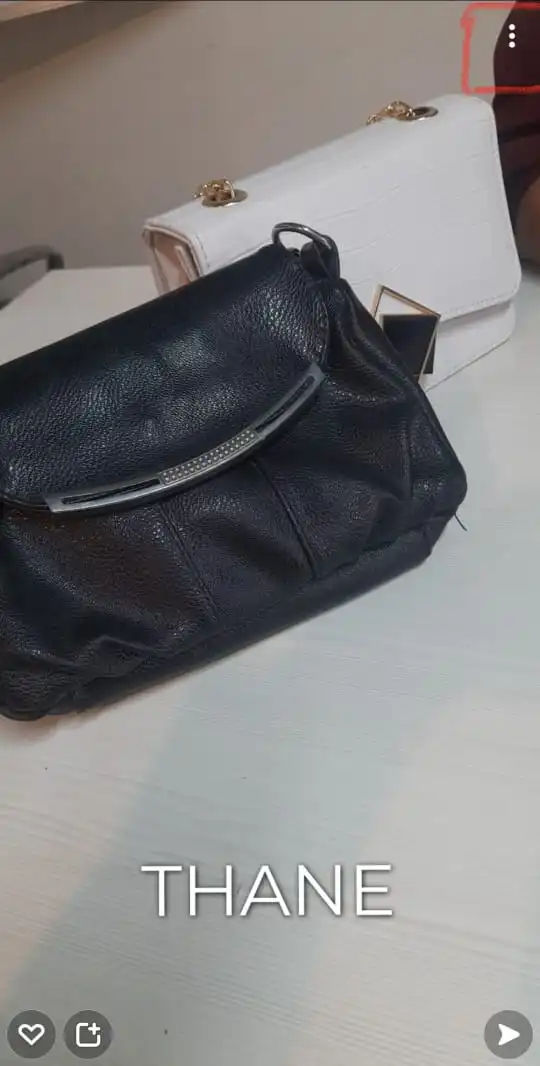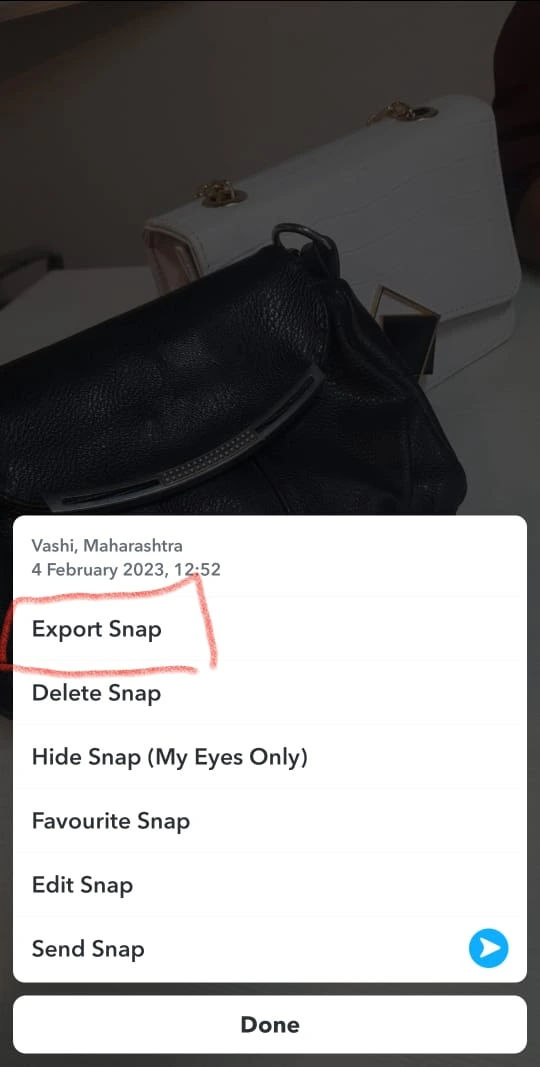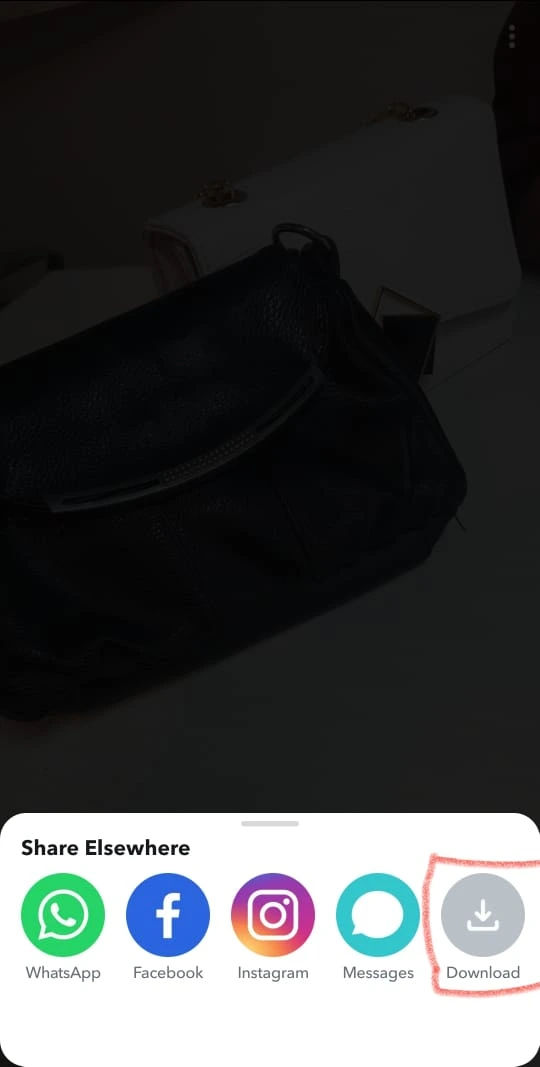 How to save photos and videos in Memories?
You may publish a Snap before or after saving it to Memories.
Press the download button (located in the lower-left corner of the screen) to save a specific Snap to Memories or your camera roll before uploading.
After posting a Snap or Story, click the three dots at the top-left corner of the screen. From there, you may save it to Memories.
To save the full Story to your Memories, click the download button next to the My Story symbol.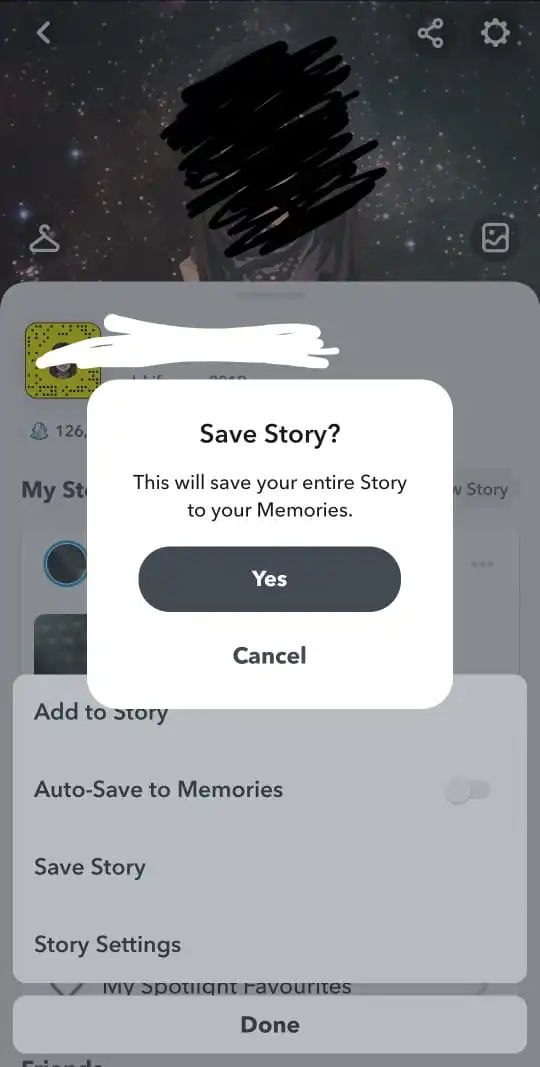 You can also save posts that your followers have sent you (or screenshot them) and add them to your Memories folder to save them.
How to upload material made outside of Snapchat to Memories?
Snapchat Memories lets you import photographs and videos from your camera roll to share anything made outside of the app with your followers.
The "Camera Roll" tab appears when you swipe up to view Memories. To add a photo or video to your Story, press and hold the one you wish to share, then select "Send Photo."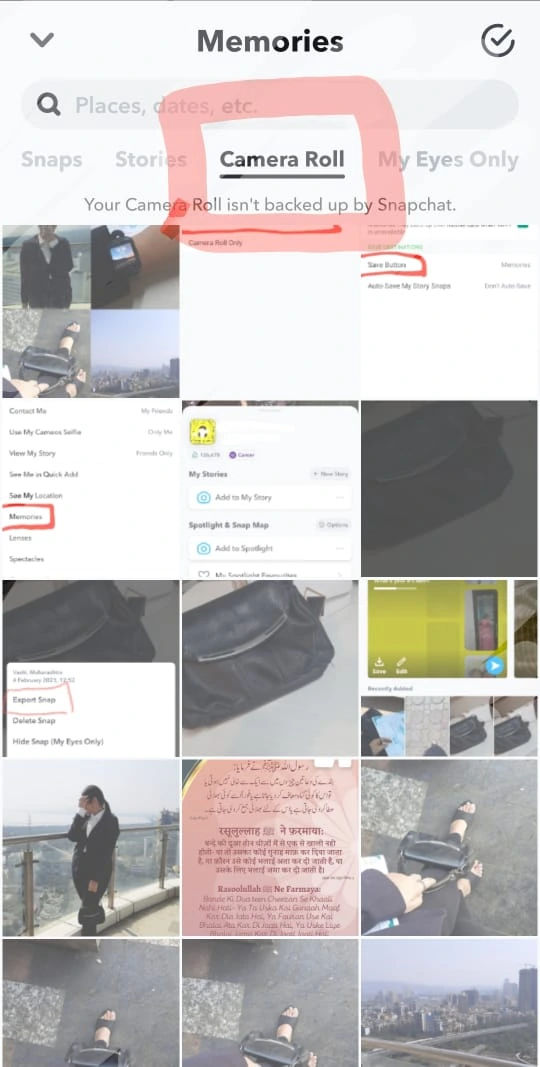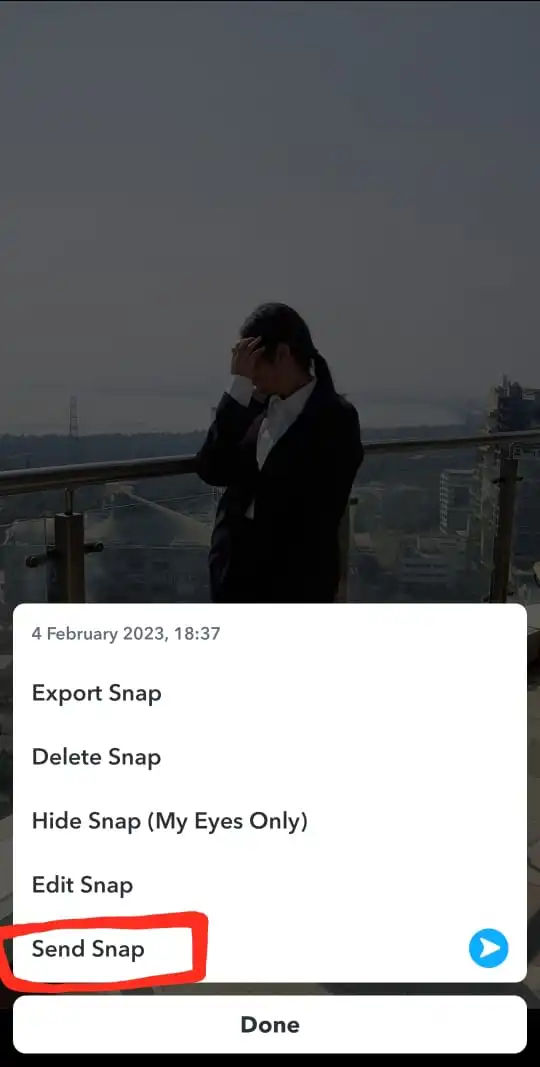 This makes it simple for you to share your excellent Instagram or other platform posts with your followers on Snapchat as well. You may use it to expand your audience on other platforms as well.
FAQs
How to get back Snapchat memories that were erased?
A Snapchat Memory that wasn't also saved to your camera roll may have been deleted by accident. Fortunately, there's a possibility that the Memory is still stored in your Snapchat data vault. Deleted Snapchat Memories can be recovered by checking the recently deleted folder or by requesting your data from Snapchat.
What are flashback memories on Snapchat?
For your Snap Memories, Flashback Memories are similar to anniversaries. This means that if you contributed a Snap to Memories on July 1, 2017, it will show up as a Featured Story on July 1 of every year, enticing you to share it as a Flashback.
You don't have to do anything to receive them; simply check your Memories to see whether you had a Flashback that day. They are automatically created.
Flashback Memories are pleasant recollections of information you shared in the past; you could be startled by what appears. You definitely can't recall every amusing video or humorous photo you've uploaded unless you're a robot, but Snapchat can. They're here to bring back memories of the good days like a dependable friend.
Are my Snapchat memories visible to others?
No—but only if you permit them. They can't see your Snapchat memories until you hand over your phone and let them go through them.
Like, say, a Facebook album, Snapchat Memories are not viewable by the general public (or anybody else except you). However, there is an extra layer of privacy feature called "My Eyes Only" in Snapchat, if you're concerned about someone viewing certain pictures you've saved for memories.
How to republish Memories and Snapshots?
Swipe up from the camera screen to see all of your stored Memories and tap one to repost a Snap or Story. When you have opened the Story or Snap you wish to repost, tap it again to bring up the options by holding your finger down on the screen. You may then choose to Send Snap to include it in your Story from that point.
What are some useful hints for Snapchat Memories?
Simply perusing through your past entries in Memories may inspire fresh, inventive ideas for what to do with those videos and pictures. However, we also have some ideas for using Memories to expand and include your audience.
You can Celebrate your progress, Adapt memories to create fresh narratives, reuse promotional offers and save seasonal content.
How to protect your memories?
Move Memories to My Eyes Only if you wish to store them but keep them private from your friends or followers. By doing this, they won't show up while you go through your Memories screen. The identical procedures for publishing Memories as a new Story must be followed to relocate Memories:
Choose the Snaps you want to make private by tapping the checkbox symbol.
Once you've added them to My Eyes Only, hit the lock button.
You will be asked to make a four-digit passcode for security the first time you add a Snap to My Eyes Only.
Every time you visit the My Eyes-Only folder from the Memories screen, you will have to enter the passcode
There is no way to get it back, so make sure you pick something you can remember (or write down)! All of those Memories will be permanently lost if you forget your passcode. Snapchat values its users' privacy greatly.
These Snaps and Stories can always be made public once again at your discretion. Simply open them in My Eyes Only, press and hold on the screen until the option "Remove from My Eyes Only" appears, and then click it.
You may select a choice in your Settings to store all of your Memories as private. Pick "Save to My Eyes Alone by Default" only.
Over to you
Snap Memories are Snaps and Stories that you may store for later rather than letting them expire. You may access, modify, email, or repost this stored material at any moment by opening Memories.
I hope this article helped you in developing a better understanding of Snapchat memories and how to create and use them.