Connecting your website with social media is more crucial than ever since it may help your growth. The social media platform Instagram has a community of more than 1 billion active users, which has made it a great option for start-up geeks, entrepreneurs, and influencers to connect with their target audiences. On average, each Instagram user spends 30 minutes every day using this platform, which means Instagram holds huge potential when it is integrated with a WordPress website.
But choosing the Best Instagram Plugins for WordPress is quite tough as there are many options available as of June 2023. Photographers, Wedding Artists, Food Bloggers, Travel bloggers, Fitness Bloggers and many more often want to show their Instagram feed on their website or portfolio page. Instagram feed plugins can best be used in such cases.
Also, those who want to redirect their blog visitors to their Instagram timelines can use the Instagram WordPress plugins.
To help you pick the Instagram plugin that works best for your WordPress website, we've gathered in this post all the top ones available and explained what they do.
Read on and learn about Instagram plugins in today's post so you can integrate your social media presence into your official WordPress website with reliable options.
List of Best Instagram Plugins for WordPress in 2023
Spotlight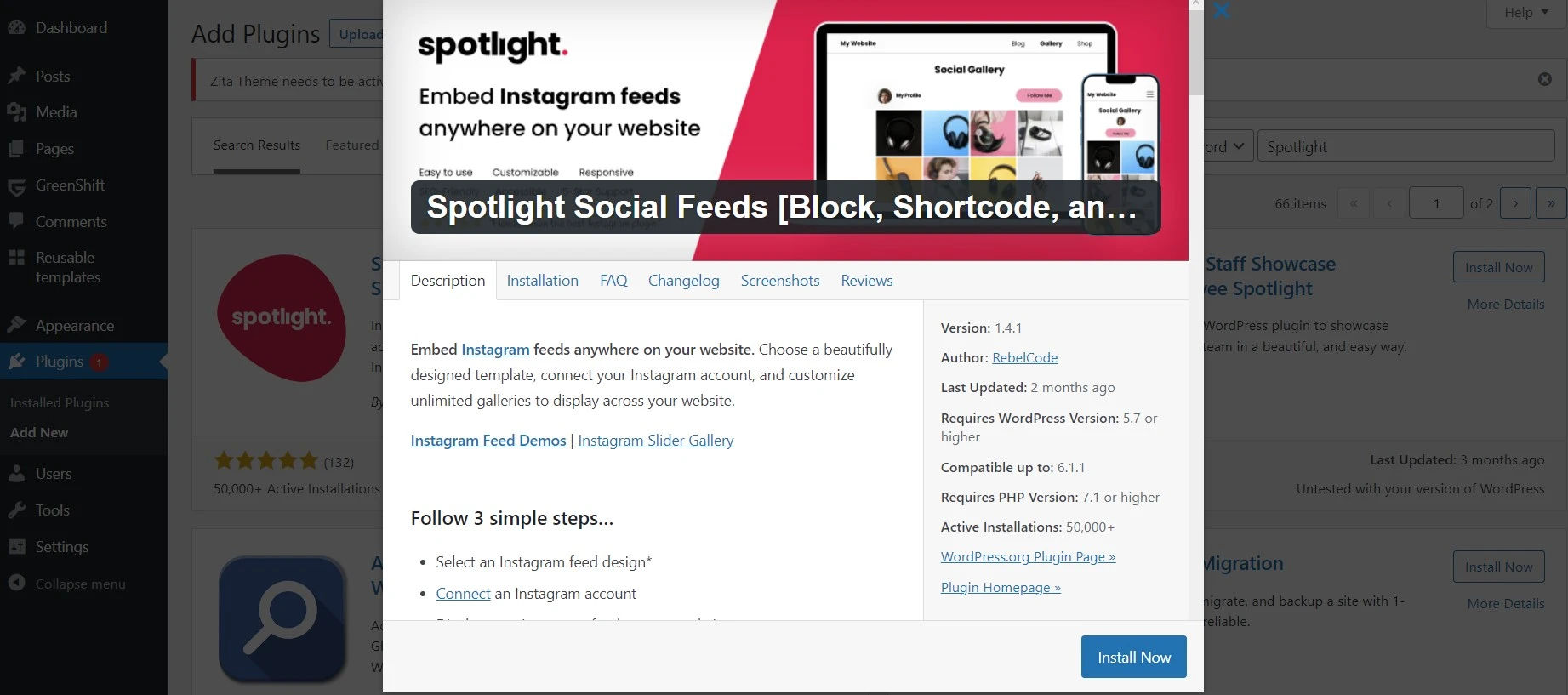 Spotlight is an excellent WordPress plugin that permits users to display an Instagram feed on their WordPress site simply. The plugin is very easy to set up and provides you with complete control over the design that your visitors will see.
While the free Spotlight core version provides more than enough functionality for you to show Instagram photographs on your WordPress website, a premium version is also offered. Upgrading gives you access to more layout choices, enhanced feed management, the ability to create hashtag feeds, and functionality that lets you embed Stories on your WordPress website.
Features
Make your module match your brand
Add a "Follow" button and turn visitors to your websites into Instagram followers
Add a "Load More" button and provide your site visitors with an entire gallery to browse
Elfsight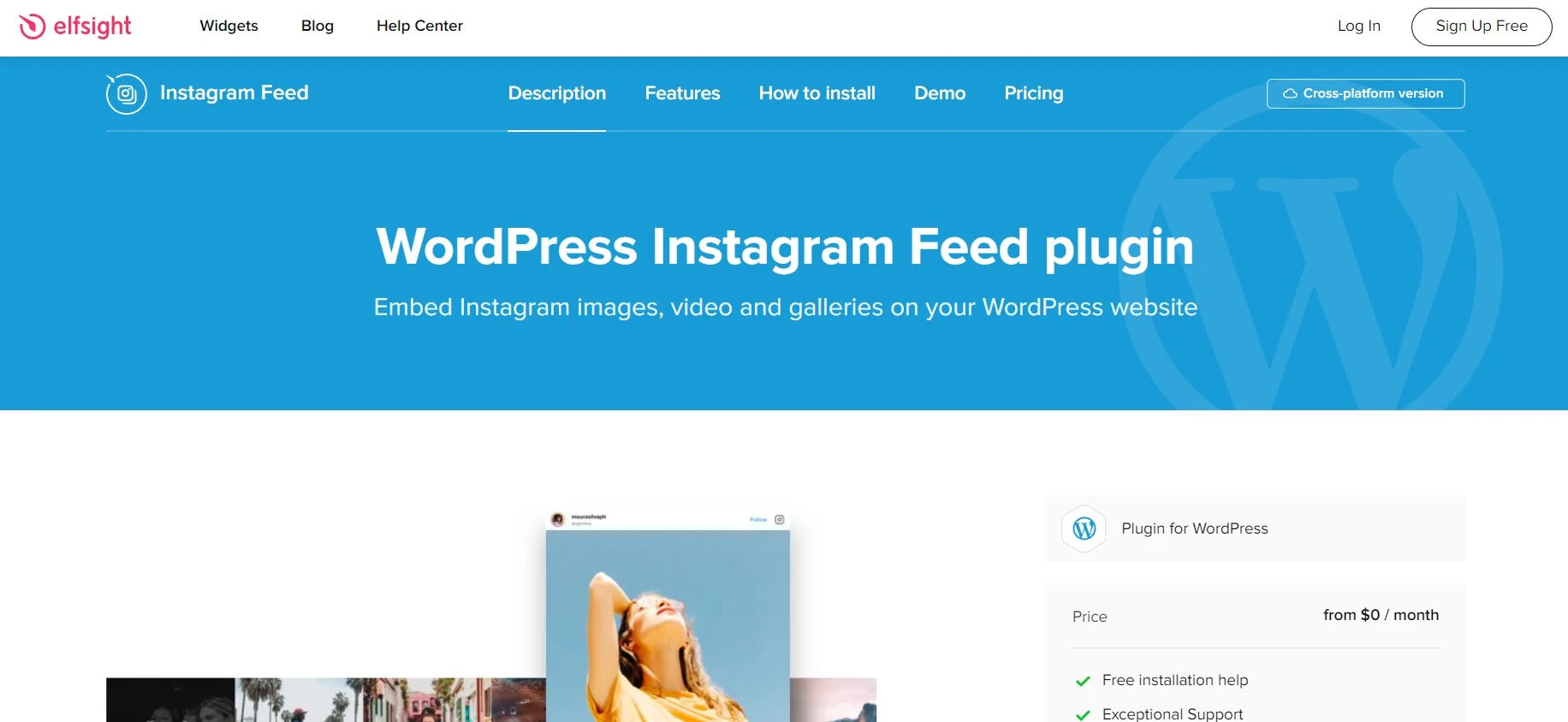 The Elfsight Instagram plugin for WordPress is a powerful tool for displaying Instagram content on your WordPress website. It allows you to quickly and easily display your Instagram images, videos, and stories on your website. You can customize the look and feel of the plugin, as well as the way it interacts with your visitors.
It is fully compatible with the latest versions of WordPress and is optimized for mobile devices. With this plugin, you can easily create stunning galleries, grids, and carousels of your Instagram content.
Features
Displaying your Instagram photos and videos in a beautiful grid
Setting the custom number of columns and rows
Adding an unlimited number of Instagram accounts
Showing user profile and bio
Customizing the display of each post (text, date, etc.)
10Web Social Photo Feed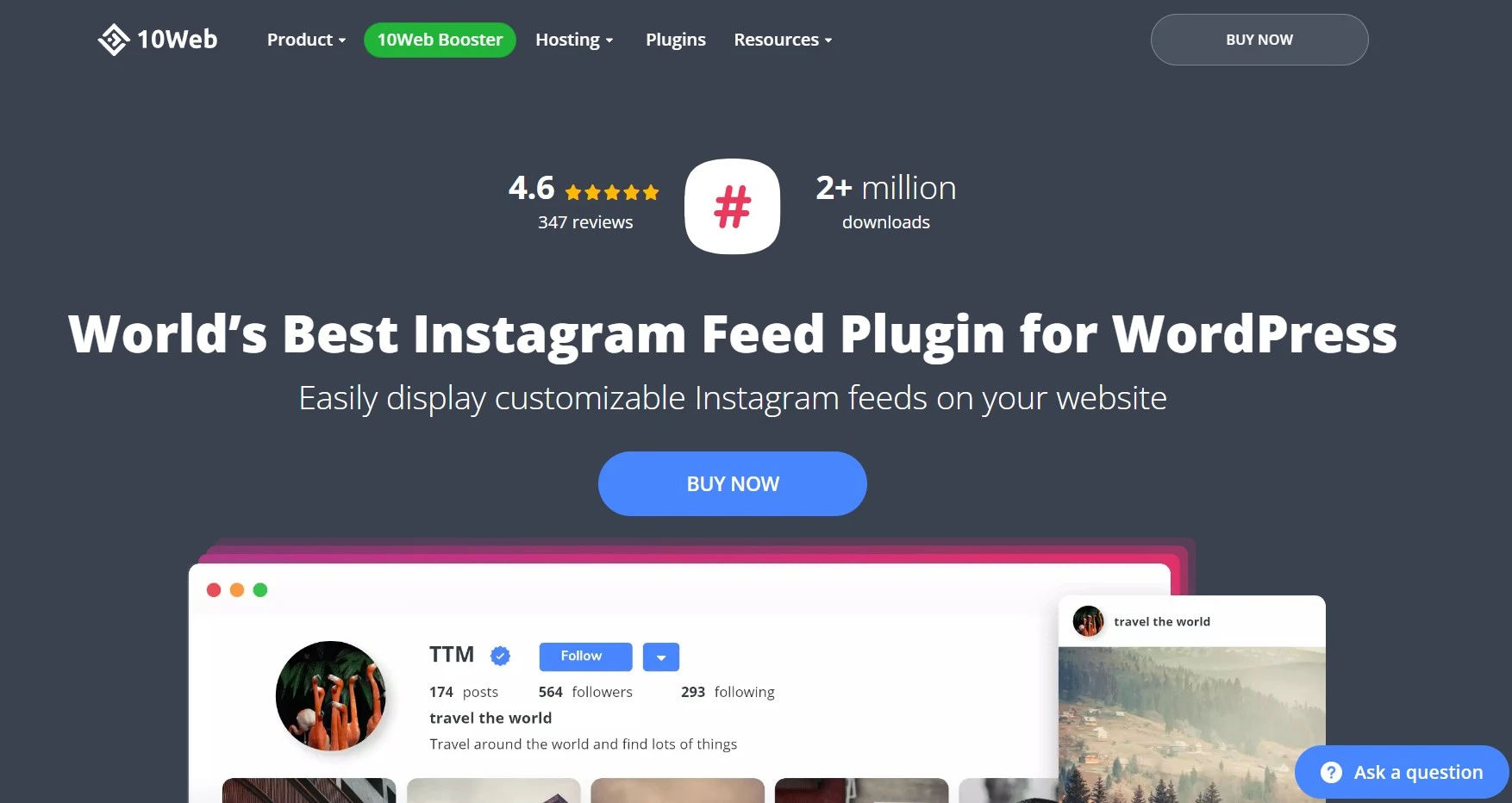 10Web Social Photo Feed is a great plugin by 10Web that allows you to create image galleries on websites simply by embedding the complete timeline in your posts, by using the plugin itself or the shortcode.
Features
Allows you to display single and mixed feeds on your pages and posts
Regularly updated. Automatically notifies you the moment an update comes
You can even easily customize the look or layout of your feed and present it in any different type of pre-built style.
Smash Balloon Social Photo Feed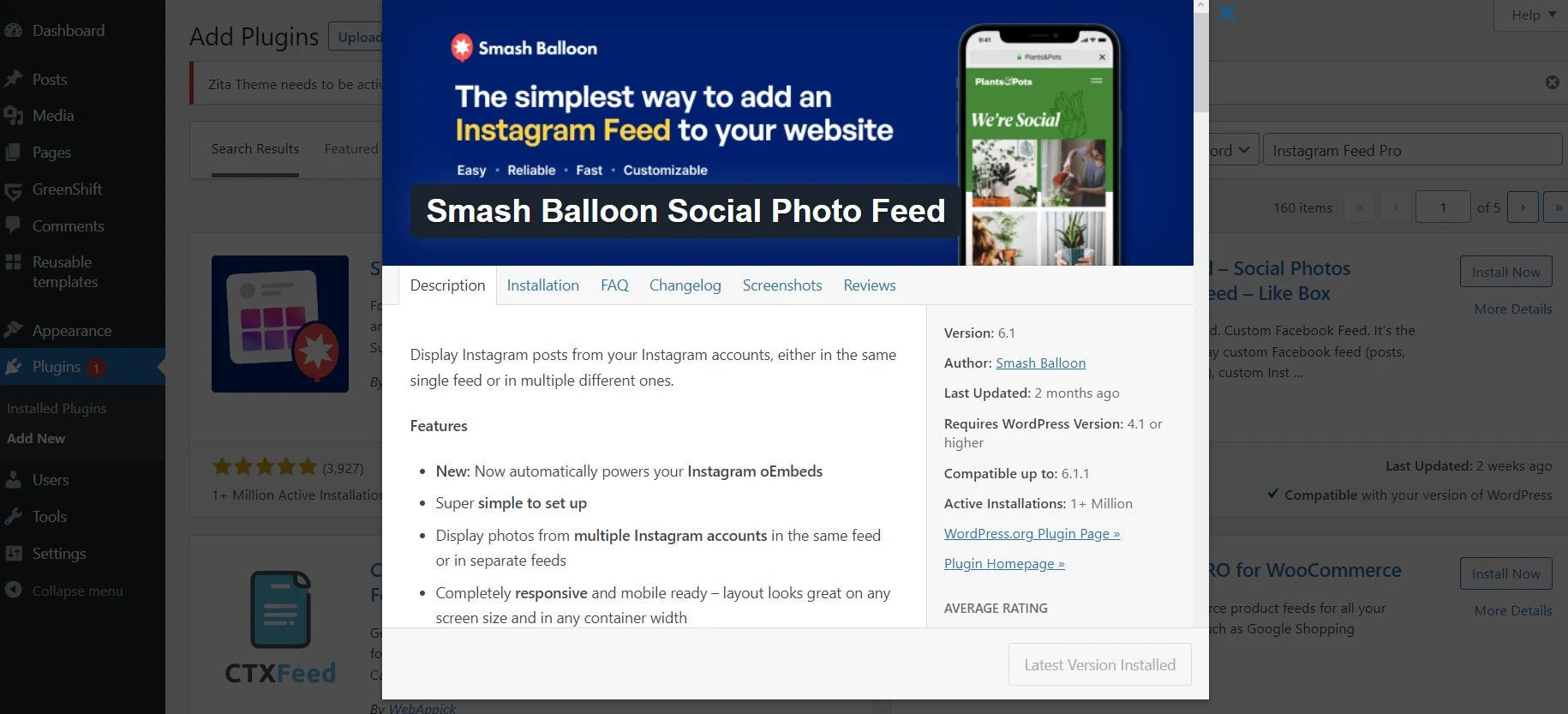 Smash Balloon Social Photo Feed is a WordPress plugin that lets you very easily display any kind of post from a non-private account on multiple or single feeds. The plugin is super responsive and appears amazing on any size of the device. Whether your website is being visited on a desktop, mobile phone, tablet, or laptop, you feel will look brilliantly stunning.
A total of over 1.3 million websites are using this plugin for creating custom Instagram photo feeds. There is also a free version of the plugin available that allows you to easily create a custom Instagram social photo feed. The free version has many features built-in, but you can always upgrade to the Pro version if you wish to unlock many additional features.
Features
Customize your feed and make changes in a way that your viewers will see
There is a "Load More" button to make your website load an infinite feed for your visitors.
Multiple layout choices
Horizontal layout
Masonry grid
Carousel
Feed Them Social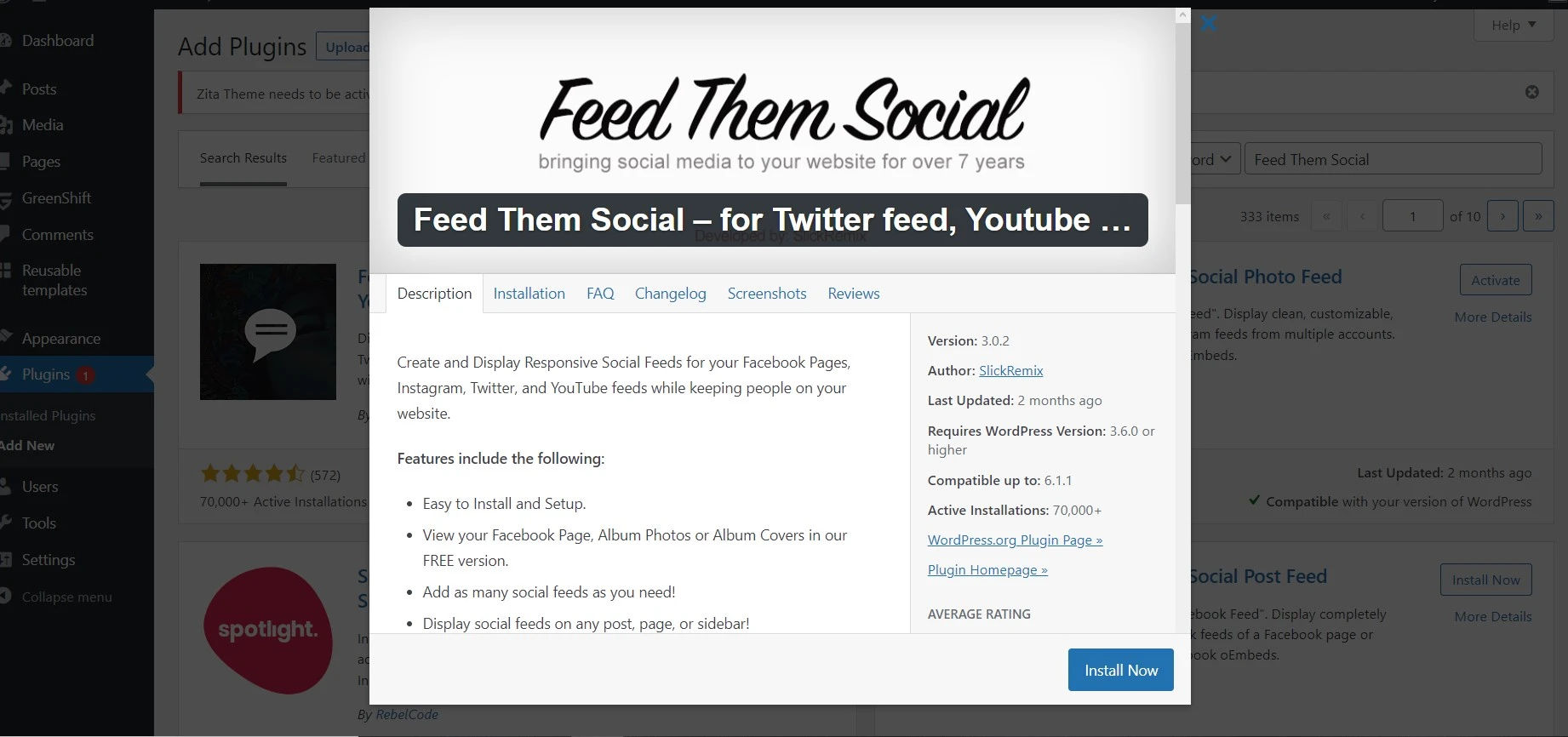 Feed Them Social is another great WordPress plugin that enables you to bring Facebook, Instagram, YouTube, and Twitter content to your website using a stunning, customizable layout. Using this platform, you will be able to add your Instagram feed to a sidebar post, or a page depending on how frequently you'd like the pictures to appear.
It is a social networking plugin that is incredibly adaptable and adjustable and can show material from several sources. On the plugin's main page, you can watch demos of Feed Me Social in action.
Features
The plugin includes two buttons at the bottom and top of the feeds respectively, using them you can easily import to your site, inviting visitors to follow and like your social media profiles.
You will even get the power to increase the time on the page while growing your presence on social media.
WPZOOM Social Feed Widget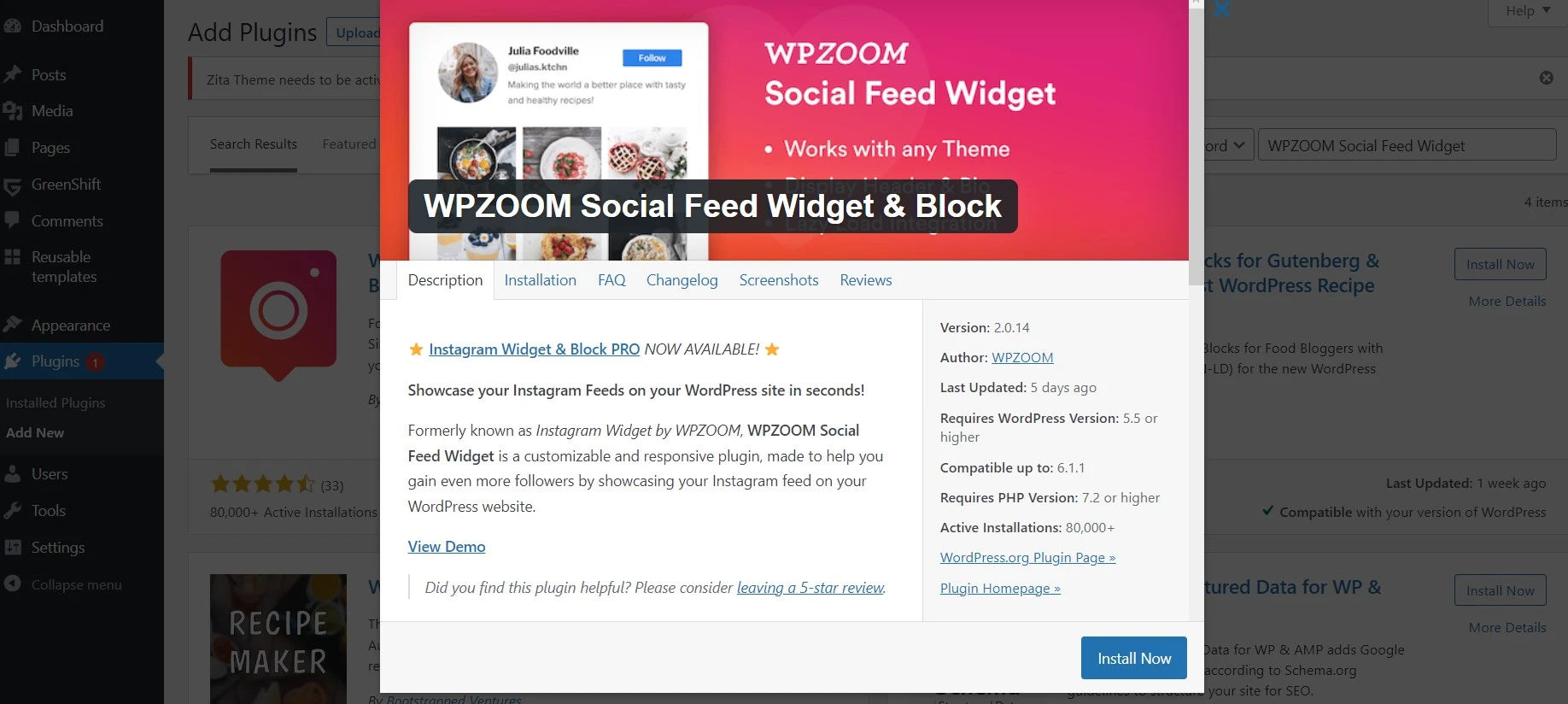 WPZOOM Social Feed Widget is a free plugin that is designed specially to help you translate your brand without putting any effort from your social media profile to your website. If you are new and just beginning with your Instagram journey or don't have a lot of good-quality pictures, then no need to worry.
Here, you can display pictures from your Instagram account straight to your website to create the feel you wish for your site visitors.
Features
This WordPress plugin allows you to show up to over 12 of your favorite Instagram photos in your pages, posts, footer, or sidebar.
Create Multiple Feeds
Multiple Layouts
Envira Gallery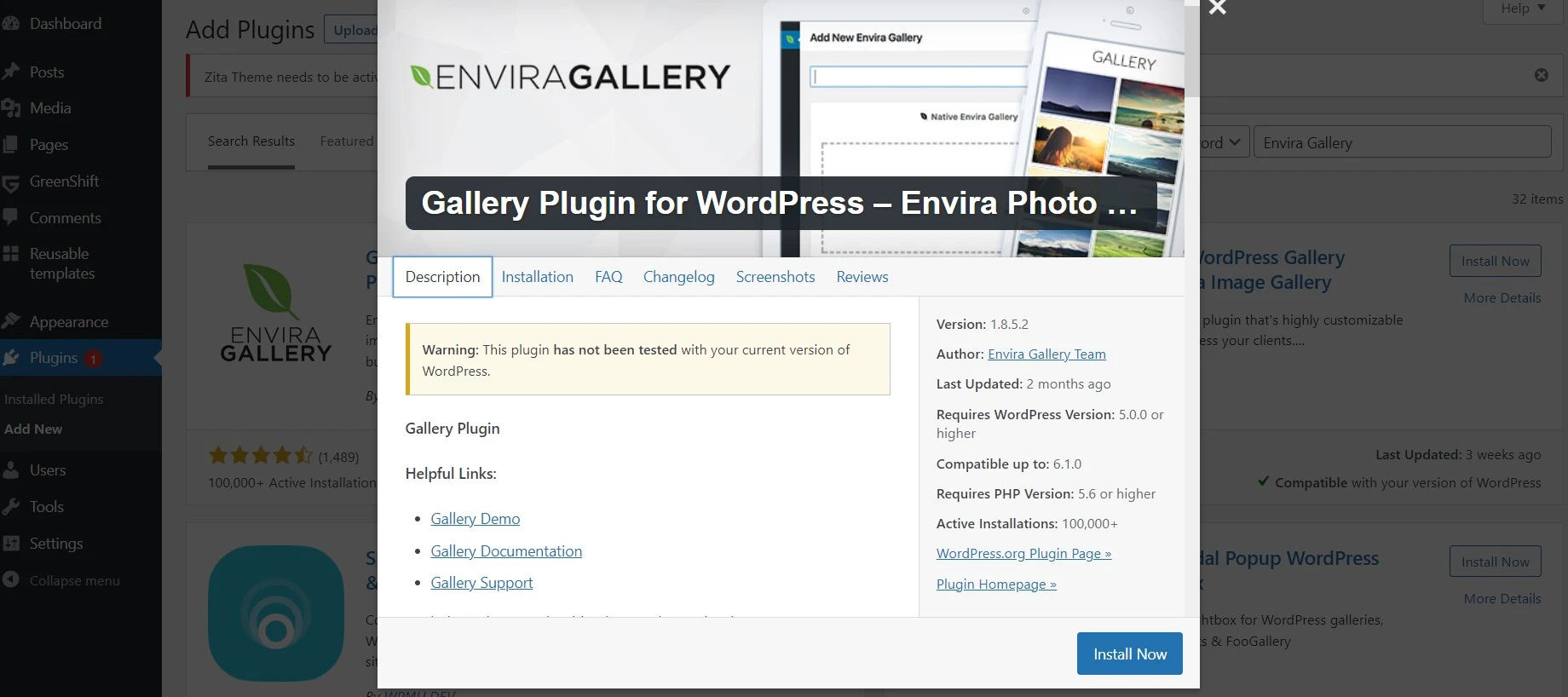 Envira Gallery is easy to use and fast WordPress photo gallery plugin. With its amazing features, it allows you to create advanced video and photo galleries in WordPress. It also has an Instagram Addon that allows you to import the images of your Instagram into WordPress, so you can even add it alongside any other photo galleries.
Features
Lightbox
Popups
Pagination tagging
Albums
Soliloquy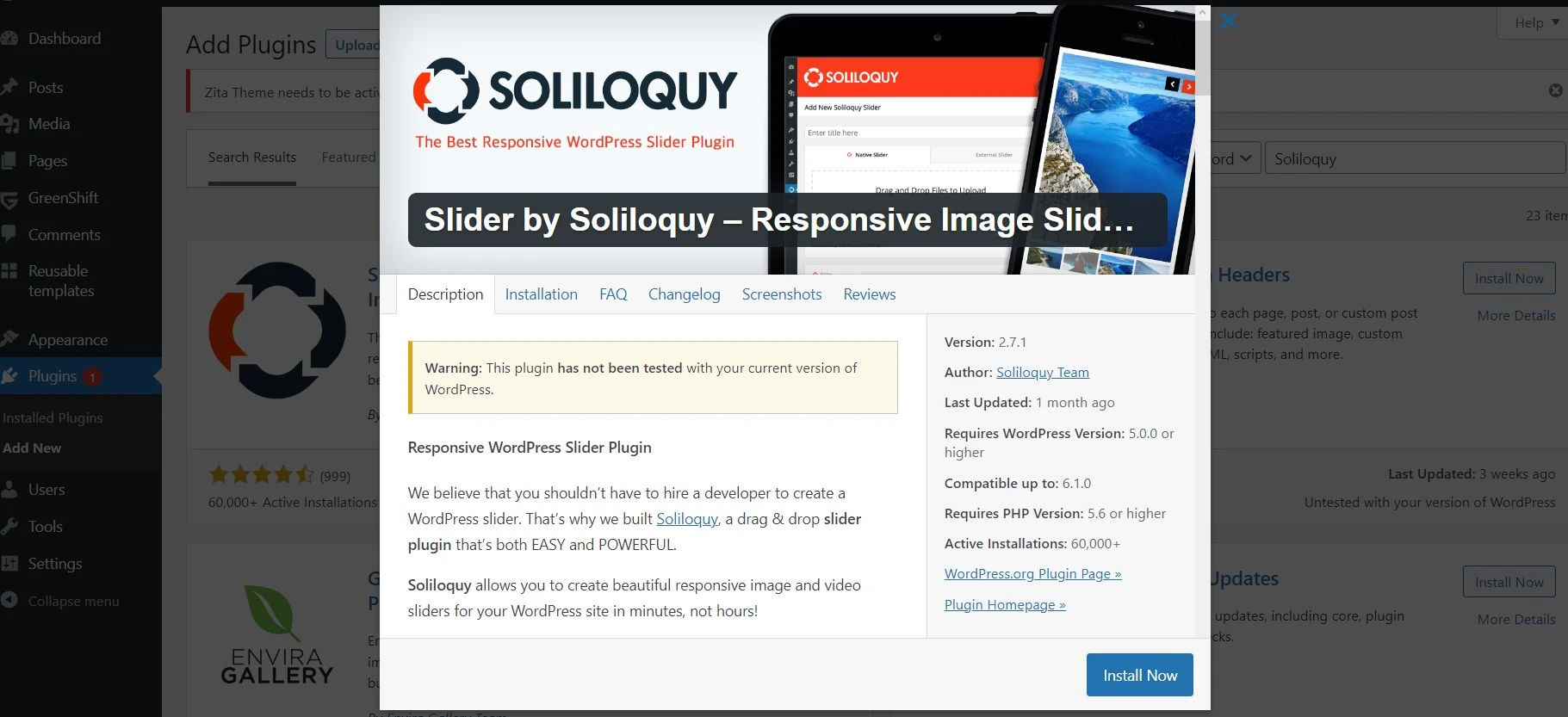 Soliloquy is a user-friendly WordPress slider plugin that allows you to create responsive video and photo sliders. It also has a dynamic slider addon that allows adding Instagram photos along with testimonials, featured blog post thumbnails, and others all in a single slider.
Features
Determine exactly which content from your Instagram you wish to use on your slider
Control the speed of your sliders and tweak many other settings that can match your website layout
Social Slider Feed
Social Slider Feed is a WordPress plugin that helps you create beautiful Instagram sliders for your WordPress website. It comes with a drag-and-drop builder, allowing you to create stunning sliders with ease. It also includes a number of animations, effects, and customization options, allowing you to customize your slider in any way you want. You can also easily integrate the plugin with your Instagram account, allowing you to create a stunning social media feed.
Features
Simple setup Simply creates a widget with the required parameters, then use shortcodes to add it anywhere on your website.
Slider, thumbnail, masonry, or highlight image displays are options.
Allow numerous Instagram accounts, without restrictions, to display many feeds at once.
Enjoy Plugin for Instagram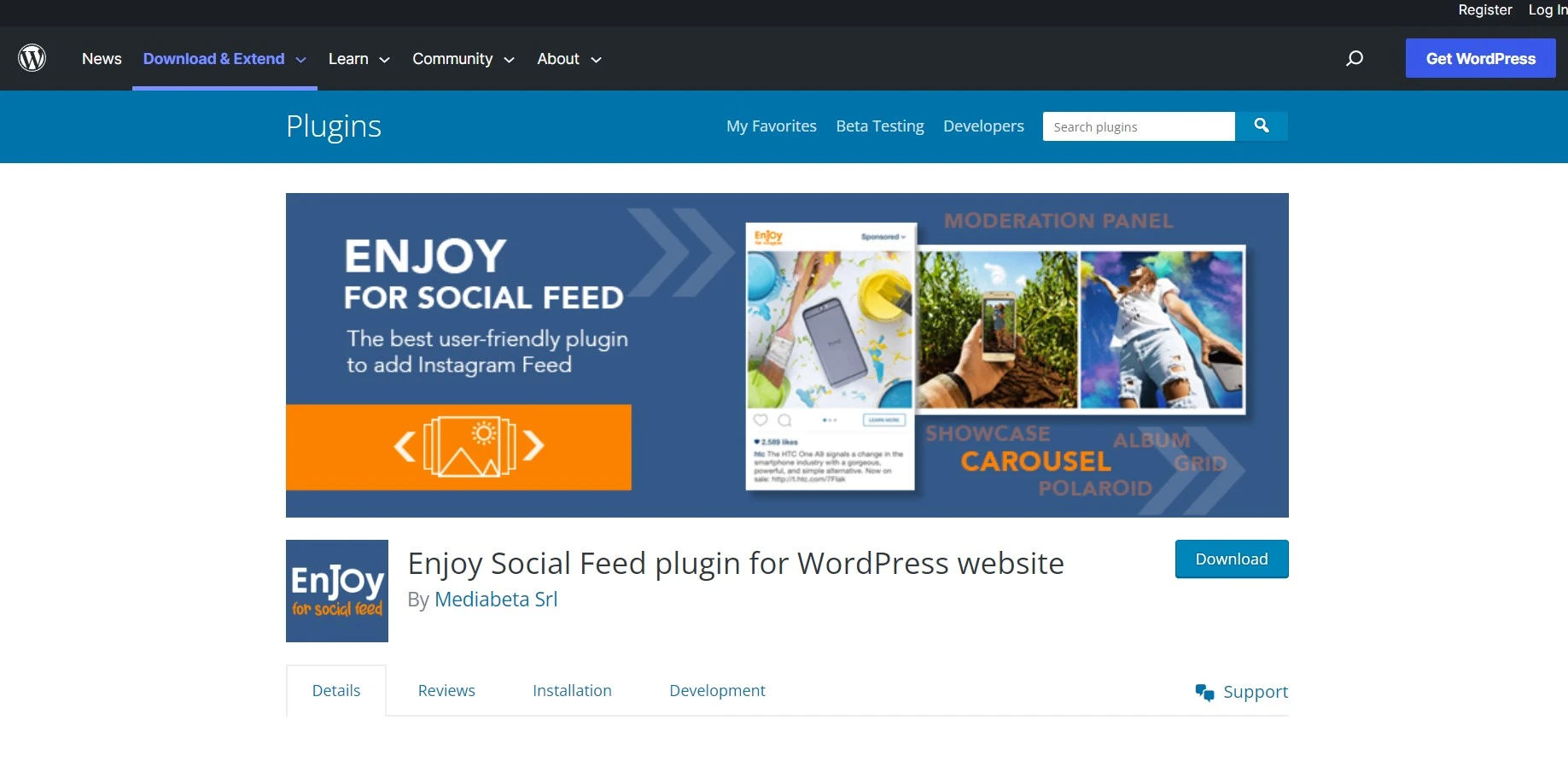 The Enjoy Plugin for Instagram is an easy-to-use and powerful tool that helps you get the most out of your Instagram account. With the Enjoy Plugin, you can manage your Instagram accounts, schedule posts, create campaigns, analyze results, and more.
You can also access features like auto-following, hashtag tracking, and reporting. With the Enjoy Plugin, you can take your Instagram account to the next level and grow your reach and engagement.
Features
Automated liking and commenting
Hashtag search: It allows users to easily search for posts related to a particular hashtag. This makes it easier to find relevant content to engage with.
Analytical tools: This feature provides users with insights into their posts such as likes, comments, and followers.
FAQs
What does Instagram Plugin for WordPress do?
Instagram plugins for WordPress allow users to easily embed Instagram posts, photos, and videos directly into their WordPress site.
These plugins allow users to display their Instagram content on their websites in various attractive and customizable ways. They are usually easy to install and can be configured quickly to display content in a variety of ways, such as in a grid, slider, or carousel.
What is the need for an Instagram Plugin for WordPress?
An Instagram plugin for WordPress can help you easily display images and videos from your Instagram account on your WordPress website. This can help you to increase the visibility of your Instagram account, as well as increase engagement with your website's visitors.
It can also help you showcase your brand and promote products and services. Additionally, it can help you connect with other Instagram users, as well as build relationships with your followers.
Which plugin does Instagram feed use?
With the help of the WordPress plugin Spotlight, you can quickly show an Instagram feed on your website. You get complete control over the design your visitors will view, and it's even straightforward to set up. By choosing your colors and designs, you may customize your module to reflect your brand.
How can I incorporate Instagram in the simplest manner possible on WordPress?
Use an Instagram embed code. Find the post you wish to embed by visiting your Instagram account. Then select "Embed" by clicking on the three dots in the top right corner of the post. In the HTML editor of your WordPress post or page, copy the embed code and put it there.
Is there a WordPress Instagram widget?
You may rapidly show your Instagram feed using the uncomplicated, free plugin WPZOOM Social Feed. All you have to do is simply log into your account. WordPress enables you to display your photographs wherever you want on your site with the Instagram Widget.
Over to you with the Best Instagram Plugins in 2023
A comprehensive collection of the best Instagram plugins for connecting with your WordPress website has been included in this listicle.
You can now start adding your lovely pictures to your website. Even better, the visitors to your website will have the option to follow you immediately on social media without having to click on one link after another to get to your Instagram page.
Now that you've read this post, I hope you have a clearer notion of which Instagram plugin will be most effective for your WordPress website.