On the play store, there are a huge number of Applications. To accomplish the same process or task you can find a large number of applications. For example, to click photos there are many Camera Apps, to edit photos there are Editing Apps, to calculate there is huge number of Calculator applications, etc.
Among all these applications there are some applications that are totally unique and weird. They segregate themselves from others because of their rareness. Bare with me throughout the whole article and I will be discussing 5 weird applications that you might not know.
5 Weird Applications you didn't know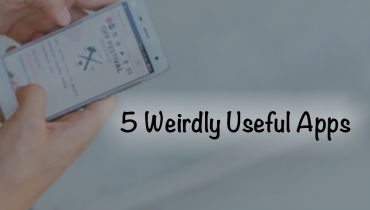 Jellify
Jellify is a unique application that can turn your images into absolutely different styles. As the name suggests your images get a jelly effect on touching the particular area of the image. There is an emoji button on the top action bar which gives you access to easily jellify the head of the image (if it is there). With jellify, you can amaze your friends. You are advised not to use the application for any unreasonable or illegal purpose.
There is no Game
"There is no game" is actually the name of the application. I don't want to spoil your interest by telling you everything about the game. In fact, you should try this out. Moreover, if you have already played this game, you might know that the game no longer remains interesting after the first attempt. It lacks addiction. But it's purely creative thinking. And the result is amazing as the application has 1 million of downloads with 4.6 ratings (at the time of writing).
Metal Detector
Another application on list is Metal Detector which allow you to detect any magnetic field around the device using the sensors of your phone.
Lighter
Lighter is an interesting application. To be honest, I am not going to elaborate anything. Instead I want you to experience these applications. However, Lighter is a virtual lighter.
Nothing & Useless
Nothing and useless are two and different applications. I have listed them as one because of the fact that the behavior of the application is quite the same. To be precise, nothing application does nothing and useless is totally useless. 😉
Also Read : 11 Best Insteresting Applications You should know about
Wrapping Up
There are lots of other applications too on the playstore which are quite unique. If you know any unique application that is not listed in the post, you are welcome in the comment section.
I hope you liked our compilation of 5 weird applications. For more tech news, tips and tricks, gadgets reviews and more just be our friends on our Facebook Page and twitter. Also watch us making some cool videos on our YouTube Channel.