Peter and Augustine were the two copywriters who found EmailWritr. They worked as freelancers in top companies. Both of them seemed to find various lacks in copywriting tools and could not suggest any best tool to their clients. That is when they came up with the idea of creating their own software. EmailWritr is one of the best software in the world and offers a lot of facilities.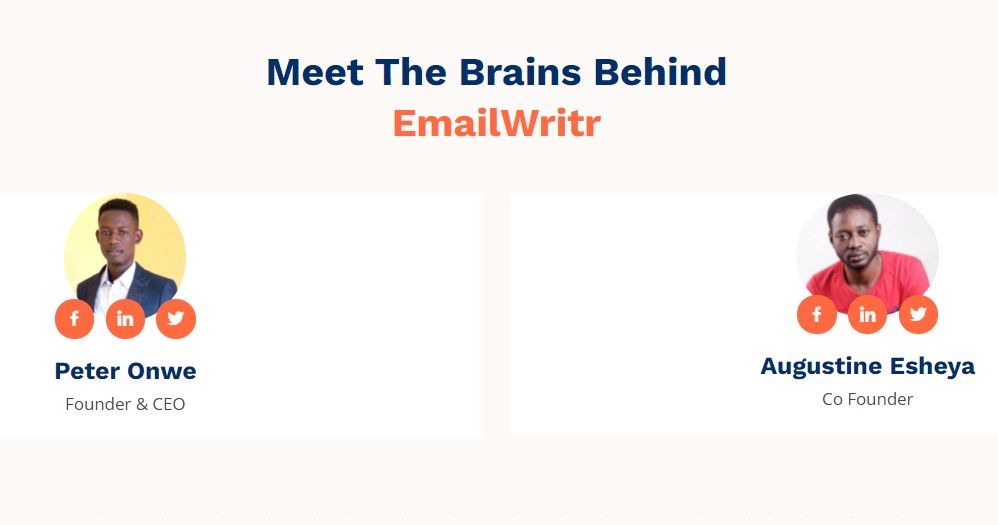 If you are new to using copywriting tools and software then it is an excellent choice. EmailWritr offers excellent service to its clients. You can create high-converting emails without little or no experience. Here, in this EmailWritr review, we have discussed an in-depth analysis of what are the benefits of using this software. This software has a lot to offer and will be a good choice for anybody looking for similar software. Go through this EmailWritr Review and take a look as to how it works and what are its functionalities.
What is EmailWritr?
EmailWritr is a great tool that helps you create high-converting emails. This can be done throughout various industries and niches. All you have to do is answer some questions. This tool will allow you to create not only single emails but also email sequences, you can do this without having to experience any Copywrite.
This software has tons of features to support your business and get going with it. By using EmailWritr. you will save and money both. It offers tools that will not only help to grow your business but also allow you to get to know the techniques of email writing. With EmailWritr you will get access to various types of emails. Not only this but you will also get to know emails that will help you to promote and increase the productivity of your services and goods.
Features of EmailWritr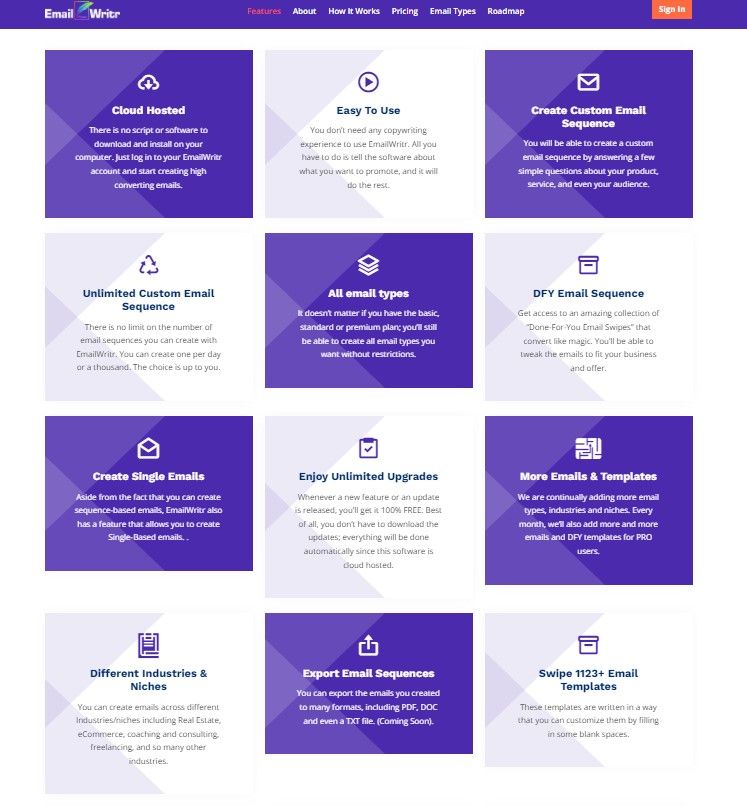 Cloud Hosted
You do not have to go through a long process to get started. All you need is a system on which this tool can be installed. Create an account on EmailWritr and then start creating high-converting emails.
Easy To Use
If you are a busy person or someone who does not knowledge of copywriting, even then you can use EmailWritr easily. All this software requires you to do is tell the software what you want to promote and the software will automatically generate emails.
Simple Dashboard
If you are an engaged person and require all your projects to be at one spot, then this is the right software to use. The dashboard present in this software will save all your projects and saved templates in a single place. The requested custom-written emails and also stats can be saved in this simple dashboard and work easily.
Unlimited Upgrades
The best feature about this software is that you get regular updates and can work with new facilities. You get these upgrades totally free and can access them anytime. However, with new updates comes more space to download. Although, this software adds updates automatically without having to download.
New Templates and Email Types
As a regular user, you require to have new features being added so as to not get bored with basic templates. therefore, every month new templates and emails types get added in EmailWritr for you to access. For pro users, DFY templates and extra featured emails also get added regularly.
Who Should Definitely Try EmailWriter?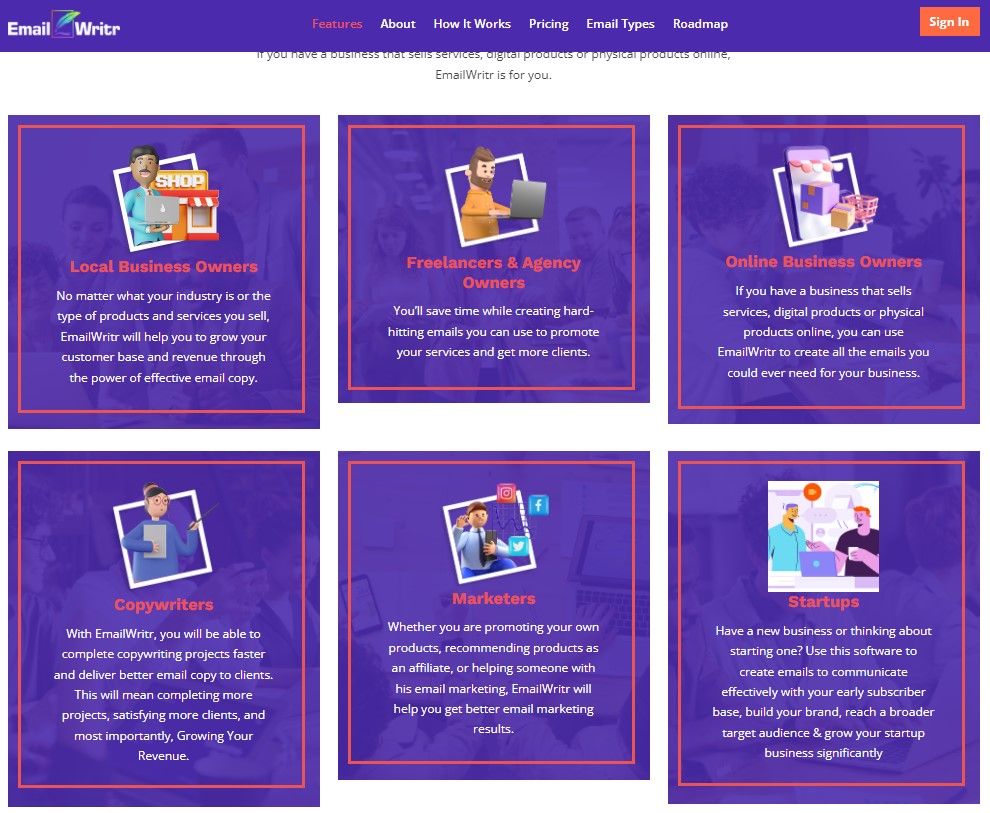 This email software can be used by any of the working class. This software is perfectly good for not only business owners but also job person.
Local Business Owners
Freelancers and Agency Owners
Online Bussiness Owners
Copywriters
Marketers
Start-ups
All of these listed people and even others can use this tool without being worried about their business growth. Email writing is a good way to market and promote your goods and services. Moreover, it is a professional way to do the same and often the results are positive.
Types of Email Supported by EmailWritr
Almost all types of emails are supported by this high-quality software. You can access this software's types without any issue and work according to your own choice of email. Here is the list of emails supported by EmailWritr.
Ecommerce Emails
SaaS emails
Real Estate Emails
B2B Agency Emails
Webinar Emails
How To Use EmailWritr
Using EmaiWritr is quite easy. Even if you don't have any experience in it, you can start with 1 minute. Just create an account, and log in to your dashboard.
Here on your dashboard, you can find your created projects, saved projects, scripts, templates, support, profile page, and much more. Apart from some basic account features, you have essentially created a new project tab to start with.
So, just choose to create a new project by giving it a name. Answer some simple questions, choose the industry or niche and complete the walkthrough and you will now have the email sequences ready. You can make adjustments, translate or save the project. It is super easy and quick. Isn't it?
Alternatives of EmailWritr
Jarvis allows you to easily create copies of your emails. Jarvis is however complete AI copywriting tool and email copy is one of the templates that you get in its plan. However, it is very effective and valuable software. As such, it is my first choice as an alternative to EmailWritr. Because, apart from just Email Copy Writing, it can solve your other copywriting requirements and not just emails. Jarvis however is now a little costly when you want to generate more words as the account now has limits based on the words one generates. However, it is still worth it for many and working for most.
Rytr is another copywriting tool and it also helps you in writing the email content. You only need to explain the software your tone of email, context and some relevant information and your email content would be ready with a few variations to choose from.
Writesonic is also a content writing software with the help of which you can easily write the content for emails. It is easy to use and is very effective when it comes to content for emails, social media copies, and Ads copies. With this tool, writing marketing copies has become quite easier.
Pricing And Plans of EmailWritr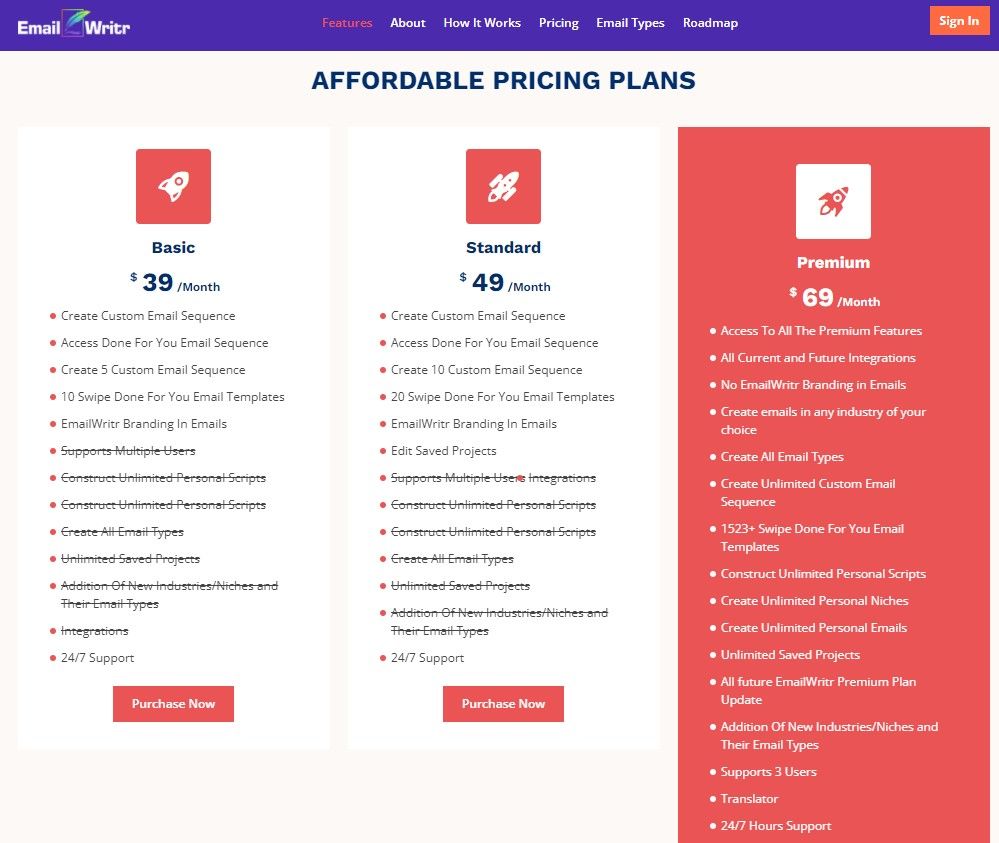 There are different types of plans with various pricing that is offered by EmailWritr. These plans can be chosen by a person according to their requirement of work. So, if you are a normal user and have a small business then you can go for the basic plan. Although, if you are an all-time user and require software like this, then the premium plan is best for you.
The basic plan includes creating a custom emails sequence, 5 custom email sequences, 10 different templates, and EmailWritr branding in emails.
This plan includes the basic plan but also 10 more templates and allows you to edit the saved projects.
The premium version is way different than other plans. it gives access to over 1500 templates and all email types. The updates are free to access and work with. With the premium plan you get access to all the premium features, all current and future integrations, no EmailWritr branding in emails. You get the facility to create emails in any industry of your choice, create unlimited custom email sequences, construct unlimited personal scripts and get a translator as well as 24/7 support service.
The expert plan includes different features with many of the premium features added to it.
The agency plan is a professional version and gives access to multiple users at a single time. this will make it easy for you and your team partners to work as one.
Before We End
With the end of this EmailWritr Review, we have now some good reasons to join this software and work with it. EmailWritr has a lot of features to offer and is one of the best tools to access. If you are a regular user and have a need to write emails in the professional world, then it is the best choice. Let us know about your experience in the comment section and share your business growth story through email marketing with EmailWritr.
The Review
EmailWritr
EmailWritr is an interesting and very helpful tool for those who are looking to send emails more often and don't know how they can convey their message well or what can be the alternative ways to write the email. With EmailWritr you can save money that spends on Email Copywriters and you can easily scale your business, save time and generate effective email copies within no time.
PROS
Easy to Start Workflow
Grow Business By Writing effective emails
Saves Money
Saves lot of Time
Cloud hosted Software
Create Custom Email Sequence
Review Breakdown
Easy to Use

0%

Features

0%

Support

0%

Brand Trust

0%

Value for money

0%