Relaythat is an online graphic designing tool that lets you create high quality graphics for any of your social media account or advertising ads with ease. The graphic designing tool is known for its accessebility to creating ad adaptives faster. If you quickly jump to the design editor and start comparing it with canva, you may miss the fact that it is not just a graphic designing tool. It is definitely more than that. As such, its UI is little different. You get multiple adaptives, workspaces and lot more options that basically help you create ad creatives.
We all know that creating graphics with graphics designing software like Illustrator, Photoshop takes a lot of time. Specially, if you takes the guts to start from the scratch! With online designing tools, you definitely save some time for yourself and also can avoid files management efforts as you can include image from the stock library.
Who says that you can't create complex designs with online graphic designing tools? In fact, most of the designers rely on online software for social media graphics these days. One best thing about these software is that you can access them from anywhere with an internet connection.
Relaythat is one of these design software that comes with a USP to assist you with branding designs & creative designs for social media campaigns and advertising creatives.
Best Features of Relaythat
Add Team Members
Working with team members allows you great flexibility. Designing software like Figma allows you to add your team. Now even in Adobe XD you can enable coediting to add more peope to collaborate on any design. As such, team work is crucial for companies and relaythat is also allowing you add team members in your account to enable creating creatives with the help of team collaboration.
Fonts Pairing & Custom Fonts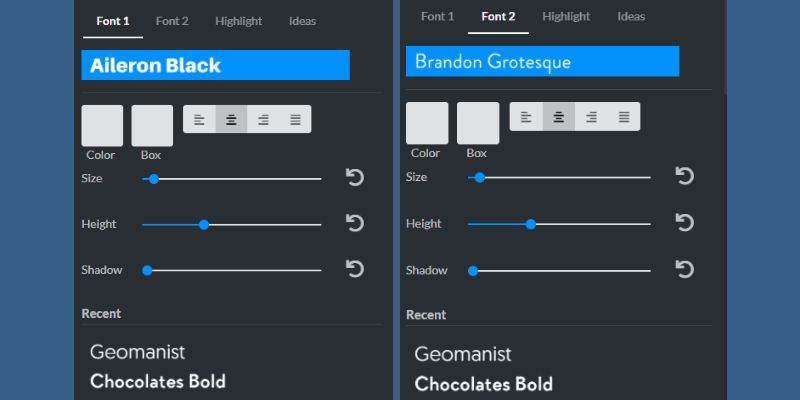 With relaythat you can set pair of fonts which will dynamically add to all your designs. Fonts size, height, shadow, alignment, color, all are adjustable. It is great way to quickly change the look and feel of all the creatives. Talking about the font library, you can find some really amazing professional fonts. You can use any those font according to your design taste.
Magic Import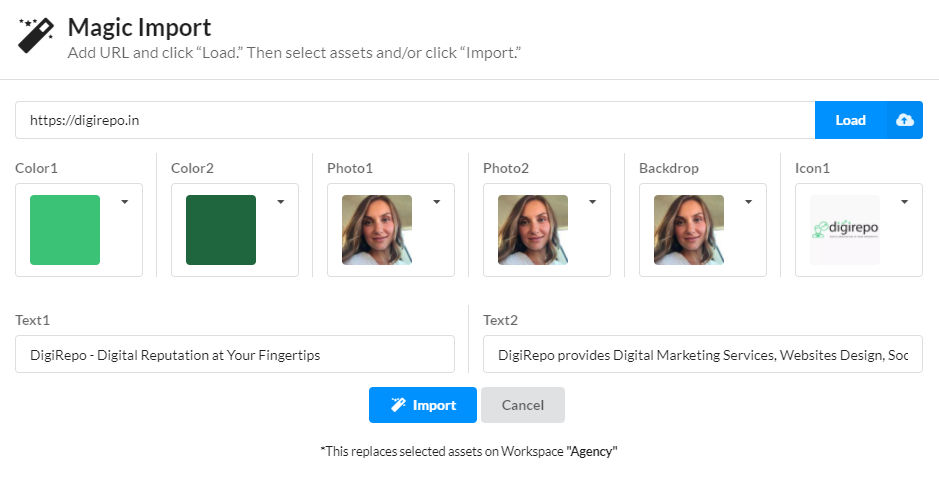 Magic Import is an impressive option to import the color, photos, icons and metadata from a URL. It makes your tast little easy. All you have to do is enter the url and click "load". The resulting interfact will open up like in the screenshot above where you can select the correct color & photos by clicking the dropdown. You can also edit the text and then import. Once imported all the detail will be applied throughout your entire workspace designs. Isn't that crazy? 🙂
Change Instant Color Scheme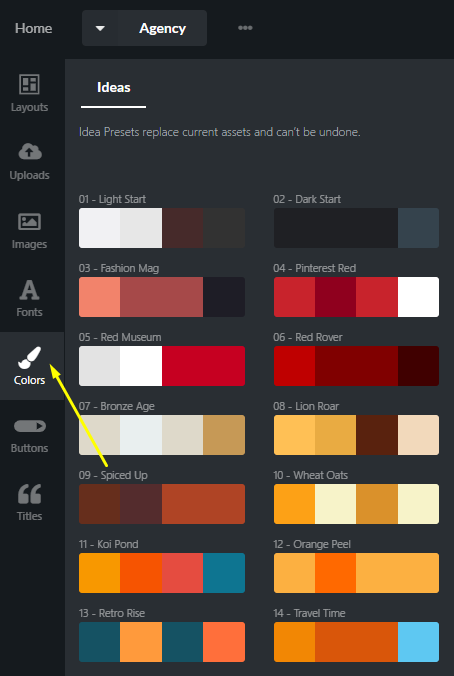 If you are not liking the produced design due to colors you are using then you can simply change the entire color scheme by clicking on any of the color pallete idea showing under Colors section on the left side of workspace. There are many ideas you can choose from. You can also customize the color produced from any palette so as to make it perfect.
Duplicate Workspace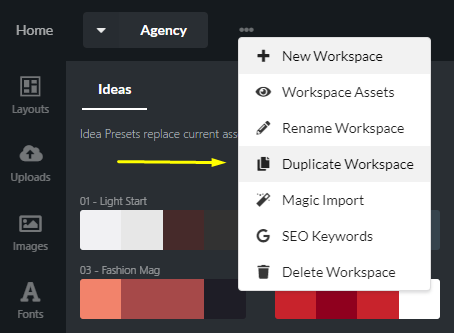 If you think that you have really done well with the color, font and image assets and your designs are looking next to perfect. But out of curiousity you want to continue with exploration to get more better with that. In that case, you can simply duplicate the workspace and keep the best saved while you continue exploration. Or simply, Duplicating workspace is very important feature that saves you from many headaches.
Layout Previews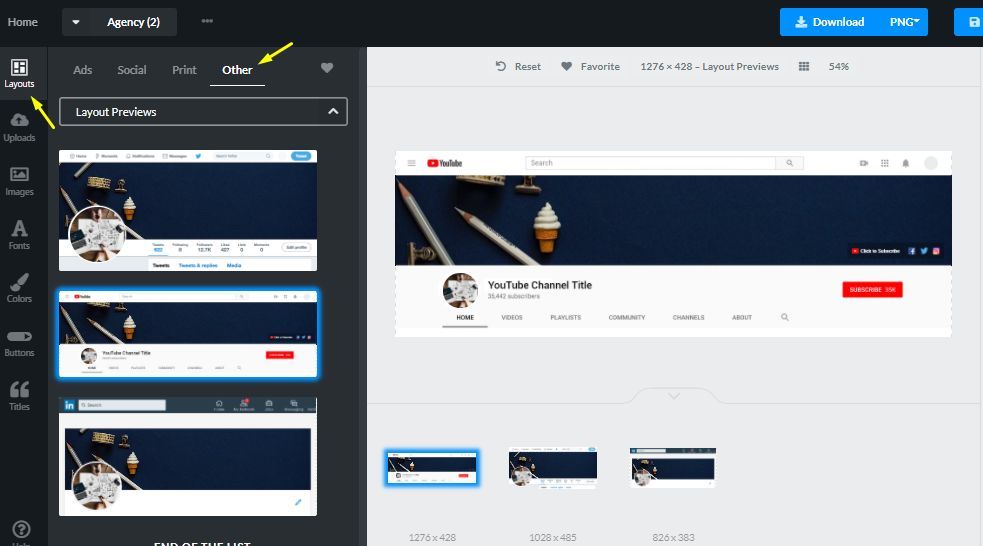 If you want to see how your icon, backdrop and other assets are going to look on various social media then you can check that from "Layout Previews" option under Layouts. This can give you a quick idea as to how you are doing.
Titles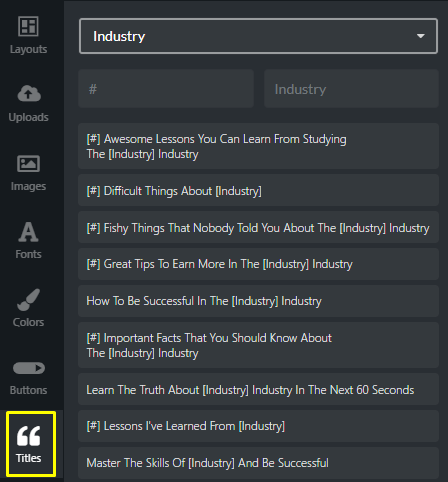 Relaythat offers you many text variations based on the selected category that you can use instantly for your meta text. This avoids your time if you are going elsewhere looking for text ideas. If not the perfect text, it will certainly give you an idea how you can initiate writing a nice text.
How To Use Relaythat?
Using relay that is really easy. All you have to do is :
Create a workspace
You can choose from many prebuilt workspace designs. You can also opt to start from a black dark or blank light workspace design.
Upload Your Assets
After creating a workspace, you find the default design of that workspace category. Simply, cast your eye ball towards the right sidebar where you can upload the image assets like photo 1, photo 2, photo n.. icon 1, icon 2, icon n and backdrop image.
Set the default Meta Text
Now as you have uploaded your logo, background image (backdrop) and photo assets, you need to add Text 1 and Text 2 that will reflect throughout your designs.
Change the Default color scheme
Next crucial stage is to change the default color scheme of the workspace from either the right sidebar pane or from the colors section in left bar. Changing the color scheme will instantly apple to the entire workspace. It is like a global color variable.
Make changes & enhancements
Now you can make some changes in buttons, titles and other aspects of your design to make it look perfect. You can also change the color scheme, text and images to get the desired visual results.
Download or Save Design
Once you are satisfied with your design you can simply download from the top or save the design for later reuse. You can also save your workspace to use it later.
Relaythat Pricing Plans
Relaythat comes with a pro plan costing $25 per month where you can add 20 projects or workspaces in your account. In this plan, you can download unlimited high quality images, collaborate with your team, upload fonts, manage your brand content (fonts, logo, images, color) and much more. You can also contact Relaythat team if you want whitelabel solution, data integration, larger team collaboration and unlimited projects.
For whom Relaythat is for?
Relaythat is for companies, brands and those marketing professionals who want to create social media ad campaigns or advertising campaigns on regular basis. This can be very lucrative for the brands requiring quality adaptives to their designs.
Over to you
Conclusively, Relaythat is a powerful designing tool to create any kind of ads with multiple size variation in blinking of an eye. It is so easy to use that even a non designer can create highly professional creative designs with no experience needed.
The Review
Relaythat
Relaythat is an incredible graphic designing tool to create social media and advertising ad creatives in matter of seconds. The tool is for professionals and non professionals who want to create designs for social media or GDN.
PROS
Team Collaboration
Easy to use
Stock Images
Custom Font
Best for Marketing Professionals
Nice Pre designed Templates
Review Breakdown
Easy to use

Flexible

Value for money

Features