With a view to helping people grow their business, Formaloo started its journey over 5 years ago. Within this 5 year span, Formaloo has proven to be one of the best software for not only big enterprises but also small businesses around the globe! Formaloo has helped people to organize and analyze the data collected from their clients, which was before just "data" now has helped businesses to know what people require and who are their actual targeted audience. You can use this information to grow your business online and increase your customers. Here is a detailed Formaloo Review that will help you to analyze deeply what is Formaloo, How does it work, What are its features and products and almost everything.
What is Formaloo?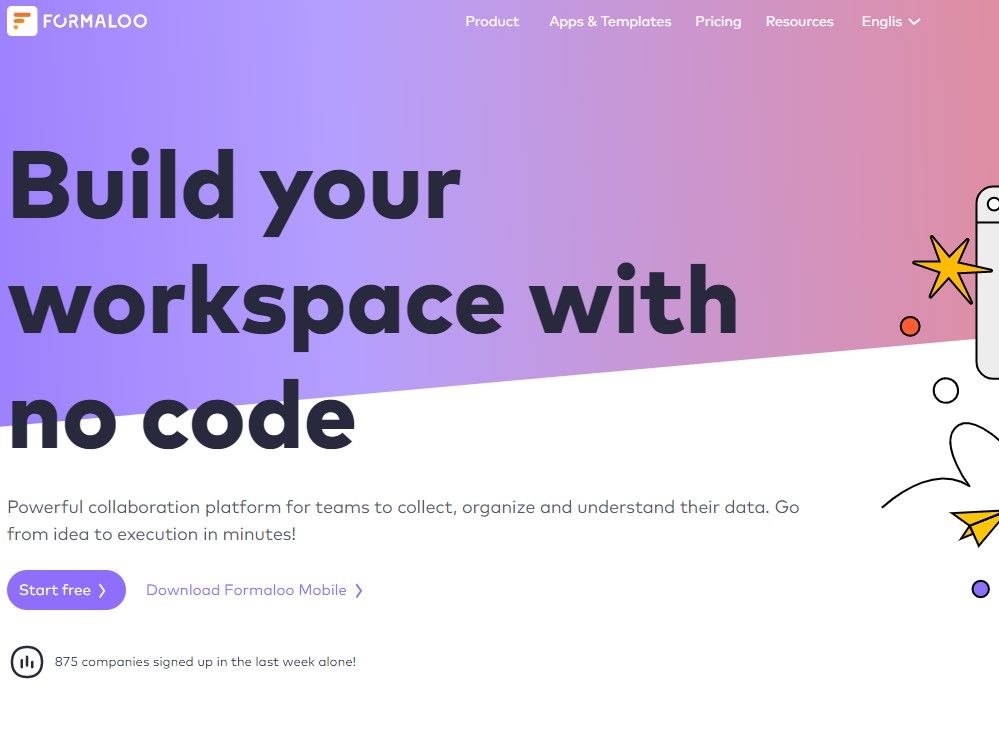 Formaloo is a worldwide used software that will help you to build your own working space with absolutely no use of coding. Not only this but this software also collect, organizes, and understands the data. With these three notions, Formaloo gives its users a vision as follows:
"To make data and business intelligence understandable for everyone by giving actionable impactful insight and helping them focus on their potential growth using their data."
"Empower people and businesses with knowledge-driven growth."
With these visions and Formaloo software, you can generate leads in no time. Social media marketing is a good way to increase the growth of your business.
As the name suggests, it helps you with the creation of forms. These forms can be related recruiting process, business, education, events, job applications, lead generation, quizzes, and much more. As such, you can create highly configured forms in no time without having to code. These forms can have the logics that you want and can be used in many instances.
How does Formaloo Works?
All you have to do is go to Formaloo and sign up with your Google account. Before getting started you will see a bit of detail that will be required to fill by you. These include:
Google Account Details
Company Type
Company Name
Number of Team members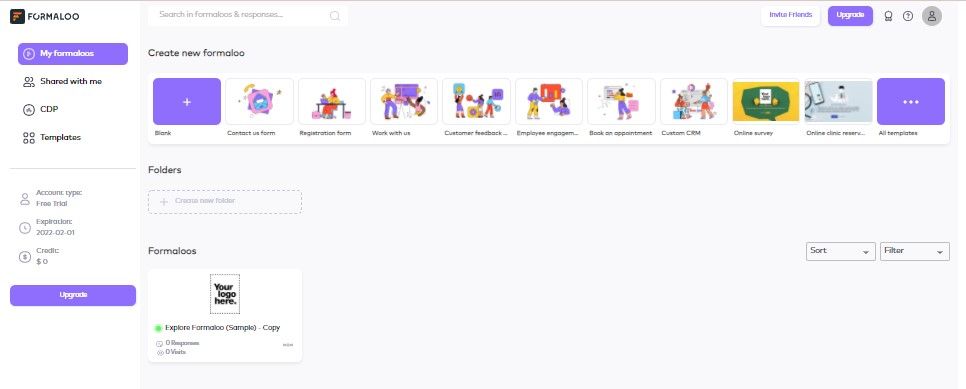 Choose your team and invite your team members to work with you. This will help you to create a single Workspace for all the team members. You can do this and if you have a paid plan, then you have to pay per user charge or also can use it in a free subscription.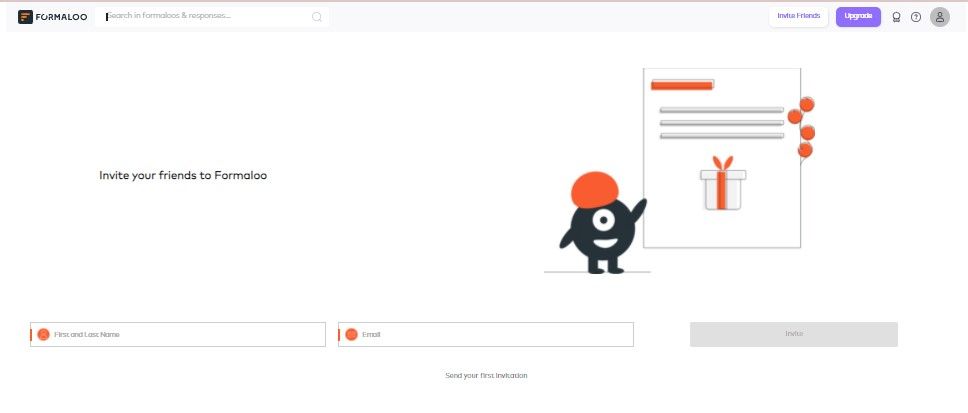 Check your account details, credit score, and account type in the bottom left corner of your dashboard. This will allow you to have a look at your free trial span, and keep a check on its expiring. The credit score will help you to get a look at what you have earned from your online business.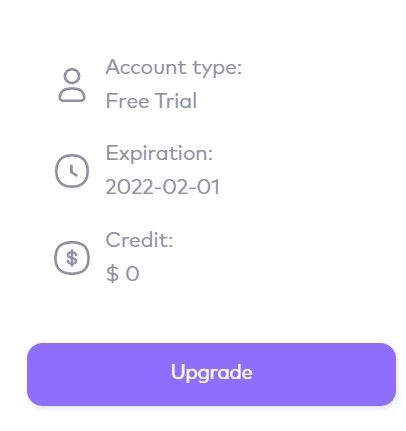 Create your own company Logo and give your company an online outlook. There are different templates and designs that you can choose from which will help you to create a meaningful and attractive Logo for your business. It does not matter whether you have a small or a large business, you can work equally in Formaloo. You can check the number of visitors below the Logo Section, to keep a check, if your brand is creating an effect or requires changes.

Choose templates and start working. All you have to check is the purpose of your company and what it has to serve. There are over 100 Templates to choose from. It will help you to classify your work and divide it according to your preference.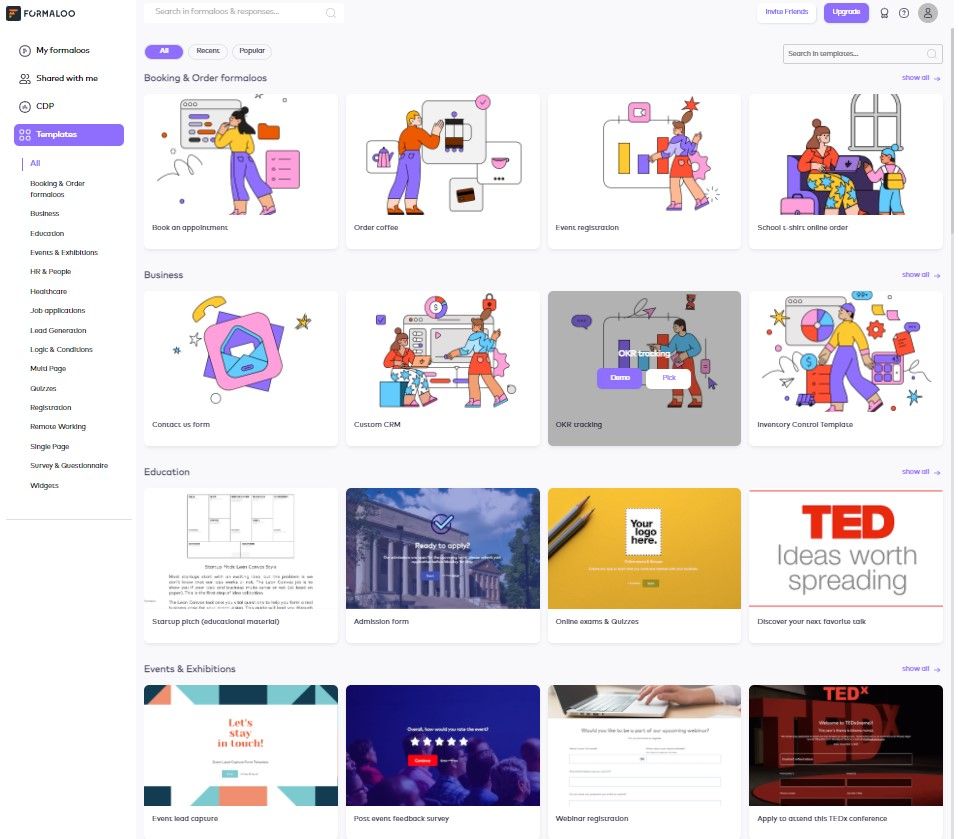 Features of Formaloo

There is a huge number of features offered by Formaloo. These are listed under each product section of Formaloo software. If you want to learn the working of this software without having to analyze it after using it, then you can read these in-depth features listed below. These will give you a good idea as to what all Formaloo provides and is it worth a paid subscription or not. There are 4 products that will help you to collect, organize and give you an understanding of Formaloo, these include:
Forms and DataBase
Formaloo has one of the best and most advanced forms and quiz builders. With the help of this tool, you can create a lot of quizzes and surveys, which will help you to collect data at a huge number. Coming onto Formaloo's Powerful logic, calculator, and database mode. This feature will help you to get information from the targeted audience with high accuracy. You can create forms with a lot of questions and logic.
You can even create live quizzes and polls for your audience with the help of this product. This will help you to create enjoyable and amazing designs to make your surveys look attractive and allow people to complete these forms with ease and efficiency.
Customer Data Plan (CDP)
With the help of the Formaloo Customer Data Plan, you can turn the data into revenue in no time! It will help you to reduce churn by 83% and will help from a small e-commerce store to a large enterprise, to analyze their customers and increase conversion rate. With the help of AI technology, you can integrate your data easily. You can integrate your apps with customer analytics to your business, with Formaloo.
Aa said you can reduce churn by 83% with the help of Formaloo and maximize customer lifetime value. It will help you to generate the insights required for all customers to make them satisfied and get them to order more often from your business. The customer data plan is fully automatic and does not require any background, this will help you to focus better on the core of your business and find new ways to increase revenue.
Facebook Retargeting (CAPI)
With the help of Facebook Targeting, you can focus on the potential audiences through social media. Not only Facebook you can advertise on Instagram as well, but this is also because Facebook is now affiliated with Instagram and these are the top social networking that can generate potential clients for your business in absolutely no time. You can use your data to create campaigns that people love and eventually get them to complete your surveys make them a part of your CDP. Moreover, with the help of Formaloo, you can get higher growth for your business and lower the CAC. This will eventually help you to optimize your ads on social networking like Twitter, Facebook, Instagram, and others.
WordPress Form Builder
The WordPress of Formaloo has a simple drag and drop system and a Widget builder to include a lot of features. You can create an unlimited number of customer data forms, that are included in the free plan of Formaloo. It has super easy yet efficient Enterprise-grade analytics with no requirement of coding. Also includes one of the biggest customer data platforms for WordPress around the globe! It is fully automatic and includes an all-in-one data collection spot, which will make it easier for you to work. Not only is this feature free but also includes more than 100 templates for its users.
Formaloo Templates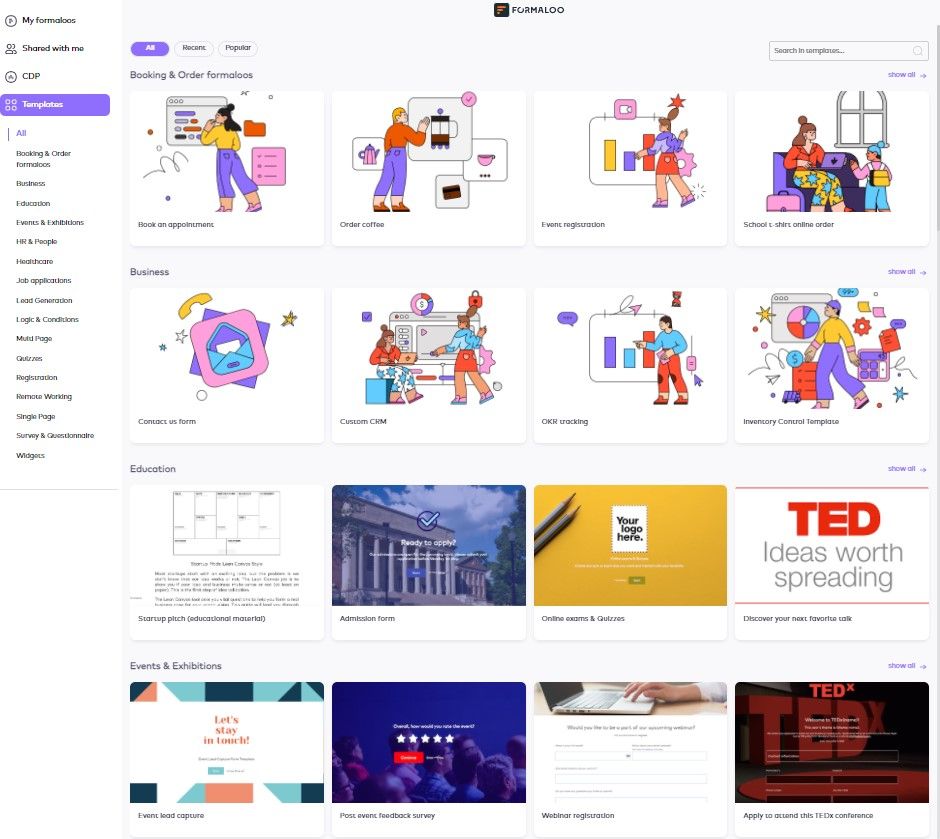 Formaloo has a huge number of templates to offer. With these varieties, you can organize your work easily and keep your team intact. This work can be divided among various sub-teams like HR work, Event organization, Bookings taken, surveys conducted, and a lot more. This list of templates offered by Formaloo are:
Booking and Order
Education
Widgets
Events and Exhibitions
HR and People
Business
HealthCare
Logic and Conditions
Registration
Single Page
Multi Page
Quizes
Remote Working
Survey and Questionnaire
Job applications
Lead Generation
Pros of Formaloo
Formaloo is a powerful collaboration platform for teams to collect, organize and understand their data :
Requires no coding
Offers features that are highly advanced
Free plans to know the working of software
Gives access to over 100 templates
Churn reduction is upto 83%
Cons of Formaloo
There are no such cons of Formaloo, its features and products are highly efficient. It has pricing plans that are worth every investment in Formaloo.
Formaloo Pricing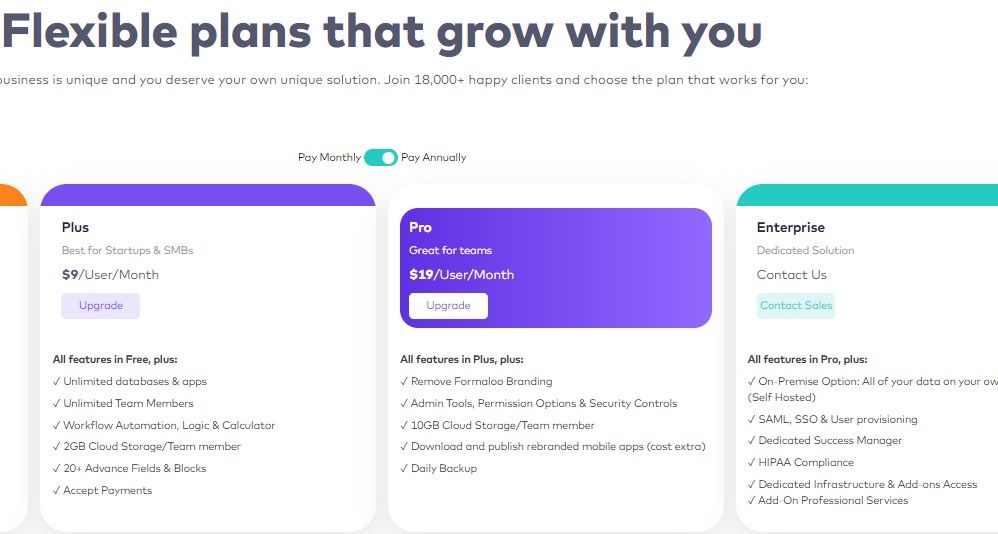 If you have a small business team and or have a recent start-up company then you can use the free plan of Formaloo so that you can have an idea as to how it works. The best part is that the free plan does not require any credit card details. There are a total of 4 pricing plans that Formaloo offers to its users. Other than the free plan, the Plus plan starts from $9 per user, per month and the Pro plan comes with a mere price of $19 per user, per month. Although the Enterprise plan is a subscription plan for huge companies, the price is not revealed. These plans go on starting from:
FREE ($0 per user, per month):
Up to 5 databases & apps
Unlimited records, responses & blocks
50MB Cloud Storage
GDPR Compliance
API, Webhook & 3,000+ Integration
PLUS ($9 per user, per month):
All features in Free, plus:
Unlimited databases & apps
Unlimited Team Members
Workflow Automation, Logic & Calculator
2GB Cloud Storage/Team member
20+ Advance Fields & Blocks
Accept Payments
PRO ($19 per user, per month):
All features in Plus, plus:
Remove Formaloo Branding
Admin Tools, Permission Options & Security Controls
10GB Cloud Storage/Team member
Download and publish rebranded mobile apps (cost extra)
Daily Backup
Enterprise (contact for details):
All features in Pro, plus:
On-Premise Option: All of your data on your own servers (Self Hosted)
SAML, SSO & User provisioning
Dedicated Success Manager
HIPAA Compliance
Dedicated Infrastructure & Add-ons Access✓ Add-On Professional Services
Alternatives for Formaloo
Zoho Desk
Zoho Desk is a great software and offers a good number of features. It is a good alternative against other software and Formaloo as well. If you are looking for alternatives then Zoho is a good option. Although, if you have a large enterprise then Formaloo stands out as a better software than others.
Influitive
Another amazing alternative for Formaloo is Ifluitive. It is a great hub for advocates and allows its users to organize teams and divide work to every team member yet lacks a lot of features when compared to Formaloo.
EngageBay
EngageBay has good Gmail and outlook integration. It offers not only video but also email marketing. Social media management and live chat help you to connect better but when compared to the customer support service offered by Formaloo, it has a lower rating.
Formaloo FAQs
How many Formaloos can I make for free?
You can create unlimited Formaloos with Formaloo and collect unlimited responses for fr
What browsers and devices are supported by Formaloo?
Windows and Mac Computers, Tablets, smartphones, and almost all devices support Formaloo. Not only this but browsers of all types are supported by Formaloo including Chrome, Safari, Firefox, Microsoft Edge, and Opera.
How can I share access to my Formaloos?
You can manage access on your formaloo, right-click on it and select "Access Management". In the opened pop-up you can select the access level and email address of your team member to share the access of that formaloo with.
Conclusion
Here we are at the end of this detailed Formaloo Review with almost all features that can help you to grow your business. These features will help you to basically learn with time what are the different aspects and ways to grow your business online. It has a low price even when subscribing to paid plans, so you do not have to worry but only focus on your business growth. Let us know the comment section as to how Formaloo worked for you and what was your start-up growth experience with the use of Formaloo.
The Review
Formaloo
Formaloo is a next-gen forms builder and apps creation software. it is highly flexible and easy to use. The software does not require the users to have coding know-how for the purpose of using this software. Formaloo offers you numerous templates to start working in a matter of seconds.
PROS
Ease to Create Logical Forms
Numerous templates to start faster
No code knowledge needed
Creation of Scalable application becomes possible
Review Breakdown
Easy To Use

0%

Features

0%

Scalability

0%

Support

0%

Integrations

0%

Value for Money

0%

Brand Trust

0%