A VPN is software that encrypts your internet connection to make it look like you're someone or somewhere else, but they're surprisingly easy to use. HotBot VPN is software that will help you connect to a hacker-proof, encrypted tunnel. You can carry out secured transactions and browse websites you cannot access through your country's network. This is a worldwide VPN network that will help you browse and stream and download with a fully secure connection.
HotBot VPN does not track or log into your internet activity. It hides your data from everyone and keeps it safe and hidden from its software. This way, you can keep browsing without worrying about being tracked or your data being leaked. Here is a list of benefits that you will get with HotBot VPN. It is a good application and is available on both ios as well as android devices. If you want to browse and download with full speed and without any interruption while keeping your data secured and safe, then HotBot VPN is the right option. Go through this in-depth HotBot VPN review and know all you require before choosing this amazing software for your various internet activities.
What is HotBot VPN?
If your data is stolen, hackers might access your bank account, steal your money, or threaten to reveal personal information unless you pay them. Data is used for advertising and government surveillance without consent. HotBot VPN provides a way to protect your data from being exploited by online companies and governments.
If you research hotel room prices and then return to the page, you may find that the price has changed. This is due to dynamic pricing algorithms, which increase prices for your location or search history. A software like HotBot VPN can prevent this by giving you a temporary IP address in a different region. You should use a VPN to protect your data if you use the internet. There's no excuse not to seize protection when you connect with an affordable and widespread product.
How to use HotBot VPN?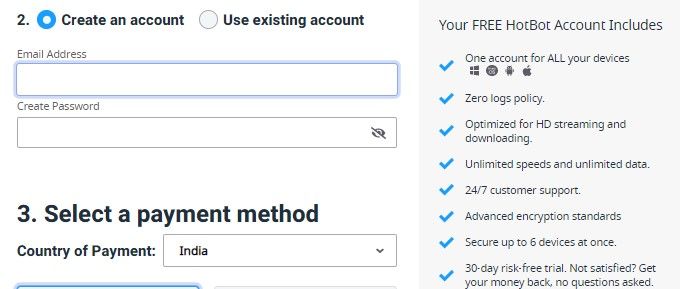 Once you sign up with an account on the HotBot VPN's website, you must download the VPN on your computer or any other device such as your iPhone or Android phone. After that, fill in the required sign-in credentials. You can choose from different servers based on what country and content you want to access. This will provide you with secured tunnel access to that country's internet and keep your IP hidden and safe. When you get an alert saying the process has been completed, all of your web browsers should automatically be encrypted.
Choose a plan you want to invest in, make the payment, and get started!
Features of HotBot VPN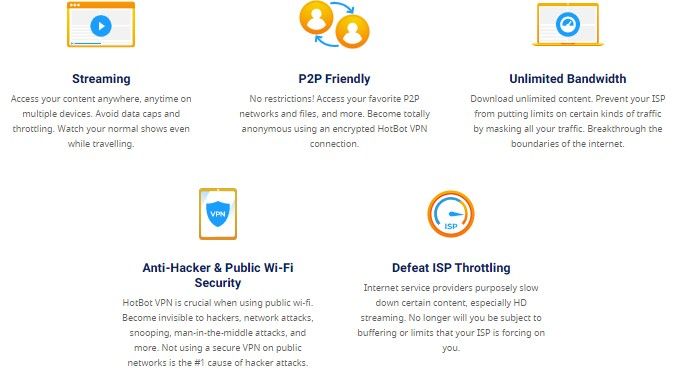 Fast Connectivity
You can connect up to 6 devices in a row and get unlimited data without restrictions. Moreover, you also get maximum download speed. This will automatically speed up your download process and helps you work in an efficient and easygoing way.
Locations
You can access HotBot VPN's 2000 servers worldwide and always find the connection you are looking for. The best part is that this feature allows you to access various VPN servers worldwide!
HotBot VPN on Multiple Devices
This single HotBot VPN account will give you access to whatever you require. With this single membership offered by HotBot VPN, you can connect to a lot of devices at a single time. These devices include Mac, Windows, Android, and iOS.
Anonymous Browsing
With HotBotVPN, you can boost your anonymity while surfing the web. You can make a Bitcoin transaction, access torrents anonymously from Tor, and download content safely across peer-to-peer networks or Usenet.
Customer Support
HotBot VPN offers real agents that can answer your questions. The support team is available at all times. It will also help you to set up or answer troubleshooting questions you may have.
Instant Privacy & Security
HotBot VPN provides an anonymous IP address, preventing anyone from tracking you down in real-time. This privacy provider also encrypts your data, ensuring that cybercriminals cannot intercept the information you submit. You get full security with one quick connection.
Kill Switch
Kill switch is one of the advanced features present in HotBot VPN. The HotBot VPN gives you the security of a kill switch whenever your internet connection drops. It is always active and protects so that you can be free from malware, hackers, and spyware for an unlimited time.
Military-Grade AES-256 Encryption
With Copymatic, you can be assured that your data is protected. The software uses the most up-to-date 256-bit encryption. This network is trusted by experts and therefore is safe and reliable to use.
Zero Logging, No Activity or Connection Logs
HotBot VPN doesn't track any data about the user when they use the service. They respect your privacy and will not collect identifying information about you.
DNS Leak Protection
HotBot VPN ensures that your information is secure and private if a DNS server sends queries outside the VPN tunnel. The cutting-edge technology we use offers a high level of security.
Hide Your IP Address
We can hide your identity and move your IP address to a different location through the HotBot VPN service. With this software, you have the confidence to learn, shop, bank, and do anything online without worrying about the safety of your data.
Hotbot VPN Pricing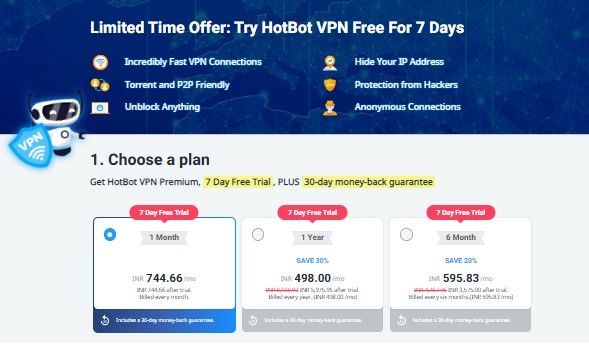 Pricing differs according to your requirement; most of these are affordable and worth investing in! HotBot VPN offers a 7-day free trial with a 7-day money-back guarantee. You can keep your information hidden and browse freely with HotBot VPN. With this amazing software, you get incredibly fast VPN and anonymous connections. Moreover, you can easily hide your IP address and protect your data from being hacked. HotBot VPN gives you the facility to unblock absolutely anything and is Torrent as well as P2P Friendly. The plans offered by HotBot VPN are as follows.
The Free plan includes:
HotBot VPN gives you a no-logs policy
Watch all tv series on your internet service provider while not using too many GBs
Reliable WiFi connections with high speed
24/7 instant customer support
Keep your devices safe with a quality VPN.
Money-Back 30-day free trial
Concern over the security of encryption standards
One month (billed every month): INR 744.66 per month
One year (billed annually): INR 498.00 per month
Six months (billed every 6 months): INR 595.83 per month
Alternatives of HotBotVPN
Nord VPN
NordVPN offers high-level security, including double VPN connections and an ad and malware blocker. It is one of the most secure VPNs on the market, combining an AES-256 coder with other useful features. Moreover, it has a built-in ad blocker and malware. It is easy to use and has a dedicated IP address add-on. Although, it does not provide price transparency to its business tiers.
Surfshark
Surfshark is a VPN that is also one of the most used VPNs. It is incredibly affordable and has a lot to offer. It offers rarely seen features and thoughtfully designed apps and emphasizes customer privacy. Surfshark stands out because it lets you log in to unlimited devices simultaneously and is great value for families or households with many devices.
Private Internet Access
Private Internet Access provides a high-quality VPN service with more than 30,000 servers across 78 countries. Private Internet Access customers are offered a great balance of pricing, features, and usability. Private Internet Access strikes a perfect combination for small business owners.
CyberGhost
CyberGhost is a well-balanced VPN with powerful features and an intuitive interface. It offers customizable settings for all skill levels and has specialized streaming and torrenting servers. CyberGhost offers a free return policy, so you can try it yourself without committing. A VPN like CyberGhost allows you to work and play hard. It is best recommended for those who want enough time to get a refund if their VPN isn't meeting their needs.
Hotbot VPN FAQs
Is HotBot VPN worth its price?
HotBot VPN is worth investing in! It offers a streamlined service that is easy to use and features all the latest privacy functions. You do not need to worry about your information getting leaked while using HotBot VPN. Moreover, you can also make money transactions through your bank account with HotBot VPN, which will help you keep your data from getting hacked.
How does HotBot VPN Work?
HotBot VPN secures various devices connecting to WiFi hotspots and encrypts a hacker-proof tunnel for internet traffic. We only never track or log your internet data; it is hidden from everyone; even this software itself cannot access your information. You can securely connect to personal or work data while traveling with HotBot VPN.
How well-secured is HotBot VPN?
HotBot VPN provides a fully secure connection by hiding your actual IP addresses and also keeping your information private. Using this VPN for money transactions is safer when using an open connection such as public wifi networks that can be hacked easily.
What are the devices supported by HotBot VPN?
HotBot VPN is easy to use, and the best part is that it can be used on various devices. It can be connected to 6 different devices at a single time! You can also download HotBot VPN on your phones, MacBook, android phones, and Windows.
Over to You
Many internet banking frauds happen because people often use open wifi networks to make money transactions. This can be avoided by using a VPN like HotBot while making any transactions while you are connected to an open Wi-Fi connection. Not only this but there are other uses of VPN, such as using banned websites in your country or websites that do not provide access in your country.
HotBot VPN is one of the best VPNs you can use to get a secured connection that is safe and keep your data and information hidden, even for itself! This app offers the best pricing and is available on both ios and android devices. Let us know about your experience with HotBot VPN in the comment section.