Clean Email is productivity software that helps you to manage and organize your mailbox when it is overloaded with unwanted and unread emails while respecting your privacy and keeping your data safe. It is an online bulk cleaner that helps in deleting and sorting unnecessary emails and managing the new ones easily, thus keeping the inbox sparkling clean.
Clean Email can work with all major IMAP-based email providers through any device. It helps in deleting thousands of unnecessary emails and sorting them out very quickly. Using Clean Email you can unsubscribe from unwanted newsletters, automate your email tasks, block unwelcome senders, and more with just a few clicks. Clean Email also ensures safety as it doesn't read or sell your data allowing you to use it on your personal as well as business accounts. It has a very diverse and unique website design with some great, sleek features. This app will allow you to organize your mailbox neatly by labeling your emails and getting rid of junk mails. It is best for individuals who use emails, receive social notifications, spam, marketing newsletters, and would like to get rid of some emails that are no longer of use.
Clean Email Overview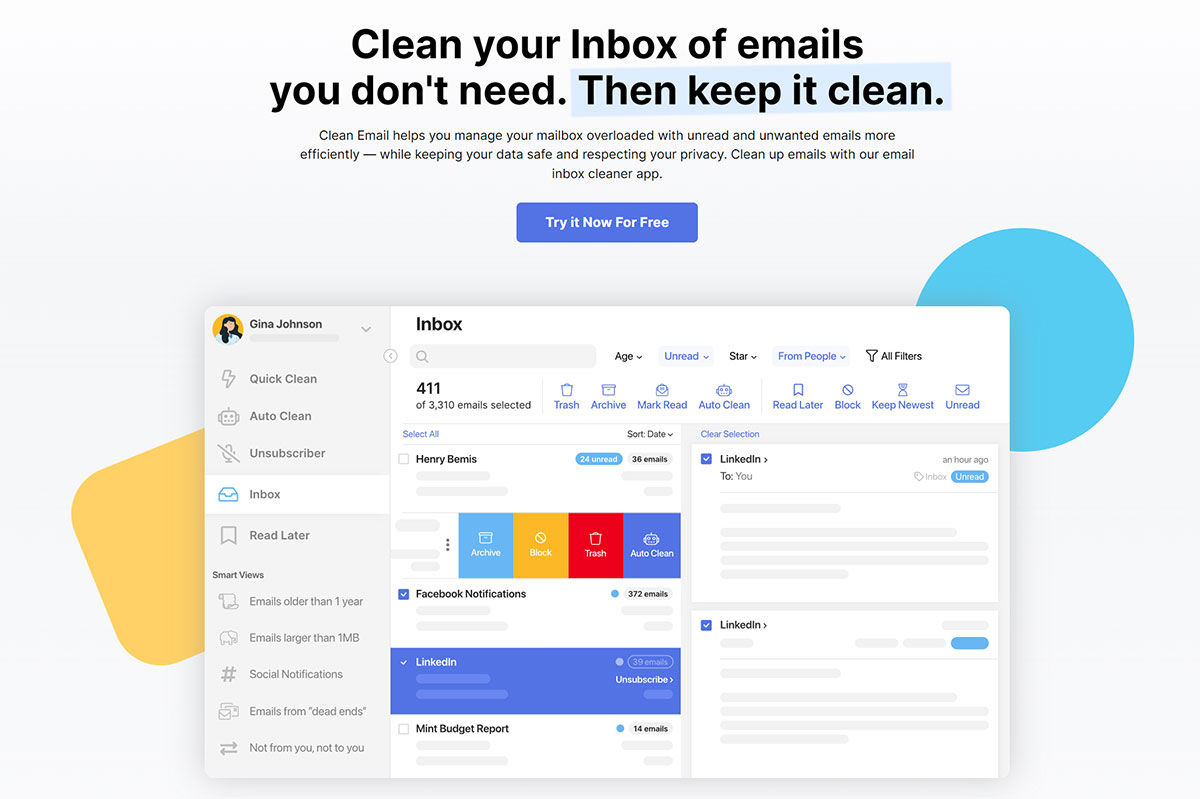 Clean Email is very helpful in freeing your mailbox with unwanted or unnecessary emails. It quickly deletes a huge number of old emails and organizes the new incoming emails automatically. It allows you to unsubscribe from unwanted newsletters and keep your inbox clean. The best thing about Clean Email is it keeps your data safe and respects your privacy. It is a privacy-oriented email cleaner that empowers the user to take full responsibility and control of their inbox.
The auto-clean feature of Clean Email allows applying any action to new incoming emails with no manual work being done and the unsubscribe feature shows all the subscriptions available and allows to unsubscribe any one of them. There is a feature to block senders which ensures that emails selected will never reach the inbox again.
Features of Clean Email
Smart Views
Smart view prevents any confusion and eases your work of finding the email messages that you need to see at the moment. They are like filters that you can use to search your emails and ignore the ones you don't need.
Quick Clean
Quick Clean is a feature that helps you in cleaning your inbox clean by grouping the cleaned emails into categories such as Email Notifications and Social Notifications older than 3 years, allowing you to delete or achieve them at once.
Email Groups
Emails Groups feature eases your work by allowing you to see all the emails from a group at once and reach the email which needs the most attention. This feature is most helpful to newsletters that come in daily.
Auto Archive
Clean Email offers simple and advanced cleaning options in order to target specific messages or create email rules quickly with advanced filters. Groups of emails are created following certain parameters and have their own clean-up parameters to automatically delete, achieve, or keep emails.
Unsubscribe
Unsubscribe features allow you to unsubscribe from any unwanted sender and emails which makes your inbox clutter-free. It helps in getting rid of unwanted emails by sending Unsubscribe requests or by Pausing subscriptions. Using this feature you can also temporarily block any sender email address from your mailbox.
Filters and Sorting
Filters and Sorting feature is an amazing way to apply filters to your emails like "Age" (how old an email is or how long ago it arrived) "Status" (Read or Unread). Then sort by age, size, and sender. With this feature, you can easily reach your desired email or remove them out from your inbox.
Automate Tasks
Clean Email keeps your inbox clean by automating your email cleaning routine. You can move emails from a certain sender to your "Read Later" folder by selecting this option before unsubscribing an email or cleaning your inbox. You can also choose to deliver a selected message to "Read Later" without any notification so that you are able to focus on the important first.
How to use Clean Email?
Clean Email is one of the best ways of cleaning a mailbox. It takes just a few minutes to do the Gmail cleanup using Clean Email. Following are the steps you need to follow to clean Gmail-
Step1- Sign up for your account
Step2- Connect the app with your Gmail account.
Step3- Wait for it to analyze the inbox and suggest several options on how to clean it up.
Clean Email allows you to label an entire segment, delete it, and move it or achieve. Before you even know it, your mailbox will be sorted out.
Alternatives to Clean Email
Leave Me Alone
Leave Me Alone is a service of email unsubscription with a full focus on privacy. It allows you to simply connect with your email account and see all the subscription emails in one place and unsubscribe any among them with just one click. It actually unsubscribes you from the mailing list rather than just moving them to trash.
Unroll.me
Unroll.me is an email unsubscribe engine which crawls through your mailbox and pulls up a list of your subscriptions from which it lets you choose which ones to choose and which ones to not choose or unsubscribe.
Gmail Unsubscribe
Gmail Unsubscribe helps you in unsubscribing from unwanted newsletters and other trash emails in your Gmail. It is a Google Apps Script and lets you apply the unsubscribe label to an email thread to unsubscribe the sender automatically.
Clean Email FAQs
Does Clean Email offer a free plan?
Yes, Clean Email offers you a free trial so that you can test the software for some time before you upgrade.
What is the pricing of Clean Email?
You can try the Clean Email tool for free, but once the trial period gets over, you'll have to shell out one of its accounts which are, One account, Five accounts, and Ten accounts.
⦁ 1 Account- at $9.99 per month
⦁ 5 Accounts- at $19.99 per month
⦁ 10 Accounts- at $29.99 per month
Does Clean Email integrate with other apps?
No, it does not integrate with any other apps.
Does Clean email offer multi-user capability?
Yes, it offers multi-user capability (e.g. teams).
Does Clean Email offer an API?
No. Clean Email does not offer an API.
What platforms does Clean Email support?
It supports Android, iOS, macOS, and the web.
Pricing of Clean Email
Clean Email comes with the following monthly plans-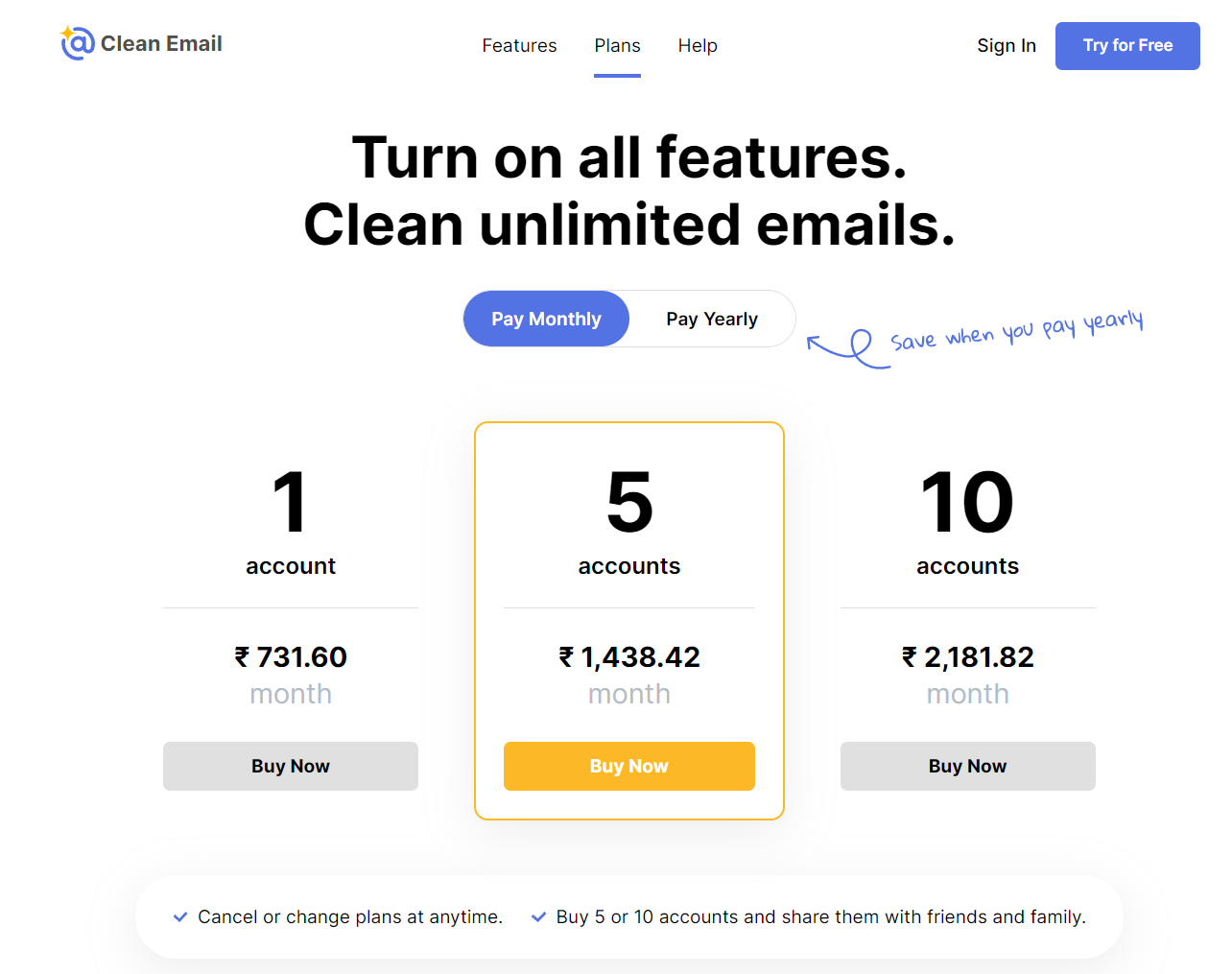 As such, you get all the features in every plan. The basic difference is only in the number of accounts that you get. If you opt to go with yearly plan you get up to 75% of discount.
What makes Clean.Email stand out?
Email is a major communication tool but sometimes its inbox becomes messy by overflowing unread and unwanted emails. If you want your email box to get rid of spam, newsletters, and other unwanted items then you need an email cleaner app like Clean Email.
Clean Email is email cleaner software that is easy to use and helps you to manage your mailbox while keeping your data secure and maintaining your privacy. It removes the clutter from your mailbox, allowing you to focus on the emails that matter most. It helps you to manage your mailbox without spamming your contacts. And the best part of it is you can try this out for free before deciding if you want to purchase it or not.
Pros and Cons of Clean.Email
Pros-
Clean Email is a great help in organizing mailbox.
It lets you become more productive.
Clean Email reduces the time you spend on email by 50%.
You will be able to find desired emails quickly.
Your email will be better organized, and less cluttered.
Cons-
Online support is not very helpful.
Customer service is not very good.
The Review
Clean Email
The Clean Email is an amazing tool if you want to get rid of your trash and unwanted email. With this tool, you can easily clean your email account and avoid hours of work in cleaning any inbox manually. This way you can super optimize your email work. This tool is very effective and result-oriented.
PROS
Clean Email is a great help in organizing mailbox.
It lets you become more productive.
Clean Email reduces the time you spend on email by 50%.
You will be able to find desired emails quickly.
Your email will be better organized, and less cluttered.
CONS
Online support is not very helpful.
Customer service is not very good.
Review Breakdown
Ease of Use

0%

Features

0%

Support

0%

Brand Trust

0%

Value for money

0%
Clean Email DEALS
We collect information from many stores for best price available
Best Price
$10