Duplicate photo files share the largest part in the total identical files on your device. Thus, these identical photo files occupy a lot of storage space and affect device performance negatively. These files generate and accumulate on your device due to various reasons which include data sharing, data backup, file download etc.
To deal with this unnecessary data, you can perform manual cleaning of your device or you can use duplicate photo remover tools for instant and effective results.
One such tool is Duplicate Photos Fixer, which works effectively to clean your device and de-duplicate it instantly. It offers some amazing features lets discuss some of them here.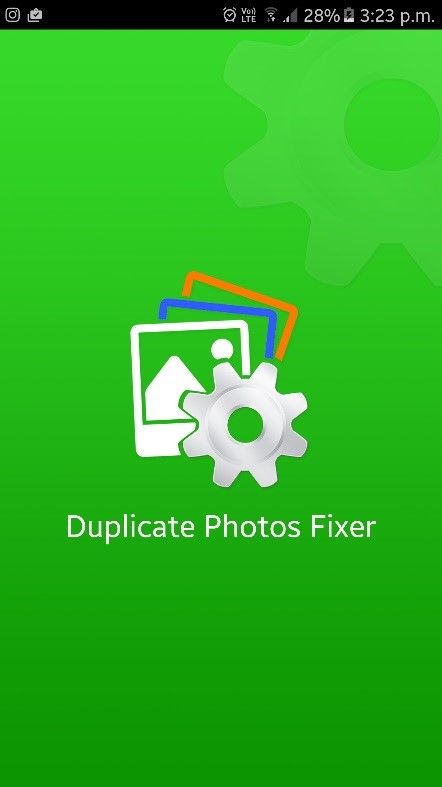 Select Scan Type: App provides you multiple scan options to choose from. You can select from various scan options like any specific folder, camera images or full scan mode. Once selected the scan type, next is to press "Scan for Duplicates" button to initiate the scanning process.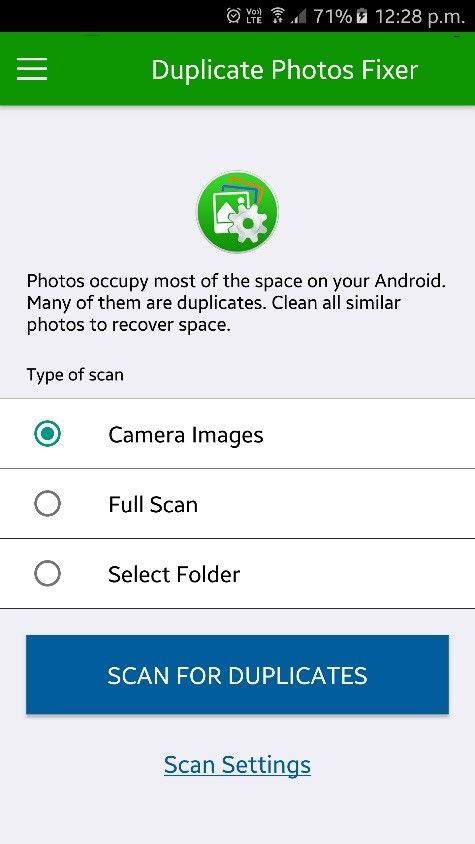 You can also find "Scan Settings" button here which allows you to set the matching level of the files to be scanned. It allows you to find similar or exact looking files on your device. To do this, you click on Exact or Similar radio buttons. Matching level varies from low to high while searching for the duplicate files. Here low level indicates the lower similarities in the files and high-level display exact looking files. It also allows you to set default level by resetting it. To start the scanning process for similar and exact looking files on your device, you need to click on "Scan for Duplicates" button.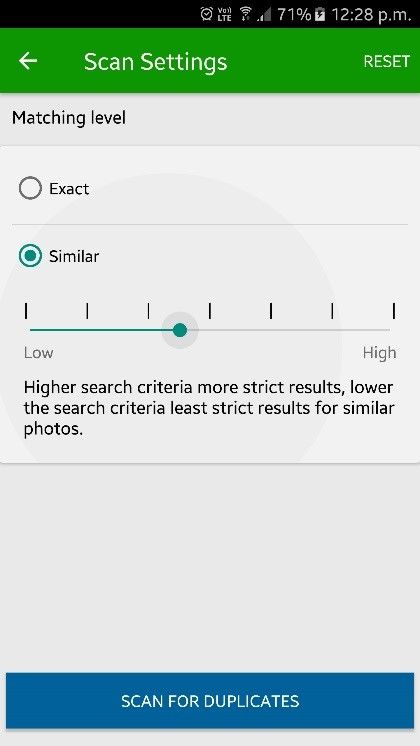 Scan in Process: Scanning process of the app is designed to provide instant and accurate results. It uses smart algorithms to provide results efficiently. It may take some time to provide results when full scan mode is selected, as the app needs to scan more data. It helps you scan your complete device even remotest corners of it.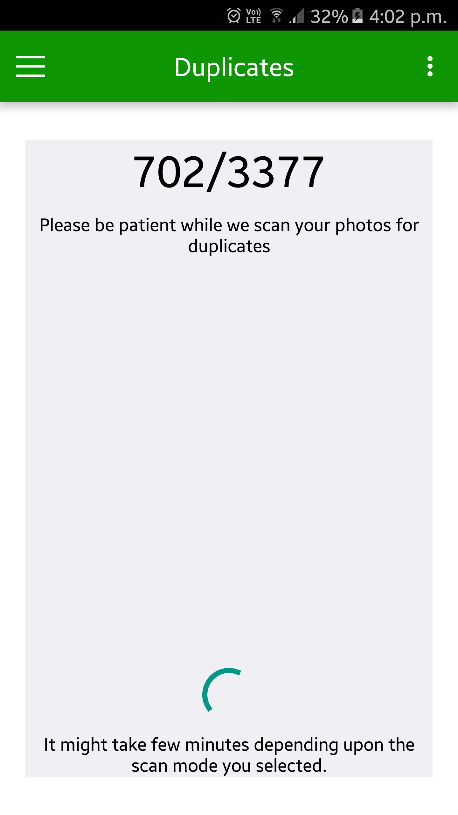 Scan Results: Scan results are displayed in groups in auto-mark format. Here all last file (s) of the group remain marked as duplicates. You can click on "Unmark All" option to manually select the files to be deleted. It also offers the same feature called "Scan Settings" from the home page of the app to set the matching level of the files. Once selected the files, now you can click on "Delete" option to instantly remove all unnecessary identical files from your device.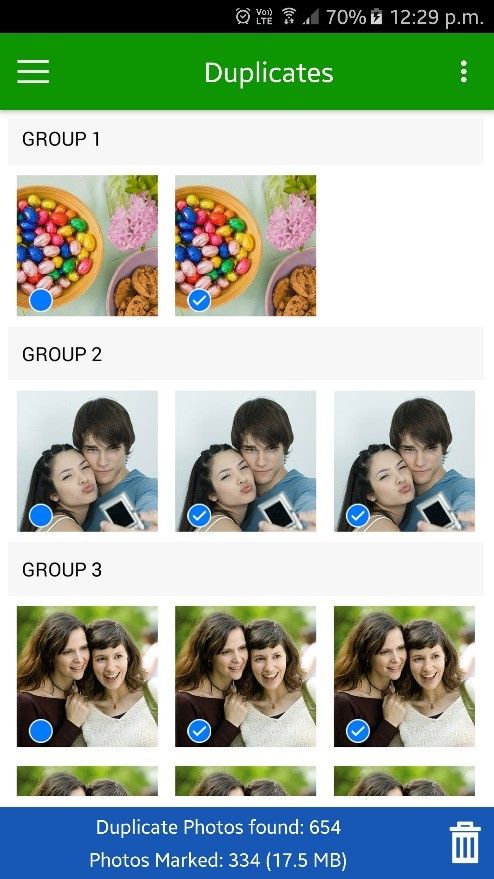 Clear Cache: You can find this feature under the menu of scan results. Your device keeps accumulating cache files related to your app over time. It helps you perform quick searches next time. If you want to remove this cache data, you can click on "Clear cache" option. It will instantly remove all cache files and enables you to perform whole new scan process next time.
Also Read: Delete Duplicate Files on Android – Duplicate Files Fixer Review
Preview: App allows you to see a preview of the selected files before you actually delete them. This nifty feature helps you to manage your files more efficiently. On preview page, it displays complete file detail including its size, image resolution, and path of the file. It displays all identical files from the specific group. You can select any file from here and delete that. Using this feature, you can prevent deleting your important files accidentally.
Language: App supports multiple language options. It features all major language options. You can select the language of your choice and the app will change all features of the app in your selected language.
Verdict: Duplicate Photos Fixer uses the smart algorithms to provide you instant and accurate results. It works as a complete package to deal with identical photo files related worries on your device. It is designed to provide you clean and efficient device performance. You can use this tool to recover valuable storage space instantly. We are sure to suggest you this app for effective results.